TENTH SESSION
ADVANCED DP WEBINAR
THE JESUS NO ONE KNOWS
REV. DR. D. MICHAEL HENTRICH
Presented by Rev. Dr. Michael Hendrich, Sr.
Transcribed by Airenae Culvy
JESUS
Have you met the real person, Jesus, and walked through his footsteps through his life? Well, it's about time you did. Now, you can recall how much God must be so excited about this time, this situation; because, as I try to share, God has been working for millions of years, literally, since Adam and Eve, to bring a new Adam and Eve. And it's been excruciatingly difficult. I mean, it took all those years to find a few people, you know: Noah, Abraham, Isaac, Jacob, Joseph, and some women in there too, who could do the right thing to make 'this' time possible. It was so hard.
THE WAR
But the main thing that we need to remember here is that there's a war going on. and Satan has been opposing God every inch of the way, working through the fallen nature of Adam, working through the fallen nature of Abraham, working through the fallen nature of Jacob, even, and working through everybody's fallen nature, trying to frustrate this thing. And then getting to the Kingdom, Saul, David and then especially Solomon, God has just had a really difficult course. And Satan has been just slugging it out, fighting it out. And the war has gotten really hot.
And now, God is so excited, so excited, just can't contain Himself. He has finally gotten to the point, after the 400 years since Malachi, that He can give birth to the new Adam. Just imagine God's feeling ... It's just like ... 'Wow!' It must have been like a little boy sitting at the edge of his chair at a birthday party ... just can't imagine the joy and the excitement that God must have felt after all this ... At the same time, Satan is just livid, just frantic; because, if this new Adam is successful, he's done. And he's been fighting every inch of the way. And he's not done. He's determined. He's got to do something to stop this thing from playing out. He's got to stop this thing no matter what. He's just desperate.
So, I'm not really talking only about the life of Jesus here, right? I'm talking about Father's life too at the same time. So, God had a plan. He didn't go into this thing without a plan. And He thought His plan was enough. He thought that His preparations for the new Adam were enough.
Here's a chart that I threw in here, by the way; because I don't know that anybody's taken the time to put this together for you (maybe they have but I haven't seen it. I don't know why...) but Jesus' lineage as far as we understand it from the Bible... It may not be this way if you could ask Father, but : (chart)
CHANGE OF BLOOD LINEAGE
Isaac & Rebecca begat Jacob and the 12 sons
begat Judah &Tamar begat Perez and Zerah
begat begat Salmon & Rahab begat Jesse
begat Boaz & Ruth begat Obed
begat Jesse
begat David & Bathsheba
begat Solomon
begat Zachariah & Mary who begat Jesus
(Key providential women : Rebecca, Tamar, Ruth, Rahab, Bathsheba, Mary)
Isaac and Rebecca, right? Champion woman there, risked her marriage to advance God's Will. And Jacob and Esau came from that couple. And then Jacob's 12 sons includes Judah. Judah and Tamar made a big condition and gave birth to Perez and Zerah too. And then Salmon was born. And he married a prostitute named Rehab who risked her life for the providence. And then they gave birth to Boaz who married Ruth who is the daughter-in-law of Naomi and from them was born Obed. And from him Jesse who is the father of David.
David took Bathsheba improperly; but anyway, from he and Bathsheba came Solomon. And somewhere along the line from Solomon to Jesus there's Zachariah and Mary. (There's some speculation here about the lineage of Zachariah, but we can figure it out)
And this is a picture of Jesus as best as I know. I mean, there's a young girl I guess who had a lot of encounters with Jesus' spirit not too long ago. There was a lot of talk about this on the internet. And she had a friend who was an artist who painted this picture that she said was what she saw. And, I don't know, he looks Jewish and it works for me that this may be what Jesus looks like, to kind of put a face to the name. But by the way his name was not Jesus, you know. It was Yeshua in Hebrew.
PLAN A for the Foundation of Faith
So, God had a plan. He started to prepare for Jesus a long time before and with the prophesies on a foundation of faith. Isaiah 9:6 says:
"For to us a child is born, to us a son is given (and Christian people take this to refer to Jesus and Jewish people don't, but anyway) ; and the government will be upon his shoulder, and his name will be called "Wonderful Counselor. Mighty God, Everlasting Father, Prince of Peace." (Now, why would Jesus be called 'Everylasting Father'? A Catholic priest would know it was probably because he would have children.) Of the increase of his government (He was going to be King) and of peace there will be no end, upon the throne of David, and over his kingdom, (Well, see a lot of this didn't actually happen, did it? So much for prophesy ... People don't understand about man's portion of responsibility) to establish it, and to uphold it with justice and with righteousness from this time forth and for evermore. the zeal of the LORD of hosts will do this."
and again in Isaiah 60:18
"Violence shall no more be heard in your land, devastation or destruction within your borders (Well, that didn't happen either); you shall call your walls Salvation, and your gates Praise. The sun shall be no more your light by day, nor for brightness shall the moon give light to you by night, but the LORD will be your everlasting light, and your God will be your glory. Your sun shall no more go down nor your moon withdraw itself; for the LORD will be your ever-lasting light, and your days of mourning shall be ended. Your people shall all be righteous; they shall possess the land forever, (that didn't happen either) the shoot of My planting, the work of My hands, that I might be glorified."
and in Luke 1:30
"And the angel said to her (Mary), "Do not be afraid, Mary, for you have found favor with God. And behold, you will conceive in your womb and bear a son, and you shall call his name Jesus. He will be great, and will be called the Son of the Most High; and the Lord God will give to him the throne of his father David and he will reign over the house of Jacob forever; and of his kingdom there will be no end.'
How can Jesus reign over the house of Jacob forever. Well, there's only two ways. One is if Jesus lives forever physically. That's not going to happen. The other way is that he has a lineage, right. He has a family.
Then in Matthew 2:6
"...from you shall come a ruler who will goern my people Israel." (Well, he's going to be King right?)
And God worked more to prepare the way for Jesus. Here's Gabriel talking to Zechariah who was a priest. That year he was serving as the high priest. They took turns. Gabriel came to Zachariah and said to him, Luke 1:13
"But the angel said to him, "Do not be afraid, Zechariah, for your prayer is heard, and your wife Elizabeth will bear a son, and you shall call his name John. (Now she was up in age, maybe forty, I don't know) And you will have joy and gladness, and many will rejooice at his birth; for he will be great before the Lord, and he shall drink no wine nor strong drink, and he will be filled with the Holy Spirit, even from his mother's womb. And he will turn many of the sons of Israel to the Lord their God, and he will go before him in the spirit and power of Elijah, to turn the hearts of the fathers to the children, and th disobedient to the wisdom of the just, to make ready for the Lord a people prepared."
Wow! How great? The problem is that Zechariah didn't believe a word of it. And then the angel said to Zechariah, 'Okay, because you didn't believe me, you will be struck dumb. You won't be able to speak until that baby is born and circumcized. And then you'll be able to speak again. And that's what happened. People all around there thought, 'What in the world happened to Zechariah? What's this baby that's going to be born. He must be a miracle baby. Wow! revelation and everything around it... They thought maybe he was going to be the Messiah. They didn't know but later they thought so, maybe so.
PLAN A for the Foundation of Substance
Mathew 2:6 ... from you shall come a ruler who will givern my people Israel.
So, God also had a Plan A for the foundation of substance. He was trying to prepare the way. He thought He did enough. This is what God thought ought to happen. I mean, I used to think this was a silly painting somebody made depicting what happened supposedly at the time of Jesus. Then later I realized, 'Yeah, you know, this is what God had hoped. I mean He didn't give that revelation about Jesus being the Messiah so that he could be born out in a farm yard in the sticks. He thought the people of Israel, not just the people of Israel but the priests and the rabbis should all line up in their Sunday best and come in with their gifts and pay tribute to the newborn King, the Savior they've been waiting for for how long? This looks like a football game, a Denver/Bronco game or something, thousands of people streaming in, paying thier honors to the new baby Jesus, the newborn Messiah.' I realized that this is what God had hope to see. Jesus should have been born in the house of Zechariah, the priest, and circumcized and honored in the temple. Isn't that what God would expect after all that prophesy.
Luke 1:76
"And you child will be called the prophet of the Most High (talking about John the Baptist). For you will go before the Lord to prepare his ways, to give knowledge of salvation to his people in the forgiveness of their sins through the tender mercy of God, when the day shall dawn upon us from on high to give light to those who sit in darkness and in the shadow of death, to guide our feet into the way into peace." And the child grew and became strong in spirit, and he was in the wilderness till the day of his manifestation to the people of Israel.
John 1:8
"He (John) was not the light but came to bear witness to the light (Jesus).
Wow! What a great mission he had. So, these are some paintings. There are many of these, inspired by spirit world, in France, in Italy... I'm not sure where all these paintings are. There's a lot of these. What this shows here is John and Jesus (Yeshua) playing together as little children, growing up together. That's what God expected. He expected Mary to stay in Zechariah's house and John and Jesus to grow up together just like this. Somehow these people got that inspiration.
And look at this paintin here. There's Zechariah on the left and Elizabeth next to him. And there's John down below holding this bird cage. And there's Mary and Jesus. They're growing up together. There's no Joseph here. Somehow they understood that.
And look at this painting here. There's Zechariah and Elizabeth again on the left, with John. And there's baby Jesus again with Mary and a bunch of other naked little kids there. They're growing up together. There's no Joseph here. That's what God expected. Somehow they (the artists) knew, they understood this. They had some idea (from the spirit world) anyway. But this stuff didn't happen. It didn't happen.
PLAN B
After Mary received a revelation from the angel that she's going to give birth to the Messiah, she ran to the best person/place she could run to which was her cousin who was married to the priest, Zechariah. Her cousin was Elizabeth. And Elizabeth must have figured out, 'Oh, my husband, he must be the father of this Messiah that you're supposed to have. It can't be Joseph.
So, Father said that Elizabeth helped Mary in the presence of Zechariah. Well, what do you think that means. It means Elizabeth set Mary up with Zechariah to be his concubine so she could have birth through him. She was already pregnant with John. Well, somehow, after she got pregnant, they kicked her out. They kicked her out instead of keeping her in the family. Can you imagine what risk they put her to. She should be stoned to death. Under Jewish law, she's a single woman, pregnant. This is really bad sin. She should be stoned to death. They threw her out. And then what? She goes to Joseph. She has to get some protection from somebody.
She doesn't say anything to Joseph. They're walking along a little road one day and Joseph looks down and says, 'Boy, you're getting a little fat, aren't ya?' And he realizes that that's not fat, that's a baby bump. You're having a baby? He knows it's not his baby. He knows that much about it. And he was not happy. He was not happy at all. He was going to leave her it says in the Bible. And then he had a dream that night. An angel came to him and said, 'Do not leave her, Joseph. Stay with her and protect her as your wife. For what is conceived in her is of the Holy Spirit'. Well, he wasn't happy about it, but he did. And they went off to Bethlehem, Bethlehem.
Now why did they go to Bethlehem? We don't know. Maybe it's because of Micah 5:2 in the Old Testament that the Messiah would be born in Bethlehem. Maybe Elizabeth told her that or maybe Zechariah. I don't know. Or maybe some people think that it was the hometown of Joseph or maybe Mary's hometown. We don't know. Why would they go there? But if it was Mary's hometown or Joseph's hometown, do you know who would live there? Their parents, grandparents, aunts, uncles, neices, friends, people they grew up with, right? I mean the whole town ... I looked up and googled Bethlehem two thousand years ago. There were about six hundred families living there. That's a small town. That's about the size of somebody's homechurch area. And if you've ever been in one of those small towns, everybody knows everybody's business. Most people are related to each other somehow. They didn't have TV's or tablets to spend their time with every day. They just gossiped and knew everything that was going on. Whatever it was, after a period of time, when they went there, people knew what was going on. They knew about Mary somehow. Somebody told them.
So, when Mary was getting to be nine months (pregnant), what help was Joseph. Do you think they went to pre-natal classes. Do you think Mary went to pre-natal classes. She didn't know anything either. She was 17 or 18 years old. She's probably scarred. Think about it. She's having contractions. She doesn't know anything. Who's helping her? Nobody. It says in the Bible that there was no room in the inn. I could never understand that, even before I joined the church. No room in the inn? What do you think, they have a Hilton Inn, a Holiday Inn or something. They might have had a little home or two where people let out rooms or something. That's not what it's saying.
What does Mary need? She's having contractions. She needs someplace out of the cold, just a few square feet of floor space inside somebody's door with a midwife and a little warm water and a blanket, right. That's all. That's what she needs, right? But, no, what this is saying is that nobody would open their door for Mary. 'No, Mary. We know about you, Mary. You go die with your baby somewhere. We're not letting you in. That was the situation. And if it was Mary's or Joseph's hometown, that's really bad. There was no room in the inn.
So, what I'm saying to you is, 'This war is getting really hot. Satan is desperate to kill this baby before it is even born. Satan wants to kill this baby, just like in the movie. You've got to kill that baby. That's Satan's plan right here. Is this the Holy Spirit working, slamming the door in her face before she even has her baby? I don't think so. It's the dark side working in the hearts and minds of the people. Satan is frantic. Who was working through Zechariah and Elizabeth to kick her out of the house. Is that the Holy Spirit? I don't think so.
So, God works too. They're just slugging it out. These wise men, these are Zoroastrian priests we're told. They were looking to the stars for revelations. That's what they do. And they got a message that the new king was being born in Bethlehem. They were all excited about it. And they were talking about it all around. And word got to King Herod. Before they left, King Herod called them to his chambers and said, "What's this about a new king being born?' And they told him all about their revelation. And he said, "Well, great! You go and pay your tributes to the new king and come back and tell me where he is so that I can honor him too.' What does that mean? Do you think that Herod wants to honor the new king? Was that the Holy Spirit working in his life? That's Satan. Herod wanted to kill him.
So, the wise men go off and they find Mary and Jesus. Because they had to go out to a farm yard to a place called a 'manger' to give birth to baby Jesus. Now I'm a city boy. I didn't grow up in the countryside on a farm or anything. I didn't know what a manger was; but, I was working in a rural state for a while as a leader and was teaching Principle at a college there. It was an agricultural school. So, I asked different students in different workshops and lecture seminars, 'What's a manger anyway? I don't know. I'm a city boy.' And they all told me the same thing. A manger is a place where the animals gather together and they eat their food and they drink some water out of a hollowed out log. And they poop and pee there. And it's the filthiest, most unsanitary place you can think of. And that's where the King of kings and the Savior of the world was born. And she (Mary) put him in a hollowed out log with straw in it, where the animals peed.
Father said that Jesus never would have survived if he didn't get protection from the spirit world to help. Satan's trying to kill that baby no matter what. Kill that baby before he even takes a breath. So, the three wise men found them in the field there. They paid their respects and they dropped off their gifts but they had a bad dream. They felt that their lives were in danger. So they left. And they went back but thank God they didn't go back to Herod. And thank God too that they didn't go back to Herod and he waited a whole year for them to come back and tell him where this new king was. He waited a whole year.
And after a whole year, he sent some soldiers in there to kill every baby boy that was two years and under. And Joseph took Mary and Jesus and they fled to Egypt and hung out there until Herod died and his son took over as the new Herod. Is that the Holy Spirit working in his life? The war is hot, hot, burning hot!
Do you remember Heung Jin Nim. He was in that car accident with the truck; and, he died eventually. And he was protecting his friends who were in the other seats of the car. Well, he sent some messages from the spirit world. And they were published in a book called 'The Victory of Love.' And on Page 16 he talks about Jesus' early life. You know, it's always been a big question, 'How come we don't know anything about Jesus' early life? It's such a big glaring omission.' Well, it is because it wasn't good and nobody wanted to talk about it. (It wasn't good) because Joseph didn't like Jesus. He never did.
Page 16 'Victory of Love' Heung Jin Nim's message:
"Long ago he couldn't even walk without aching. His feet hurt from the pain of not having the right nutrition from his parents, not eating right. His eyes were swollen and sore around the edges for the same reason. His family never took care of him. His brothers mocked him because he was "different," "strange."
He was so sensitive. The neighbors kept persecuting him because he was illegitimate. His younger sister was the only one who loved him, but she was not enough. Not enough for him to grow his heart to be the prince of heaven. His parents totally misunderstood him. Zechariah kicked him out and refused to have anything to do with him. His aunts spit on him from afar.
What could a young boy do? How could he understand all this? But it was Satan working all around him, trying to destroy him, and he had no one to protect him as he grew up - no one to love him. Oh how little people have understood! Oh how little people have even thought about his situation! Especially Unification members must comfort the heart of Jesus. Understand him and really, really love him. His victory was unbelievable! Unbelievable considering his circumstances. No one can ever understand the suffering depths of the heart of Jesus and what he overcame to emerge as the Messiah.
Don't ever think for a moment that we don't owe our lives to him. don't ever think for a moment that we don't substantially owe our lives to him. Even the True Parents feel this way. He first saved them and they have bowed before him hundreds of times. Our members must learn to do the same. You must learn to do the same . God bless you.
The Victory of Love With Heung Jin Nim (Moon) March 1, 1987
So, somehow he (Jesus) grew his love in that impossible circumstance around him. Is that the Holy Spirit surrounding him? I don't think so. And when he was 12 years old, his family went to Jerusalem because everybody had to go there and register in the Roman census. So, there were throngs of people there registering in the census and Jesus got separated from the family. And it says in the Bible that Mary didn't know where he was for three days. It says that she thought he was with relatives. How about it ladies? Would you be okay if you didn't know where your twelve-year-old son is for three days. Finally, she went back to find him. Father said that she abandoned him because there was so much strife between Joseph and her over Jesus.
She went back to find him and found out that he was in a temple. She couldn't go in because she was a woman; so, she sent word to Jesus that she was there through the other children. And Jesus sent word. He said, his response was, 'Who is my mother and brother and sister? Those who do the Will of God. That's my family.'
In Mark 3:20
"...and the crowd came together again, so that they could not even eat. And when his family heard it, they went out to seize him, for people were saying, 'He is beside himself.' (That means he's crazy. That's what they were saying) And the scribes who came down from Jerusalem said, 'His is possessed by Beelzebul, (That's the devil. He's possessed by the devil. That's what they were saying) and by the prince of demons he casts out the demons.'
And look at this. I don't think too many ministers want to use this in their Sunday Service. John 7:1
"After this, Jesus went about in Galilee. He would not go about in Judea because the Jews sought to kill him. Now the Jews' Feast of Tabernacles was at hand. So, his brothers said to him, 'Leave here and go to Judea, that your disciples may see the works you are doing. For no man works in secret if he seeks to be known openly. If you do these things show yourself openly to the world.' For even his brothers did not believe in him." (For even his brothers did not believe in him)

What are his brothers trying to do here? They're trying to set up Jesus to be killed. They're trying to get him killed, his brothers (were trying to kill him).
So, in the meantime, John and Jesus are growing up separately. Here's John (in a painting). People think that he might have grown up or spent his time among people called 'the Accenes,' outside of Jerusalem. That's where the Dead Sea Scrolls were found. They had the finest monks, boys studying to be rabbi's and stuff. They knew the Scriptures, the Scrolls. And John was probably one of them and probably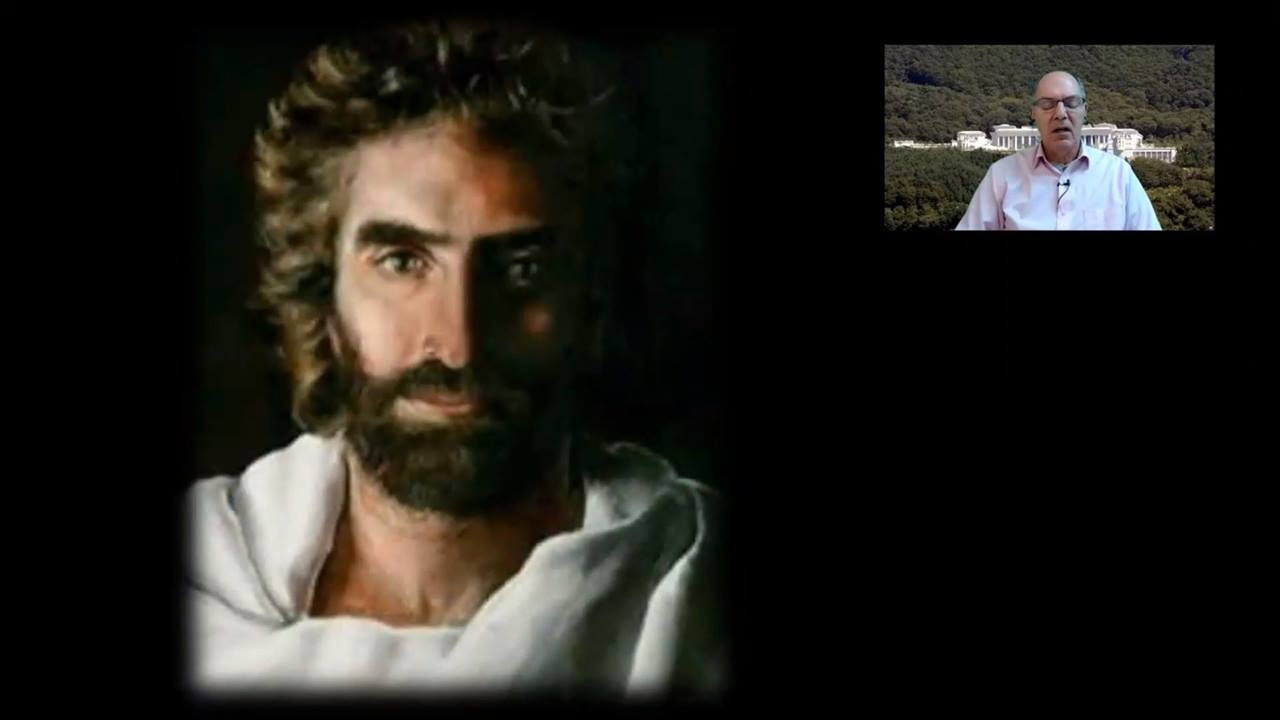 Advanced DP Webinar Recordings
PLAN C
for the Foundation of Faith
Even before the church, I wondered what in the world is going on? Jesus is sitting in the desert on a forty-day fast? Why? Now we know why. He's been slugging it out with Satan, fiercely, brutally for thirty years. Now, who comes to him when he's fasting? Who? Who? Lucifer himself, the man/angel himself comes to him. 'Jesus, I'll give you all the nations of the world. (Because that's what he (Jesus) wants.) Just bow down to me. I'll give it all to you." Jesus said, 'Get lost.'
Forty days of fasting, that's not easy; but, he had to build a whole new providence. Now, how ya going to do that? He goes off and finds fishermen, people he could talk to, sitting around doing nothing over by the river, by the Sea of Galilee. He could sit by them, talk to them, witness to them. They're not doing anything ... But they don't know anything about the Scrolls. They're nothing like John's disciples, John's followers, John's friends, nothing like them. But Father said he had to prepare his victorious ministry even if all he had to work with were homeless people, Father said.
PLAN C
for the Foundation of Substance
So, he made his foundation of faith and now he has to make his foundation of substance. How's he going to do that? Teaching. He started teaching here around the Sea of Galilea. Lots of people came down from the little tiny villages, living aroun that area. He had thousands of people excited about his teachings, listening to him and marveling, right? sometimes so many that he couldn't even feed them all, the fishes and the loaves and all that. But the problem was that he needed leaders. He needed leaders. These are just these little, simple folks living up around the little villages, up and around the Sea of Galilee. He needed leaders. And the more he talked and the more he moved people, the more the people listened to him and followed him, the more the leaders got afraid of him. They thought he was a heretic, he was dangerous. He's not teaching the orthodox teaching. He's dangerous.
You can't heal people onthe Sabboth, Jesus. You can't do that stuff. You can't teach that stuff. You can't heal people. People picking the corn on the Saturday... You can't do this. You can't do that. You can't do anything. That's Satan just stalking him every day, determined to kill him.
See, Satan didn't care if Jesus came to teach the Principle. Like I said, he's just scared to death that Jesus is going to have kids, gonna have a lineage. He knows that's the end, eventually if not right away, that's the end. He doesn't want this man to have kids. Teaching the Principle, well, we can live with that, but not having kids. Gotta kill him.
And after pleading and begging and crying in front of his mom three times to help him marry who he's supposed to marry, then his mother comes to him later on and says, "Jesus, I'm helping my friend with a wedding here. We ran out of wine. So, we got these jugs of water. Can you do us a favor and change that water into wine, Jesus?" And Jesus snapped back at his mother and said, "Woman, what do you have to do with me?" Father said he was so angry with his mother because she wouldn't help him get married. Now she is helping other people get married... fallen people. He (Jesus/Yeshua) made the wine.
He raised Lazarus from the dead. I believe he did that. But people just got more afraid of him when he did this stuff. And Jesus gave many parables. Here's one. I'm not going to read the whole thing to you. It's about a land owner who meets God; and, he let the land out to tenants, that's the Jews. And when the fruit came he sent his servants to collect the dues, which is the prophets. And they killed one and stoned another and killed another. And then he said, 'Surely they will respect my Son. When I send my Son to them, surely they will respect my Son.' Jesus is saying what God expected which is that they would respect him. And at the end of the parable, he asked his disciples, "What will God do to those people?" and his disciples said, "He will put those wretches to a miserable death an let out the vineyard to other tenants who will give him the fruits of their seasons." "Therefore, I tell you," Jesus said, "the kingdom of God will be taken away from you and given to a nation producing the fruits of it." taken away from you and given to a nation producing the fruits of it' People don't get what this means. We understand what this means. They just don't get it. They just can't see it.
Matthew 21:33
"Hear another parable. There was a householder who planted avineyard, and set a hedge around it, and dug a wine press in it, and built a tower, and let it out to tenants and went into another country. When the season of fruit drew near, he sent his servants to the tenants, to get his fruit; and the tenants took his servants and beat one, killed another, and stoned another. Again he sent other servants, more than the first; and they did the same to them. Afterward he sent his son to them, saying, 'They will respect my son.' But when the tenants saw the son, they said to themselves, 'This is the heir; come, let us kill him and have his inheritance.' And they took him and cast him out of the vineyard, and killed him. When therefore the owner of the vineyard comes, what will he do to those tenants?" They said to him, "He will put those wretches to a miserable death, and let out the vineyard to other tenants who will give him the fruits in their seasons." Jesus said to them, "Have you never read in the scriptures: 'The very stone which the builders rejected has become the head of the corner; this was the Lord's doing, and it is marvelous in our eyes? Therefore I tell you, the kingdom of God will be taken away from you and given to a nation producing the fruits of it."
Here's (a painting of a religious leader pointing accusingly) the scribes, the priests, pharises accusing him about everything he said, everything he did, stalking him every day. It's not the Holy Spirit. Satan hates Jesus.
And this page in the Book of John... You know I just never could understand how my dear precious Christian brothers and sisters who believe Jesus came to die on the cross can read this and reconcile it with their beliefs. We need to go through this one little piece here together.
John 8:31-44
"Jesus then said to the Jews who had believed in him. "If you continue in my word, you are truly my disciples, and you will know the truth, and the truth will make you free."
They answered him, "We are descendants of Abraham, and have never been in bondage to any one. How is it that you say, 'You will be made free'?" (They're just so contrary to anything that Jesus might say. They are not really listening to him.)
Jesus answered them, "Truly, truly, I say to you, every one who commits sin is a slave to sin. (They didn't recognize themselves as sinners.) The slave does not continue in the house for ever; the son continues forever. So if the Son makes you free, you will be free indeed.
I know that you are descendants of Abraham; yet you seek to kill me, because my word finds no place in you. I speak of what I have seen with my Father, and you do what you ahve heard from your father."
They answered him, "Abraham is our father." (This is the first time Jesus talks about the lineage. He talks about two fathers. There's The Father in Heaven, The Creator of Heaven and earth. And there's Satan, the dark side father.)
Jesus said the them "If you were Abraham's children, you would do what Abraham did, but now you seek to kill me, a man who has told you the truth which I heard from God; this is not what Abraham did. You do what your father did."
They said to him, "We were not born of fornication; (curious statement, isn't it?)
We have one Father, even God." Jesus said to them, "If God were your Father, you would love me, for I proceeded and came forth from God; I came not of my own accord, but He sent me. Why do you not understand what I say? It is because you cannot bear to hear my word.
You are of your father the devil, and your will is to do your father's desires. He was a murderer from the beginning, and has nothing to do with the truth, because there is no truth in him. When he lies, he speaks according to his own nature, for he is a liar and the father of lies."
This is an intense, hot argument they are having here. People just don't put the emotion into it. They just don't get it. And not only that but what is he talking about, 'My word finds no place in you.'? We have the same problem, don't we? 'You mean we have to read Principle again. Gee whiz, I already read it. I went to a workshop five years ago. And that Cheon Seong Gyeong, that's a big book. It just gets dusty on the shelf. We don't need to study that. Ten thousand speeches of Father that He gave. How many of them have we read? Have we read a few of them?
PLAN D
for the Foundation of Faith
On to Plan D for the Foundation of Faith. This is the Mount of Transfiguration (in the painting). Six days before this, Jesus announced that he was going to the cross. It's the first time he announced it. His disciples were bewildered. They didn't know what to think. He never said such words to them. Christian people don't catch that. For two years of his ministry he was trying to build the kingdom. And now he says he is going to the cross. And six days later Moses and Elijah show up. Now Jesus is walking along a little path with Peter, James and John and they see Moses and Elijah standing over there on the side of the road. And they get all scared and they bow down. And they say to Jesus, "Should we build an altar or something, to worship them?' And Jesus said, 'No, just stay here.
And Jesus walks over to them. And he then looks all spiritual like they are. And they have a consultation together. You know I used to suspect that maybe they came to tell Jesus that he needed to go to the cross because things weren't working for him. But I changed my thinking one hundred and eighty degrees about that. I realized that Jesus is like Father. Nobody is going to come and tell him what to do. Jesus has to decide his own course. He did. And that is his responsibility as Adam. And he already announced it six days before; so, I think that Moses and Elijah showed up to talk him out of it. But they didn't.
And I suspect that, if that's true, Jesus had decided, "If I run away and start a mission somewhere else, it's a big chance. If I'm not successful or if I get killed, I won't leave anything behind to help the providence. But if I offer my life as a ransom for all these sinners, then at least I can leave that. And the way will be better for the next time Adam comes. He'll have a better foundation under him. I have to make an offering. I have to get something. I have no offering; but, at least I can offer myself.
I think that was probably Jesus' thinking; because, when you offer something, if Satan takes something unrighteously, then as Father told us, Satan has to give something better. He has to. Father said that he (Father) was born a victorious Adam; and, I think it was on the foundation of Jesus' offering of his own life. He had that foundation under him, something like that.
Anyway, after Moses and Elijah disappeared Jesus came back and looked normal again and said to Peter, James and John, "I must go to the cross. I must give my life on the cross." And Peter said, "What are you talking about Jesus?" And that famous statement that every Christian minister may have used in church, 'Get behind me, Satan. You are a hindrance to me.' Because now Satan wants to work through Peter to talk him out of it, saying, 'No, we don't want that, Jesus.'
So, eventually Jesus has his last supper. He gathers his motley crew around him. Here's Judas on his left, (on my left). He's got a little bag in his hand. He was the treasurer. He stole money from it sometimes it says in the Bible. And Jesus said, "I am sorrowful, even unto death." 'sorrowful ...' He didn't say, 'I'm happy. I finally got to the place that I needed to get to. I'm finally going to consummate my life history.' No. He said, "I'm sorrowful, even unto death." He said, "One of you will, this night, betray me." 'Betray'! 'Betray' Get the word "betray" me. 'betray'
And the amazing thing is one by one all around the table, every apostle said, 'Will it be me, Lord?' Will it be me? I mean, what is that saying? It's saying that all of them had such weak faith in Jesus that they thought, "Oh, maybe it's me. Maybe I'm going to betray you. Instead of somebody standing up with indignity and saying, "Jesus, it can't be me! I wouldn't betray you for my life. I would never betray you." Nobody did that. They said, "Will it be me, Lord?"
So, after this pitiful last supper, Jesus said, "You must drink my blood and eat my flesh. And do this in memory of me." He meant, 'Be one with me. You have to be one with me.' And he went out to the Garden of Gethsemene. And he prayed his guts out until blood came out of his forehead. He was praying so intensely with Peter, James and John waiting for his at the gate.
Now, when I went to Israel they had this church. You know they built a church over these sites. And at first I was so angry about it. I thought, 'Why are they building a church over it?' Then I realized that that was their way of protecting it. So they have this church built over it, The Church of the Garden of Gethsemane up over the Mount of Olives. They have this big glass window in the floor that's supposed to show the rock where Jesus prayed. Well, Father went there and said, 'No, this isn't the place where Jesus prayed. It's across the road over there in that little lot over there."
And Father went to the exact spot where Jesus prayed. And He put three nails in it for Islam, Judaism and Christianity. He put three nails there right where Jesus prayed. So, when I went there we climbed over that little cement wall with some brothers and we found that tree with the three nails there. What an incredible experience. I mean, standing right there where Jesus prayed this incredible prayer. I mean, what in the world? How can you be standing in such a spot? And we prayed together. And it was so intense.
I picked up a few stones from the ground and I put them in my suitcase and took them home. Of course, the immigration people were wondering, 'What are these stones here in your suitcase? And I said 'keepsakes' 'souvenirs.' And they said, 'Okay.' So, I was so happy. I came home and was going to package them up with a little bow and give them to our best ministers. You know, Rev. Jenkins was selling them for money. But I just wanted to give them to our best ministers. So, we invited some of our best ministers over, and I presented them with this rock from the Garden of Gethsemane. And he looked at me and said, 'You stole this from the Garden of Gethsemane?'
So, the other stones are still here. We can't give them to anybody. I mean I geesh ... But our Jewish brother here helped me out. He said that these stones were probably not there when Jesus was there. They're not authentic stones. They were probably put there long after Jesus, so don't worry about it. But the cab drivers in Jerusalem all know about what Father said. So, when people say they want to go and see the Garden of Gethsemane, they always tell the tourists, 'Well, Father Moon says it's over there.'
So, Jesus told his disciples to wait for him while he prayed. And he prayed his guts out for an hour. Blood was coming out of his forehead. He was breaking the blood vessels in his forehead. I mean, have you ever had that kind of prayer. He was desperate. Father, let this cup pass from me. Nevertheless, not my will but your will be done. And he prayed this over and over again. And you know, he prayed it for another hour after he found his disciples sleeping and stuff. But the point is that Christians can't possibly understand this prayer in the Garden of Gethsemane. They don't understand it at all. They think he was afraid to die. How insulting? They don't understand.
See, his death on the cross was not a sacrifice. It was an offering. He was determined to go to the cross. That's why he told Peter to get out of the way six days before the Mount of Transfiguration. That was his offering. That's what he wanted to give. He had to make an offering. But he did make a sacrifice. And that's what he's praying about here, the sacrifice, what he didn't want to give, what he didn't want to give up. What was that? HIS MISSION. HIS WIFE. HIS LINEAGE. HIS FAMILY. (Air's note: The first sinless lineage that would begin for and belong to God.) That was his sacrifice. He didn't want to give those up. That's his grief, his agony. And he prayed that way and cried ...
You know, what about Nathan Hale, the hero of the revolutionary army, right? He was a messenger for the American army ... He got caught by the British? He was sitting on a horse with a rope around his neck. They were going to hang him and kick the horse out from under him. And they said, 'Nathan, do you have any last wish. And he said, 'I only regret that I have but one life to give for my country.' Is he better than Jesus? What about those soldiers who throw themselves on a hand grenade to protect their friends. Are they better than Jesus? What about the mothers who run out in traffic to save their little kids from the car in the traffic. Are they better than Jesus? So insulting that they cannot understand Jesus, they cannot, so insulting.
So, after this pitiful situation, he goes out and here comes Judas with some Roman soldiers. There's Judas holding the money bag there (in the painting). He kisses Jesus on the cheek so that they can identify Jesus (as if they didn't know). And they arrest him and take him away. Did you know that we have a lot of churches named 'Church of St. Judas.' And their justification for that is, 'Well, somebody had to do it. Somebody had to betray Jesus; because, otherwise, he wouldn't die for our sins. God bless Judas.' Well, that's not the way Jesus looked at it. What did Jesus think about Judas? Jesus said:
"It would have been better for that man ...if he had never been born."
And after Judas betrayed Jesus, he went out in a field and hung himself, killed himself. (That would be the so-called) St. Judas. And the Bible says that Judas sold Jesus out for thirty pieces of silver. Well, that's not what Father said. We don't have the Wolli Wonbon officially translated into English; but, Andy Wilson's been given permission to teach from the Wolli Wonbon for the last ... quite a few years at UTS (Unification Theological Seminary). And this is from his class notes:
"According to True Father's first Principle text, 'Wolli Wonbon' (written in the early 1950s), Jesus was indeed married to Mary Magdalene. It was a conditional marriage, however, because Mary Magdalene also had been sleeping with another man in the Archangel position (Judas Iscariot), who was supposed to give her to Jesus... For Mary successfully to restore Eve's position and start as Jesus' wife, whe had to convince Judas to offer her voluntarily to Jesus. but she could not prevail upon him to do so; to the contrary, he let his jealousy get the better of him. This was Judas' real motive for betraying Jesus, not the paltry sum of 30 pieces of silver.
So, according to Father's first text written in the early 1950s, Jesus was indeed married to Mary Magdalene. It was a conditional marriage however, because Mary had also been sleeping with another man in the archangel position, Judas, who was supposed to give her to Jesus for Mary to successfully restore Eve's position and stand as Jesus' wife ...
See, Jesus was desperate. He desperately needed to leave behind a descendant, somebody he could work through, even if it wasn't a blood child ... somebody ... He had healed Mary Magdalene of some evil spirits. She was a high society person. She was the best person available to Jesus, but she happened to be Judas' girlfriend. An he wouldn't give her up.
So, they brought Jesus before Pontius Pilot. I want to know how many of you grew up in a church where every Sunday they recite the Apostles Creed. And in the Apostles Creed they say, 'Jesus suffered under Pontius Pilot was crucified, died and was buried ...' Well, that's kind of true technically; but they make it sound like it's Pontius Pilot's problem that Jesus suffered and was crucified, died and was buried.
Pontius Pilot didn't think that Jesus was guilty at all. Pontius Pilot questioned Jesus at his trial; and, he said, 'I find no fault with this man. He argued with the crowd over and over and over again. He said, 'He's done nothing wrong. There's no sin in the man. But the crowd insisted, 'Crucify him! Crucify him!' And this was the one day of the year in the Jewish tradition when somebody, anybody could take the place of a criminal at his sentencing. (They actually had a cultural situation like that, only once a year.) So anybody could have raised their hand, Peter could have raised his hand and said, 'Take me instead' and Jesus could have walked away from there.
God and Satan were still fighting this out. God didn't want Jesus to go to the cross. But Peter ran away. He said, 'I don't know the man.' He denied him three times. He said, 'I never met him. I don't know who he is.'
And all the apostles were hiding. Where's Mary. Where's Jesus' mother? Nobody would take his place, nobody. And Pontius Pilot turned over and said, 'How about Barabus here? He a criminal. Take him instead of Jesus. And they said, 'No! We want Jesus crucified. They said, 'Let his blood be on our heads.' And that's what happened. But the war was still going on.
Pontius Pilot's wife was standing behind a curtain. She reached out from behind the curtain and pulled Pontius Pilot behind the curtain and said, 'Leave that Jesus alone. I had a bad dream about him last night. Don't do anything to him. God and Satan are still fighting it out. And he (Pontius Pilot) came back and said, 'Look, I wash my hands of this thing. You do what you want with him.' And that's what they did.
And they took Jesus and scourged him (there are paintings of all of this). You know, that thing with the rope and then on the end of the robe are these metal, metal things that snag your flesh and tair it. And they whipped him and whipped him.
You know I went to Jerusalem a couple of times on the pilgrimages there. And the second time we went to a place called 'Caiaphus' House.' It's a tourist stop. And I thought, 'Wow. Caiaphus, he was the chief priest at this time when Jesus was crucified. Caiaphus' house is not there any more; but, the basement of Caiaphus' house is there so that you can walk down the dirt stairway to a big cave under Caiaphus' house. And in the walls of this big cave under Caiaphus' house are these metal rings in the wall where they tie people to these metal rings and whip them like this. And the spirit world in that cave was so thick you could cut it with a knife. And I just felt the screams, the screams in that cave. I don't know if Jesus was scourged there or not, but maybe.
Mrs. Eu in her book, she writes something here that I want to read to you. It's about suffering. "Father said that Satan's attacks on Him were beyond description. God even left Father when Satan's attack became very harsh. He (Father) pointed out that the physical pain of Jesus ended with the pain of the cross. However, the pain He (Father) felt while carrying the cross of shim jeong was incomprehensible/incomparable to the physical pain of Jesus. Father said that when God abandoned Him during Satan's attack, it was as if He had been thrown into a completely black void. He could not even be conscious of where He was.
Father could not tell where His physical body was or where His spiritual body was. At that time, Satan appeared to Father and taunted Him and said, 'Will you not succumb to me?' And seeing that Father was unwavering and never complaining about His situation, Satan in the end raised his hands up high and gave up. Satan said, 'Normally a person in this position blames God. I have never seen anyone like this.' Then he (Satan) backed off. Then God came to Father in tears. He (God) cried so violently that it shook Heaven and earth. God then embraced Father saying, "I have finally found my Son."
So, Jesus was crucified. He was carrying a couple of timbers of his cross. And a couple of ladies were crying by the path where he was walking with them. And Jesus looked at them and said, 'Don't cry for me. Cry for your children and your children's children.' And Jesus went to the cross with no foundation to go to the spirit world as the Messiah, none. Everybody had left him. He needed at least one follower disciple.
And when he was up on the cross, there were two thieves, one on his left and one on his right and the one on his left said, 'Jesus, why don't you throw yourself down from there and save us. Why don't you save us all? And the thief on his right said, 'Shut up. We're criminals. We're guilty. We deserve to be punished; but, he didn't do anything wrong. He's a good man.' And Jesus turned to the man on his right and said, 'Verily I say to you, you will be with me this day in paradise.' And Father said that it is because of this one man's kind words on the cross when Jesus was dying on the cross, that man to his right, that man is the only foundation Jesus had to be the Messiah when he went to the spirit world.
You know, when I go to Cheong Pyeong, I see thousands of members there. Even though our understanding is weak and our faith is weak or whatever, we have all this foundation. And I always think about Jesus. I think, 'Man, Jesus would have given anything to have that kind of foundation like that. He had nothing except the kind words of this man to go to the spirit world. That's all he had.'
And on the cross, God left him (Jesus) because God couldn't bear to watch, just like Father said that God left Father too when He was going through Satan's attack. Father said that God couldn't bear to watch. He said God was more ripped apart by seeing Jesus on the cross than He was when seeing when Adam and Eve fell in the Garden. And Jesus said in his last breath, 'Father forgive them. They know not what they do.' Luke 23:34
And how do my dear, precious Christian brothers and sisters interpret this who think Jesus came to die on the cross? How do you interpret this statement? They think he said, 'Father forgive them for they know not what a great thing they are doing.' (Is that sick or what? sick.)
So, then Jesus went to hell for three days. Father said that this was the most fearsome thing for Jesus. He was more afraid of this than anything else, going to hell for three days. He had to go there. I don't know. He made a condition of some kind is why he had to go there, maybe for his resurrection. I don't know. Maybe that was part of the deal. He went and ministered to the spirits in hell for three days. And then he came back and made his foundation of substance. He ministered to his apostles.
He rallied them. They got the Holy Spirit. He inspired them. He lifted up their spirits. He gave them faith again. I mean, they didn't end up doing much of anything again after that, but ...
He made his foundation of substance; although, he needed more than that. He knew that the church never would have been started if it was up to these people. He knew it. He had to find a real John the Baptist and He did. He went and found Saul. Saul, he was against Christians. He was rounding them up and bringing them in to be killed. He was against Christians 100 percent. And Jesus came to him while he was on the road to Demascus. And a bright light appeared. A voice boomed from Heaven and knocked him off his horse and called him. Jesus called him and said, 'Go to Jerusalem and you'll be told what to do.'
And Paul kind of took off for quite a long time before he went on his crusade. But the one thing about Paul is that he went and spent time with all of his living apostles before he went on his crusade. He's the one person who has that testimony from the living apostles. And he went off, God Bless him. He went off on these crusades. (Shows a map) Look at these red lines all over the map. He went all over the Mediterranean Sea area, the north side there, witnessing, testifying, healing, spreading the Gospel. He built the church of Jesus. If it were'nt for this one man, Paul, we'd have nothing. He did it.
Father needs John the Baptists right now. He needs somebody like Rick Warren. I don't know why somebody like Archbishop Stallings isn't camping in his front yard. We need Rick Warren ... He's got influence all over the world. Father needs somebody with that kind of influence that can spread the Gospel of True Parents. But Dae Mo Nim said to us, 'Yeah, God could do that, but who's going to teach those people. We need teachers. We have no teachers. It seems like we're in the way half the time, most of the time.
(Shows diagram) Here's the trinity. God made Adam and Eve. (They dropped out) God made Jesus and the Holy Spirit to be the new Adam and Eve but they could only be in the spiritual sense only as it turned out. And Jesus had said before he died that there is not going to be one stone left upon another (70 A.D.). If you destroy, if you kill me, if I'm not accepted, if I'm rejected, there won't be one stone left upon another.
And that's what happened. It wasn't what Isaiah had said. In 70 A.D. the Roman Emporer got fed up with the rebellious Jewish people in Israel, this little tiny desert place on the end of the Mediterranean Sea. He got fed up with them and he sent 90 percent of his army into Israel. Ninty percent of the Roman army went into Jerusalem to slaughter those people and destroy them all. Ninty percent of the Roman army. What in the world? This little wasteland over there. 'Why would Rome send ninty percent of its army to destroy little Jerusalem and wipe out those people?' I asked myself.
Father didn't say this, it's my own suspicion, but I just wonder anymore, 'Was there a descendant of Jesus there?' My understanding was that Mary Magdalene was pregnant when she was at the tomb of Jesus. Was there a descendant there that Satan wanted to get rid of? I don't know. But why would the Roman Empire send ninty percent of its army to little ole Israel over there, no man's place, to wipe out this little country? It doesn't make any sense; but, they did it.
And then my wife told me about the 900. This is the end of my presentation. I'll just tell you about the 900 so that you can understand about the heart and character of the Jewish people. The Roman army was there slaughtering everybody; and, there were tunnels under the walls, escape tunnels out of Jerusalem. And many mothers and children escaped out of those tunnels. And they escaped out to some nearby hillside. And there were 900 mothers and children up there on that hillside. And the Romans thought they were done with all their dirty work; but, just before they left somebody noticed all those mothers and children up on the hillside. There were 900 of them.
And when the Romans started going up the hillside to finish their job, the Jewish mothers pulled out their swords and they killed their children. And they killed themselves and each other because they didn't want the Romans to do it.
That's the kind of people they are.
---
Front Page First Page True Love Christology