TRUE MOTHER'S BIRTH AND THE LIFE COURSE
Transcribed by Airenae Culvy
<![if !vml]>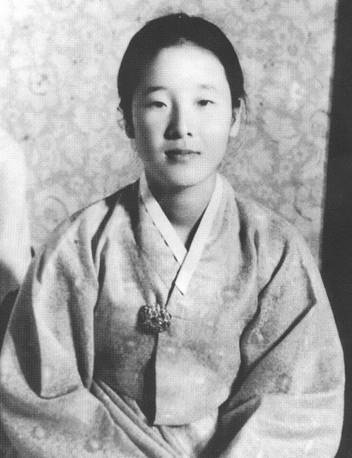 <![endif]>
True Mother, Hak Ja Han, was born on the sixth day of the first lunar-calendar month in 1943 (February 10 by the Gregorian calendar) at 4:30 AM, in her mother's family home in the town of Anju, in Anju County, South Pyongan Province, in what is today the Democratic People's Republic of Korea. Her birth came ten years after Mr. Seung Woon Han and Ms. Soon Ae Hong had met and married in the New Jesus Church. She was her parents' only child.
Her mother's family home had a small hill behind it and a brook running nearby. True Mother looked back on her mother's home as a place that gave her a feeling of comfort and warmth. "It felt like the bosom of a hen nurturing her young. In the back garden, they grew a crop of corn for the family and the corn plants were very tall," she remembered.

TRUE MOTHER'S BIRTH AND THE LIFE COURSE
OF THE TRUE PARENTS OF HEAVEN, EARTH AND HUMANKIND
Jinhhun Yong
Director of Education Support Department
FFWPUI Headquarters
Today, I will give a lecture about True Mother's Birth and True Parents' Life Courses. First, as you see from the contents, we will briefly cover the following material:
I. True Mother's Family Background
II. Foundation to Receive the Messiah & Preparation for the Bride
III. True Mother's Birth & Growth
IV. True Mother's Perfection and Value
V. True Parents' Holy Wedding
VI. True Mother's life and Change of Status
VII. Results of True Mother's Completion of Responsibility
You may have heard this many times already but we know that our Heavenly Parent prepared the chosen people and established central figures in preparation for sending The True Parents to earth. We know that history was prepared for this regarding True Parents' Life Courses. Stories about True Parents abound. The Dallae River Story is among them.
China often invaded Korea. Some scholars say that Koreans suffered attacks 900 times. Others have given even larger numbers. Each time a new dynasty appears it consolidates the Chinese territory and begins to annex other countries for unification. When this happens, each time this happens, China has many internal wars to make Chinese sty territory one nation.
Once a new dynasty establishes itself, it's new assignment is to come up with a strategy to absorb the Korean Peninsula. This time as well, Korea was in a difficult circumstance due to China's invasion; and the Korean king must have undergone quite a difficult experience. China then began to send envoys to try to force Korea's submission to them without there being the need for a war. However, for the Chinese envoy to enter Korea, he had to cross the Dallae River. The Dallae River had stepping stones, separate stones spaced out across the river.
A particular Chinese envoy was to come that following August; but once the Monsoon Season begins here in Korea, the stepping stones disappear under the water as the river swells. Korea was well aware that, if they did not receive the envoy graciously, China might invade and the Korean people suffer. So, their stance at that time was that welcoming the envoy was absolutely necessary. Because Korea did not have money however, the king put out an advertisment asking if anyone could connect the posts together or create a flatboard bridge.
At that time, Jo Han-jun, an ancester of True Mother's maternal grandmother, Jo Won-mo, sold everything he had to build a bridge. After he completed the bridge, he had about three Korean coins left, roughly three dollars. To attend the following day's opening ceremony, he bought some new shoes to replace his worn out ones. He placed his shoes at his bedside and fell asleep. That night he dreampt of an elderly man clothed in white who called to him,
"Han Jun ah! Han Jun ah! Your meritorious services are great indeed. However, why did you spend that three dollars on a pair of shoes? If you had invested all your money, even that last three dollars, I was going to send the Prince of Heaven; but I shall send the Princess instead."
In this way, True Mother's family has an historic ancestry prepared for a long time in order to save the nation, ever since the time of this great grandfather of long ago, Jo Han Jun.
caption: II. TRUE MOTHER'S FAMILY BACKGROUND
1. Three Generations of Only Daughters Born Feb 10, 1943, 4:30 a.m.
(1.6 by the lunar calendar)
At (address): 26 Shin-ui Ri, Anju Eup.
Anju Gun. North Pyeong-an Province
2. When True Mother was born, Mr. Han had something closer to a vision than a dream, in which he saw a pair of cranes dancing in harmony in a dense pine grove bathed by clear and beautiful sunlight. That is why he named Mother, Hakja (child of the crane).
(History Compilation Committee, 'True Parents' Life Course' Vol 10. p 17)
***
As you may know, True Mother was born at 4:30 in the morning on February 10th, 1943, the sixth day of the first month by the lunar calendar. She was born at home as an only Daughter into the last of Three Generations that produced only one daughter, all living together in one home. Her address was number 26 Shin-ui Village in Anju Town, Anju County, North Pyeong-an Province.
When She (Hak Ja Han) was born, Her Father had a visionary dream in which the morning sunlight was shining beautifully through a dense forest of deep green pine trees. On the branch of one pine tree was a pair of cranes dancing affectionately. Upon seeing this extraordinary dream, he named True Mother 'Hak Ja' after the name of the bird.
(caption: True Mother's Hometown of Shin-ui, Anju Eup)
This photograph shows Mother's hometwon, Shin-ui Village in Anju. It's a view from the old days. It was such a beautiful and snug area
caption: TRUE MOTHER'S FAMILY BACKGROUND
1. Wedding of Han Seung-eun and Hong Soon-ae (Daemonim): Officiated by Pastor Lee Ho-bin
2. New Jesus Church Days:
"Rejoice, daughter of Hong Yu-il! Your child shall be the king of the universe if it is a son, and the queen of the universe if it is a daughter."
(History Compilation Committee, 'True Parents' Life Course and Providence II' P. 45)
3. Heo Ho-bin: Blessed True Mother at the age of 4 as
"The One Who will become Heaven's Bride"
(History Compilation Committee, 'True Parents' Life Course 10', p.44.)
4. Jo Won-mo grandmother (material) always told Mother:
"Your father is Heavenly Father." 'Heavenly Father is your Father.'
(History Compilation Committee, 'True Parents' Life course Vol. 10', p. 43-44)
***
Han Seung-eun and Hong Soon-ae, True Mother's parents, married; and then True Mother was Conceived and Born.
Grandmother Jo Won-mo had been a devoted Christian since she was young and later took her daughter Han Seung-ae, who was later named 'Daemonim,' to church all the time.

At that time, there was a pastor named Lee Yong Do who led 30,000 believers, which is a very large number. Rev. Lee's church was called 'The New Jesus Church'. When Rev. Lee saw Daemonim it is said that he blessed her saying,
"Rejoice, daughter of Hong Yu-il! Your child shall be the king of the universe if it be a son, and the queen of the universe if it be a daughter." He gave this blessing.
When True Mother was four years old, they began to go to the Inside the Womb Church. Ho Ho Bin was the leader of that church. When True Mother and Han Seung-eun, Daemonim's mother arrived, holding hands, she prophesied,
"This is the one who will become Heaven's Bride."
Grandmother Jo Won-mo always told True Mother as a child and taught Her saying,
"Your father is not your biological father Han Seung-eun." Thus it is said that each time True Mother said 'Father' to Herself, She was reminded of Heavenly Father. That tells us something about Her Life.
I will read a few lines from True Father's Words about the Foundation to Receive the Messiah & Preparation for the Bride:
"Why should a man in his forties (a young man of forty) marry a young girl like Mother Who is just sixteen (Who is just seventeen)? But Eve fell before she turned seventeen, at the age of sixteen...
Since the Returning Lord was predestined to (return) come in Korea according to God's provdience, (the mission was tranmitted through three great women) the mission of three great women was transmitted for forty years in order that Mother could meet the Returning Lord. They are Kim Sung-do (of the Holy Lord Church) (36-couple Rev. Jeong Su-won's grandmother), and then Heo Ho-bin's group (The Inside The Womb Church). Next, their missions were all passed on to the Era of the Returning Lord, the Era of The Mother ...
True Mother could be chosen after winning over all the age groups, beginning from 80 to 70, 70 to 60, 60 to 50, 50 to 40, 40 to 30, 30 to 20, and 20 to 10. This took 14 years ... By passing on the Blessing in this manner, one must go back again to that position (one goes back to the original position). One must go back." (This is what Father explained. This is a very important concept.) (280-210-212, 1997.01.01)
caption: iii FOUNDATION TO RECEIVE THE MESSIAH & PREPARATION FOR THE BRIDE
(If you took Korea and divided it in half, on the right side were twelve central figures prepared to receive the Messiah; and on the left there wer twelve groups prepared to receive Eve, in other words, The One Who would become The True Mother.
EAST SIDE OF KOREA (MEN)
Representing the twelve male central figures were :
(Adam-type) Rev. Baek Nam-ju
(Jesus-type) Rev. Lee Yong-do
(John the Baptist-type) Rev. Kim Baek-moon
(CHRISTIAN, ABEL-TYPE, SPIRITUAL CENTRAL FIGURES)
These people were Christian, Abel-type, spiritual central figures who had received revelations on parts of our Divine Principle; and when they met those who were spreading the Word, they understood that it was related to The Returning Lord. You can look at them as people whom Heaven embodied and cultivated through revelations.
Meanwhile on the WEST SIDE OF KOREA
preparations were being made to receive The Messiah's Bride. Out of those twelve types there was the EVE-TYPE, which Kim Sung-do and (MARIA-TYPE) Heo Ho-bin of the Inside the Womb Church and which (ANNA-TYPE) Mrs. Pak Eul-ryong (Jehovah's wife) led.
caption:
West (Women)
CHEOLSAN (HALF OF KOREA)
(Eve-type) Kim Sung-do
(Maria-type) Heo Ho-bin
(Anna-type) Pak Eul-ryong
8 TYPES OF FOUNDATION FOR THE BRIDE
Daughter/Sister/Wife/Mother/Grandmother/Queen/Unity/
True Parents of Heaven, Earth and Humankind
(280-212, 1997.01.01 & 1968.03.07)
***
In True Father March 7, 1968 Speech it says:
"Eve, The Messiah's Bride must come to earth and overcome everything that Eve failed to do."
This was Father's Words. Eve did not fall only physically and sexually; but due to the Fall she also lost the foundation of God's Heartl. Thus, the position of Eve had to be restored to the unfallen heart of a daughter, the younger sister, a wife, a mother. and a queen. She would have to inherit a heart that was one with God and the heart of The True Parents of Heaven, Earth and Humankind.
Through these spiritual groups, these twelve spiritual groups, True Mother's Mission was to personally restore, all on Her own and from the very bottom, these eight stages of heart which Eve had lost.
caption: FOUNDATION TO RECEIVE THE MESSIAH & PREPARATION FOR THE BRIDE
A. Seong-Ju Church (Holy Lord Church) 1946.8.11-11.21
1. Kim Sung-do (1906.06.25, Husband: Jung Hang-joon)
a. Illicit love caused the Fall.
b. Jesus died a miserable death.
c. Two of God's great sorrows
1. The sorrow of seeing the fall and not being able to intervene
2. The sorrow of seeing Jesus bear the cross. Jesus will return in the flesh
(excommunicated from the Presbyterian Church in 1925)
e. Last words to descendants and followers: Go and find the group rumored to be promiscuous.
f. Claimed that the Lord would return in the East because of her and that Japan would soon be defeated. Was imprisoned for three months: died on 1944.4.1 at the age of 61.
g. CREATED THE FOUNDATION FOR THE BRIDE TO RECEIVE THE MESSIAH BASED ON THE THEORY OF THE FALL. (TAUGHT ABOUT THE CONSCIENCE AND PURITY. WAS CONSISTENT IN HER DEVOTION TO GOD.)
<![if !vml]><![endif]>
Mother, wearing the

Seonjeong

Middle School uniform, with her Grandmother Won Mo Cho
Moving to Daegu
Later, Soon Ae Hong and family stayed in the military family relocation camp in Jeolla Province, and after Seoul was reclaimed on September 28, they returned to Seoul and stayed in an empty house. Then, the January 4 retreat forced them to flee south once again. Soldiers' families were allowed to get on a special train before other refugees, and they left Seoul on the train and went to Daegu. At the time, the army headquarters was in Daegu, so they lived in the vicinity of the home of Mother's uncle, who was working there.
They also met the family of Seok Cheon Jeong, who had been living in the city of Daegu for a while. He was the oldest son of Seong Do Kim, the New Lord of Seongju Church, and at the time, he was in the petroleum business in Daegu. Before Korea had gained independence, when Seong Do Kim died after being in prison, he had liquefied a part of his inheritance, and in 1944 had invested in the Chilgok Mine in North Gyeongsang Province. This, in turn, had led to his settling down in Daegu.
After the first joyful meeting of the two families, Soon Ae Hong said, "When we were living in North Korea we received many blessings through the New Lord Seongdo Kim and Mrs. Ho Bin Heo, and great miracles occurred. Since the Second Coming of the Lord is to occur in Korea, let us pool our efforts and pray together to find this path." So they lived for four years with Seok Cheon Jeong's family in Daegu, with one heart.
The older sister of Seok Cheon Jeong, Seok On Jeong, came up from Busan, and other people came to offer prayers. While doing so, they received a revelation, "Henceforth, praying devoutly is not enough. You need to eat raw food." Therefore, Soon Ae Hong began eating pine needles. Raw pine needles hurt her teeth badly. She also ate kimchi soup spiced with salt and nothing else. Looking back on those days, Grandmother Hong said:
I felt that it was my responsibility to put Mother through elementary school at the least, so I began a small business in Daegu. I lived solely on kimchi soup, pine needles and peanuts, eating only twice a day at that, and though I felt a little weak while working, my mind was all the clearer.
My mother came to see me and she told me, 'You have gone insane. How can you do business eating nothing but that? It is a miracle.' I felt at ease in my mind, however. I continued working thus for three months. Having been a believer of the Seongju Church and the Inside the Belly Church, all I knew was to have unconditional faith.
<![if !vml]>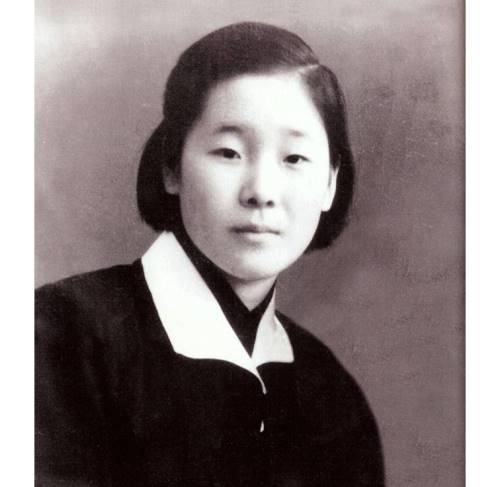 <![endif]>
True Mother (here, standing, in her middle school uniform) first met True Father in March 1956, having just turned thirteen. Mother entered middle school that April.
Moving to

Jeju

Island
In raising the young Hak Ja Han, Grandmother Hong tried to have her grow up pure and untainted by the world. True Mother attended an elementary school in Daegu, and she grew more beautiful each day. She was also a good student, so she was popular. Grandmother Hong was uncomfortable with the fact that True Mother was always the center of attention, because she had received many signs in addition to the revelation, "This child is the daughter of the Lord."
Not long after they had come to South Korea, a stranger who saw True Mother gave an astonishing testimony, saying in effect, "She is a sacred person of heaven and earth. She has come to do two great things. However, she needs to succeed in the righteous way; otherwise, when she goes out into the world she will become a traitor."
Surprised by what the man said, Grandmother Hong exclaimed, "How can you say such a thing?"
He answered, "This is the destiny she was born with when she came into the world." Then he asked, "Do you believe in Jesus?" When she answered yes, he said that was good.
From then on, Grandmother Hong resolved even harder to raise True Mother righteously. She spoke of the thoughts that had been in her mind at the time:
After hearing what he said, I was determined to succeed on the righteous path, no matter what. That was why I went to Jeju Island after coming to South Korea, and why when I joined the Unification Church, I thought that I would put her through middle school no matter what it takes and then fortify her with the Divine Principle and make her into one of the best Unification Church members. Not once did I even dream that she would become the True Mother.
Thus, to raise True Mother to be even more chaste and pure, Grandmother Hong moved to Seoguipo on Jeju Island in 1954. She was of the mind that True Mother should be raised as an ascetic after she graduated from elementary school. It was her mother's determination to create an environment in which True Mother could grow up thinking of nothing else but God, unshaken by any temptation, until she met the Lord at his Second Coming. Therefore, they went to Jeju Island, and at an age when she might otherwise have been playing and running around with her friends, True Mother began her spiritual training, which was so severe that even Heaven took pity on her.
At the time, True Mother transferred to the fifth grade class of Shinhyo Elementary School in Seoguipo, which is Hyodon Elementary School today. Soon-ac Hong continued with her practice of eating raw food, eating nothing but pressed barley soaked in water with radish kimchi, but she made steamed millet for True Mother. Even though that was the life they led, she also donated school uniforms and shirts to her more needy neighbors.
Grandmother Won Mo Cho had been living in comfort with her son and daughter-in-law, but she wanted to come and live with her daughter Soon Ae on Jeju Island. So finally they brought her to Jeju Island, and the three of them, True Mother, her mother and grandmother, were reunited once again. In those days, Soon Ae Hong had grown thinner due to her long practice of eating raw food.
Moving to

Chuncheon


The Bong-

eui

Elementary School in

Chuncheon

as it looked in the 1950s when True Mother was a student there (1955). Her mother, Soon Ae Hong (later given the title

Dae

Mo

nim

) met and joined the Unification Church during her final weeks here.
Soon Ae Hong's younger brother Soon Jeong Hong grew deeply concerned about his lonely mother, sister and niece living all by themselves on Jeju Island. At the time, his military posting was to Chuncheon in Gangwon Province, so he wrote to them, twice, inviting them to come to live with him. At first, his sister refused, but then she got the feeling that his invitation was in some way Heaven's will, so they moved to Chuncheon.
Drawing an end to their nine Month stay on Jeju Island, they rented a room in the Yaksa district in Chuncheon. Soon Ae Hong recalls the circumstances of the time:
After living in such a way for nine months, I received a letter from my younger brother asking me to return to the mainland with our mother. At first, I did not go. Then he sent another letter, asking me to bring our mother to the mainland at once. Left no choice, I then thought to myself, 'There must be a reason that we need to return to the mainland'. When I think about it now, I believe I did well to leave Jeju Island. If we had not left then, we might have continued to live there for good. So, when all is said and done, my brother saved me. I went to Chuncheon. At the time, my brother was working as the head of a distribution agency. In Chuncheon, I began my business again.
<![if !vml]>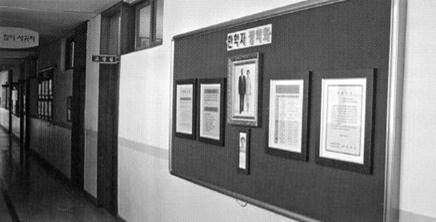 <![endif]>
A memorial to True Mother haying been a student there hangs on the wall of Bong-eui Elementary School in Chuncheon.
In February 1955, True Mother transferred to Bongeui Elementary School in the same district in Chuncheon and soon after moved up to sixth grade. On March 2, 1956, she graduated. In True Mother's school record, it is written, "She is virtuous and kind, somewhat refined in manner, and the most feminine among all her classmates." It also states that she graduated with honors.
Mrs. Moon is a devoted wife, the mother of 14 children and the grandmother of more than 40 grandchildren. She is known for her extraordinary compassion, capability, grace and charm. Above all, she is exemplary as a woman who has a created a God-centered marriage and family of three generations.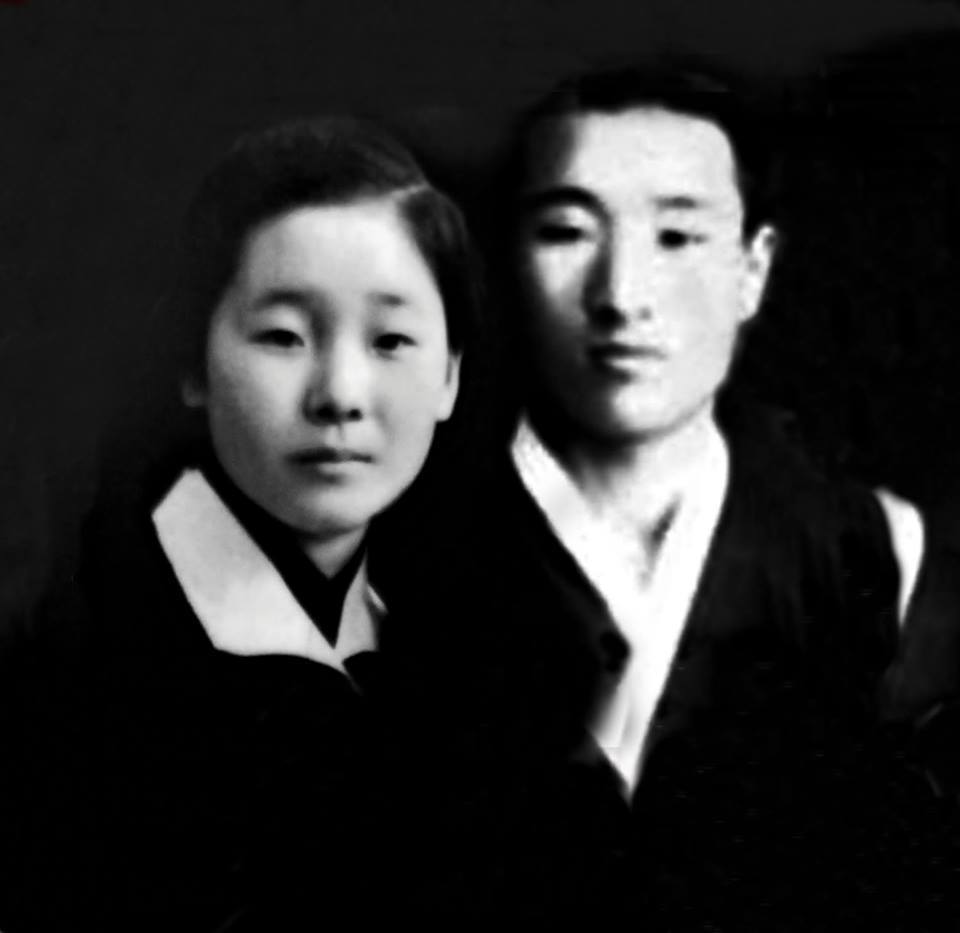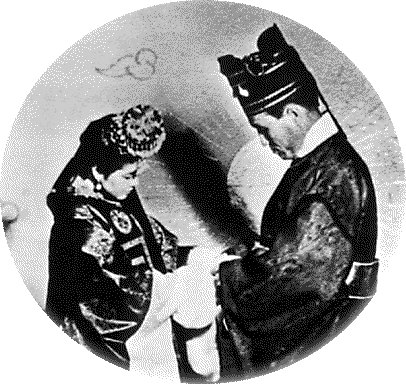 ( https://www.youtube.com/watch?time_continue=10&v=QonmrUwfz8c )
---