Former Headquarters Unification Church
By Taekon Lee and others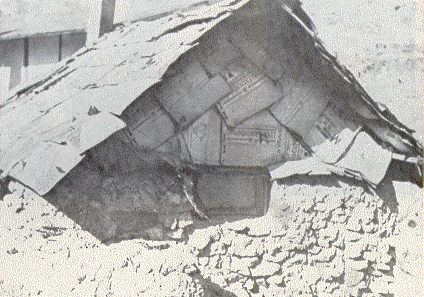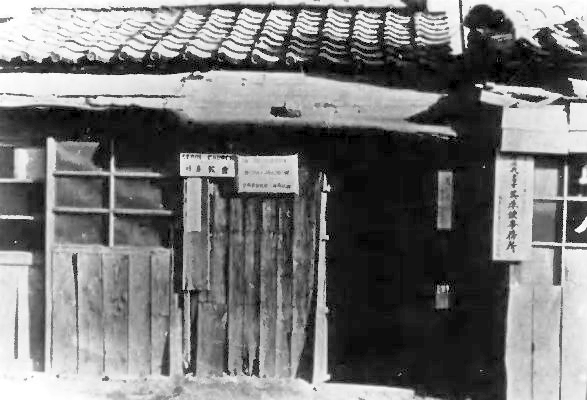 The appearance of the Messiah

There have been many religions, but what has been their mission? Their mission is to find one particular person. Many religions talk about attaining salvation and other such matters, but they are seeking to find the one person able to rise to the highest point in the world, the one person who has even gone beyond that point. They want to bring this person into existence. In this way, the center of all religions is one specific person; he is the Messiah. In other words, all religions have been looking for one person, and this one person, the central being, is the Messiah, the Savior. When the Messiah comes, he does not come to his position immediately. He has to fulfill a seven-year course. The Messiah is a man. This Messiah has to come and gain victory over Satan by going beyond the blood relationship of the satanic world.

Centering on this triumphant man, there should be victory on the level of the family, tribe, and people, and a foundation for national victory must be laid. One man alone will not suffice. In other words, he must be greater than the satanic world. Unless the Messiah rises above the families belonging to the satanic world, he cannot lead them.The highest level in the satanic world is that of a nation. Satan has always been opposing God's will through nations. Since Satan has the nation, he has used it to strike heaven on the level of the individual, family, tribe, and people. Satan has constantly used a nation to block the path prepared by heaven.

Ultimately, if you are opposed and persecuted, it is because you are in an inferior position; if you are in a superior position, you can turn around and persecute and dominate. Because this world became Satan's through the Fall, there are plenty of individuals, families, tribes and nations on the satanic side. But God has none of these on His side. There is only one individual, but there is no family, tribe, people, or nation that has come up to God's standard. Hence, without a foundation on which the Messiah as an individual can triumph on the family level, the tribal level, and the national level, there is no way for ordinary people to advance.Through individuals and families, God prepared a realm into which a people who could advance with the Messiah when he came to earth. This was the people of Israel who lived with the concept of being the chosen people.However, the people of Israel have not yet arrived in that realm. It was as if they were held back behind a line. The hope of the chosen people was to go over this line. If they failed to cross over, it would be a great disaster. They had to cross this line and yet, as hard as they tried, it was impossible to cross over on their own. That is why God promised the people of Israel that He would send them the Messiah, the Savior. This was the Messiah for whom God had prepared for thousands of years in order to transcend this line on the national level. He promised to send the Messiah.The people of Israel should have become completely one with the Messiah when he came to them. They should have been willing to die for him. If they had, Satan could never have sep-arated them in any way. The Messiah could have engrafted them to him on the individual, family, tribal, people and national levels and brought them into this realm all at once. This is why the world needs the idea of the chosen people. With that people chosen by God, the Messiah should build God's chosen nation. The existence of a chosen people proves God's existence. And judging from that basis, the prophecy about the coming of the Messiah further proves His existence.

For what purpose do we need the Messiah? That is the question. Through the Fall, we came to have false parents. The parents who were to have become one with God disappeared. The Messiah comes in the position of parents through whom we can be one with God. This is the first purpose of the Messiah. What is the second? It is to give us rebirth. Since satanic blood runs in our veins, the Messiah will drain out this satanic blood and engraft us to him. He will give us sec-ond birth and thus we shall no longer be Satan's sons and daughters. The Messiah's third purpose is to transform us into the people who can turn the devil into a servant and put him to work as a servant. In other words, the Messiah will come and make us qualified to subjugate Satan and punish him.Because of the Fall, human beings first lost the chance to have parents. Second, they received satanic blood; third, they came under satanic dominion. Restoring what was original-ly intended requires going in the reverse order. In the Principle, we have the foundation of faith and the foundation of substance. We can hope for the Messiah only when we have laid these foundations of faith and substance. This is the Principle. We must establish the foundation of faith and the foundation of substance. (54-182, 1972.03.24)

The Messiah is the embodiment of the purpose of faith and the embodiment of the purpose of hope. He is the embodiment in whom the purpose of faith and hope are realized. When this purpose is realized through the Messiah, what is the only thing that will remain? Nothing will remain but love when this purpose is realized. This is why it is said that what remains in the end is love. This love comes through the perfect incarnations of faith and hope. The representative of this one love is the Messiah. (13-140, 1964.01.01)
(photo 1)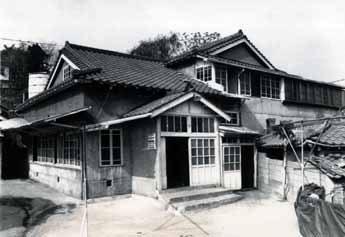 History Of Unification Church, part 1

Reverend Sun Myung Moon
December 27, 1971
Washington, D.C.
Master Speaks
Probable translator Young Oon Kim

As you know, during World War II, Korea was under Japanese reign. Among Korean Patriots there were many who fought against the Japanese regime. As you know from the Divine Principles, God lost the four position foundation. Therefore, for Him, the purpose of restoration was to restore this four position base. Therefore, there were many number 4 in the Bible and in His providence Therefore, 40 years and 400 years providence. So all the restitution, indemnity has been done according to Principle. For Korea to become the Adam country in God's providence she must be put under Eve's country. By overcoming Eve's country she must get independence From Satan's side, Japan was united with Germany and Italy, which were all satanic countries. For the democratic side there were the United States, Great Britain, and France. During World War I Germany was almost completely destroyed. But the reason why she could recover in 20 years was because there was great significance for her to play in God's providence in the Second World War. Always the defeated countries, first attack. The three countries, the United States, Great Britain and France united and got victory over the Satanic countries. For Korea, she must be ruled by Japan for 40 years Japan was the female country on Satan's side During that 40 year period. The Japanese tried to kill all the cultural tradition and even the language of Korea. Master himself was imprisoned by the Japanese during that period. So there were many Koreans who were imprisoned and suppressed by the Japanese government.

To be called by God those people must be Patriots, pious children, or devoted people to their society. Patriots are those who are determined to devote themselves for the sake of the nation -- for God's providence. He also needs those people. When God finds and enlarges His foundation for His providence He always does His work under rejection by Satan. During that period, he was a young man, and as a young man he prepared himself for the coming public life of his ministry.

As the time went by near to the end of World War II the oppression became much severer. At the last period of Japanese ruling, the Japanese increased their oppression and forced Christians to worship idols at the Japanese shrines. Devout Christians refused and lived underground. Some went to Manchuria, some went to Soviet Russia, some went to the mountain's and had a hidden life. There were many people who longed for the day of liberation from Japan, believing in God. There were many Christian ministers who worked with the Japanese government. They did according to Japanese directions. But on the other hand there were many patriotic devout Christians who fought underground, in the mountains, still keeping their faith and waiting, for the day of liberation.

As the end was coming near, those devout Christians became more serious, and they prayed to God that decisive judgement or decisive sentence be brought to Korea. Also there were many people who were led by God or by spirit world directly and they could flee or escape the Japanese police when they tried to capture them. Most of them knew about when the Japanese would be defeated. Also many received revelations from heaven that after World War II history would be developed centering on Korea. Also, Master was connected with several such groups. But even though he had connected with such groups, he Could never speak any of the Divine Principles which you are now learning. Because there was word from God and he had promised God to begin this work right after Korean liberation, therefore he couldn't speak at this time. The will of God could not be established by one man alone. There must always be the object to work with. Also, God showed that after World War II all the Christian churches would be divided. Among the Christians were many who received revelations not to work with existing Christian churches.

The land of Korea is distinguished by East and West. Eastern side is more mountainous and. Western side is more flat. Also there was a group which had special mission to restore the Garden of Eden in Korea. The Eastern part of Korea has male-like nature and the Western part has female nature. Like the shape of Korea's land, God's providence also took the same pattern: male characteristics on the eastern part and female characteristics on the Western part. In North Korea on the Eastern coast there is a city called Wonsan. In this city was a Christian movement. On the Western coast there was a place called Konsan, and here a Christian movement arose. On the Eastern coast many men followed this movement. To them Jesus Christ himself appeared and told them his past life and what was to come, all those things that were to happen.

In Won San the leader was Paek Nam Su. Also there was a woman that was taking the counter part to the man. Her name was Han Myang Pa. To Han, Jesus appeared and through her, Jesus began to speak to Mr. Paeg. She spoke, Lord is with me, and Lord is speaking through me. So Mr. Paeg knelt down and he told through the lady, "Speak to me what you are going to speak." From that, trouble-began to occur. What was spoken to the two was transmitted to the ministers, and by hearing such things the ministers began to persecute them.

So, always such spiritual groups and Christian churches have fights. Even though they received such revelations or words, they didn't know the inside of spiritual movement. Therefore, they couldn't control such spiritual phenomena. So that group was moved according to the lady's speeches, as she spoke. By the words from heaven she was told that there was another group on the West coast, and to have connection with that group. So Mr. Paeg began to walk to that place. When he went, heaven told him to not wear any shoes, barefoot he was going to go to the West Coast. The distance was going to be 130 miles.

In Wonsan, the West coast town, there was a not too old lady, about 50 years of age. Centering on her, Mrs. Kim Son Do, a movement arose. She had her husband, and when she began to receive revelations from heaven her husband persecuted her and drove her almost to death. At that time Confucianism was prevailing in Korea and most people believed in that. When a man becomes Christian they don't worship their forefathers. Therefore. her husband did not like her to become Christian. Also she always got up early at 1:00 in the night and prayed until mid-morning so for a stranger such behavior couldn't be understood. Not withstanding her husband's persecution, she continued her work. So she was ready to give her life for the service.

She was recognized by the spirit world as an especially devout Christian in Korea at that time. She had direct conversation with God. She received direct revelations; she was taught many things from heaven. She was told the exact date of Korea's liberation, she was told that the Lord of the Second Advent would come to Korea as a physical man. Also, she knew that by the Lord, Korea would become a privileged nation, and by Korea all the world would be restored to God.

There were 12 main teachings which she received from heaven, and among these were:

1. Liberation of Korea from Japan

2. Lord of Second Advent would come to Korea not in clouds, but on earth as a physical man. And that man is Korean.

3. Fruit of the tree of knowledge of good and evil was not fruit, but the fall was the action of love; the fall took place by misuse of love.

4. Man and woman should not marry, because such marriages are not true marriages, but false marriages. She taught married couples not to have sexual life.

5. Lord was coming to establish new blood lineage. Therefore, all those who were to receive Lord of Second Advent must have purified mind and body. Therefore, there should be no sexual life between husbands and wives.

Many women came to her and they received many graces from heaven, and they were awaiting the coming of the Garden of Eden on earth. For her there were two sons. The wife of the elder son was the daughter of a minister. The minister was a very devout one. Her daughter-in-law also had spiritual experiences. Therefore she agreed with what her mother-in-law received from heaven. Her elder son believed in what his mother was doing, but he did not positively participate in his mother's work.

The old lady told her son and daughter-in-law not to have married life between them. But her son did not obey his mother's words and had life with his wife. Therefore, spirit world took her away, and she died. At that time the old lady did not know the principle of indemnity but her action was to indemnify her husband's action because he persecuted her so severely. Therefore, she wanted to indemnify it through his son (her son) and daughter-in-law. Also to indemnify all those wrong things which her husband did to her son, and also, she wanted to pass on her mission to her daughter-in-law. For her daughter-in-law to inherit her mission she alone couldn't inherit it, but she must receive the cooperation of her husband. But at that time she did not know that. So by uniting her son and daughter-in-law, she can indemnify her husband's persecution and pass on her mission.

By her words her second son did not get married. Also her other daughters did. not get married. When such things happened to her son the man from the East coast came to her place. That was to unite family level and God wanted to unite tribal level. God wanted to unite churches. By uniting West group and East group that could be done. So from the viewpoint of restoration the East coast group was in the position of archangel and the West coast group in the position of Eve. Also heaven told the archangel group to go to Eve's group. So the one who went was not Eve's group, but the archangel's group.

By such things this movement became known all over Korea. By this all the Christian churches began to persecute them. That was the worst time of the Japanese oppression. Soon after they received that the Japanese would be perished. What they received they began to transmit from year to year. Now this was broadly known. Such things reached the ears of the ministers. They wanted to destroy this group. Therefore they went to the Japanese government authorities and they told them such things. At that time the churches worshipped at the Japanese shrines: therefore devout Christians did not attend such worship services, because Mosaic -law prohibited worshipping idols. These people tended to follow this group. Therefore the ministers wanted to stop them from going to this group. That is the reason why the minister's went to the Japanese authorities. By the ministers' accusation the old lady was imprisoned. She was tortured bitterly, and after her release she died. By her death, God's work which was programmed underground came into good luck. Therefore God picked another lady to begin the same kind of movement.

That lady was a most devout lady who followed after Mrs. Kim Son Do. That lady was Mrs. Ho Ho Bin. Her husband was also a devout Christian. He also followed after Mrs. Kim Son Do. This couple were united as one, and they were decided, they had a determined mind to follow whatever difficulties may he ahead. So this couple came to pray to God seriously. They wanted to inherit Mrs. Kim's work. So they prayed fervently, believing that this work through Mrs. Kim was the providence of God. This wife, Mrs. Ho, also began to receive revelations. Then Jesus appeared to her. Jesus told the couple that he had tried to find one man and one woman who could inherit the final mission on earth. And finally he was able to find the lady Mrs. Kim and through. her he wanted to prepare for the last mission. Those ministers who should have received her did not receive her story …(end of tape)

Jesus began to give revelations to this couple. He asked them to bear all difficulties in any situation and to uphold His will. Mrs. Kim received persecution from her husband, but this couple

was united, so there was no persecution from the husband. But persecution began from the external world, from outside, from Christian Churches. From this time she began to receive special revelations. This couple was taught the heart of God, how grievous God was at the fall of Adam, also God's providence at the time of Jesus. All kinds of things. Also, Jesus told the story of Mary, the situation when Jesus was born in the world. Also, Jesus spoke about his childhood life and also that Mary his mother couldn't fulfill her mission. Also, they were told that John the Baptist couldn't fulfill his mission. Therefore, Jesus was crucified on the cross. So by these things, the cause of Jesus' crucifixion was the disbelief of the Jewish people.

So when this couple received revelations, they received in fragments, not as whole ones. They also taught that the Lord would come as a Korean man. They received that the Lord comes as the prince of heaven, and he is the one coming after the sacrifice of 6,000 years of history. Therefore, he cannot be traded for all the things of earth, or all the things of past history. Those who were to receive him must be those who fulfilled, restored, solved all the resentments of Jesus, and who solved all the things that Jesus couldn't fulfill during his lifetime.

Also they received order from heaven that Jesus was born as the prince of heaven. Therefore his life should have been the life of a prince. He shouldn't have had any difficulties in his life time. Everything that he wore should have been the best clothes. Jesus had to have for meals the highest ones. But by the failure of the Jewish people, Jesus couldn't have the food and clothes. So they were told to indemnify all these things that Jesus couldn't have in his life. This group started to indemnify all those things. They started to make everything for Jesus.

So they were told to make clothes the size which Jesus would have worn from his childhood to 33 years old. As many clothes as Jesus could change every three days. So you can imagine how many that would be, And that was not one, but in Korean costume and also Western style. One Korean costume and one Western suit every three days. And when they made his clothing they couldn't use sewing machines -- they were told not to stitch more than three at a time, and to make this they had to clean out the whole room, and they couldn't stand up until they had finished one garment. They didn't allow them to go to the toilet. "Even though you pay such a price you are not worthy to receive him," that is what heaven told them. And when they made a mistake in something they were severely chastised from heaven. So they couldn't but follow after heaven's instructions.

At that time the group had more than 1,000 followers. And those 1,000 men worked for 7 years. For the food, they prepared 3 meals a day just like a banquet -- meat three times a day. The size of the clothes became larger and larger as he became grown-up. Then, after they finished making clothes for Jesus they were told to make clothes for the Lord to come. Also, they were told to give more sincerity in making the Lord's. clothes.

When they brought a, meal for the Lord, they were told to bow 300 times, sometimes they were told to bow 3,000 times. Heaven told, "Even though you pay your courtesy and respect to the Lord by bowing 3,000 times that is not enough to pay your respect to the Lord." To bow 3,000 times took almost 10 hours; after finishing bowing, they collapsed. Heaven told them all sizes, the length of sleeve, everything. Also her husband was told what she was told -- the Lord of Second Advent was already taller than her husband. She was told his academic background, everything from heaven. So they were waiting for the day they could meet the Lord. Waiting day by day to receive the Lord. Also, those followers of hers were so resolved that they were ready at any time to he down and die if they were told. They were ready to give their lives. They were trained in every way.

Also the lady especially trained her husband. She told her husband, "You are the archangel who made Eve fall. By the archangel, her chastity was defiled. I was the one who was to receive the Lord of the Second Advent, but by you, my chastity was defiled. So you must die." She sent him out and told him to die. This husband obeyed her words. When he was told to die he was ready to go out and die. So when he started to do that thing, she told him not to die.

In wintertime she drove out her husband wearing sackcloth. In those clothes, barefoot she sent him out and told him not to come back for 6 months and told him to eat by begging. That was to indemnify the 6,000 years caused by the archangel. He began to wander away, and after 1 week she called him back. So he indemnified 6 months in 6 days. (Whenever she was told what to do, if the man believed her and obeyed, then indemnity was made and it was shortened.)

The peculiar thing was that whenever she received a revelation her whole stomach moved according to the words she received. The reason why she had such experiences was this she was a Christian and believed that the Lord would come from the clouds of heaven. Heaven didn't want her to think that way. So that was to remind her that the Lord would come through a mother's womb. This group was named by Christian churches, "Inside Belly church." Whenever her stomach moved she received revelations. By such experience God made her believe that the Lord would come through the mother's womb.

Also she testified that Japan would surrender on 16 August 1945, that was, 7 July by lunar calendar. She often spoke in public of what she received from heaven. So it was very significant that the day fell on July 7 by the lunar calendar. The reason she spoke openly was that if she were put in prison she would soon be liberated. She was told that, so she could speak. The day before her release by the Japanese police, she received a vision of an angel standing over the Japanese Emperor's head, telling the Emperor, "You are the enemy of heaven, and you will be destroyed." The very next day, the Japanese Emperor spoke on radio. She was also told what hour the next day the Emperor would broadcast. The next day the same thing happened -- All the things which she received from heaven were realized just as she was told. Therefore all her followers could not but. follow her. By such they could receive the liberation date. They received, "When Japan perishes, you will meet the Lord of Second Advent." When they were released from prison they danced for joy.

But still they had persecutions from the Christian churches. When Korea was liberated, many devout ministers who were imprisoned by the Japanese were released, They started reconstruction work on the Christian churches. So even for Christian churches, they were divided into two, internal and external.

For Eastern coast spiritual movement, there was another successor. His name was Lee Yong Do. He was a minister. He gave much spiritual fire to the people By doing such works, heaven wanted to have a united work among such spiritual workers. For spiritual movements also there were two types; one was internal the other external. Centering, on Minister Lee, a new Jesus church was started. At that time there were instructions from heaven to unite these two churches: "Inside Belly church" and the "New Jesus church." The West group went to the Eastern group to be united, but this group did not receive them. By failing to accomplish the unification of these two groups, God had to have a new movement, and pioneer a new field.

So God wanted to have another man who could receive His direction. That was Mr. Kim, another man. After that time Mr. Lee died. The spirit of Minister Lee came to Mr. Kim and spiritually Mr. Lee passed on his mission to Mr. Kim. From this Mr. Kim a new group began.

So if we see it from the path of growth, the first path was the formation stage, Mr. Lee the growth stage, and Mr. Kim the perfection stage. So Minister Lee was in the position of Growth. That was the same position as Jesus. He died at the age of 33, in 1932. Korea's liberation took place in 1945. There were 12 years in between. By this you call see how heaven wanted to make the way of preparation for the Lord. God started from so early a date to overcome Japanese oppression.

In these circumstances, Master began to prepare his way.

The West group, centering on Mrs. Ho, waited for the Lord of Second Advent after liberation. They knew that the Lord to come should have a bride, and that he comes to form a family. So they prepared everything: bride, circumstances to form a family, 12 disciples, 70 disciples, they selected them at this time. They bought the best house in Pyongyang. They bought a fine house and prepared it for the Lord. At that time Master was in South Korea.

From the providence of restoration, there must be a lady who proclaims herself as the wife of Jehovah. Without finding this lady the providence cannot be carried on. Therefore he looked for such a lady. So in South Korea he visited every religious group and all prominent ministers to find such a lady. And Master met that Mr. Kim in November 1945, three months after the liberation. He knew that on him was a great mission, so he met him.

At that time he had a (Protestant) seminary. He was told to have a seminary by heaven. He was told to prepare forces to receive the Lord of Second Advent. That was what he was told by Heaven. So Master went to his group and met him there and stayed with him for six months. During that period God worked in various ways. There were many women who followed after Mr. Kim. Before Master went to that place they were told to follow Mr. Kim After Master went to that place they were told to follow after Master, not Mr. Kim. At that time he didn't speak of the Divine Principle. Just as Jesus was blessed by John the Baptist, Master was to inherit everything from Mr. Kim.

After six months Mr. Kim received a revelation from heaven, and he put his hand on Master's head, and blessed that the glory of King Solomon of the whole world would be on him. But at that time he (Master) didn't speak. He did the most menial things. He cleaned his place all those things. Master was in the last seat. His meeting Mr. Kim had great significance, so Master prayed very hard at that time. If Mr. Kim was told to give such a blessing to Master, he had to ask Master questions to find out things from him. That was his 5 percent. But at that time his former devout followers followed after Master. he knew that, and didn't feel good seeing that Master received blessing from him, so he inherited what he had.

After he received the blessing from Mr. Kim he had to find a lady like Anna, an old lady. That lady should be the lady who claims herself to be the wife of Jehovah. At that time there were many people who went between South Korea and North Korea, and he found out that there was a lady who was claiming herself to be the wife of Jehovah. Beside these groups were many, groups like Old Testament Age groups. That group was a New Testament Age group. There was Mr. Paeg who played the role of an Old Testament Age group. (We don't have time to refer to all those groups.)

In the last days all those things written in the Old Testament and New Testament must be realized horizontally.

He learned that the lady was in North Korea and that there was such a group. According, to the principle of indemnity and restoration, Master himself cannot meet those groups which are prepared, waiting for him. The reason why Jesus died was because he couldn't have a bride. Because there was no preparation of Bride to receive Jesus, that was the cause of his death. Therefore when the Lord of the Second Advent comes, those prepared groups in the position of bride, must come with their preparation. If the lady, (Mrs. Ho) who was the leader of that group prayed to God to find the place where the Lord was, then heaven would teach her. Heaven could have taught her the place. So Master was waiting until they came. He couldn't go to their place.

During that period, he came across the old lady who was like Anna. That woman did both works. Sometimes she worked on the Heavenly side and sometimes neutral. (It' not Heavenly side, neutral, but not Satanic side.) After meeting the old lady he sent a man to that group, and told Mrs. Ho to pray to find out what Master's group is. But at that time Mrs. Ho expected a great sign, she

did not expect a young man, Master sent a regular man, not a special man. Meeting that man she did not realize he was of great mission, so she sent him back. Next, he sent a young woman to that group. But there was no action from that group. Then Mrs. Ho received another revelation that when her group staff members were

gathered at one place they would meet the Lord as Chung Yang met her husband. In prison. [From Korean folk tale.] She was told, "You will meet the. Lord as Chung Yang met her husband in prison. At that time North Korea was occupied by Communists. Then the Communists found out that this group collected much donations from people, made fine clothes, bought a fine house. So they accused this group of being a religious deceiver of the time. So, they put all the staff in jail. And also at that time Master was accused of having a connection with that group. Actually he had no connection, but he was accused that way so Master was also put in jail.

Master was put in the same room with the man leader of the group. (under Mrs. Ho was a man leading that group.) That man was in the same room with Master. That was the 11th of August 1947. Those staff members were tortured by Communists very severely. The Communists told Mrs. Ho that if she denied when she received revelations her stomach moved she would be released. That was the time of Kim Il Sung and he persecuted religions. He wanted to diminish all religions. Mrs. Ho's brother died under all the torture. Mrs. Ho was also tortured severely, and her clothes were almost all torn down. (At that time Master was also tortured by the Communists, Master was, released on the 31st of October, At that time Master bled so much that he was almost dead. So his followers thought he was dying. But it, was a miracle that he recovered.)

It was at night that Master went into the room where the man next to Mrs. Ho was. He went into the room at 11 p.m. That night the man received a revelation about him. When Master went into the room they were sleeping. Master had such experiences before, so he was very accustomed to such circumstances. He slept beside the toilet. In that room there were many prisoners. The next morning, the head of that room (the man leader of Mrs. Ho's group) spoke. The custom of the cell was for the last comer to sleep in the worst place. But the head stood up and told the other men that this newcomer is a special man, so please let him sit beside him. When Master sat beside him, he bowed to Master. Master asked why he bowed, and he answered that he had a revelation last night. In his revelation, he saw Mrs. Ho bowing to him, and she told him, "Now I have met the man I wanted to meet." Looking at his face, that was Master.

So that morning Master told him, "I can understand every thing you have experienced, so please tell me all you have experienced." So the man began to talk. He explained everything that had happened in his group. Master knew, all the principle of restoration, but those men did not know. But those men performed to such an extent that he could understand how much they had suffered. Also he knew that the Communists would release them if they denied what they had received from heaven. So Master told him, "I will take all responsibility if you deny all the facts you have experienced before the Communist authorities."

Also, Master told him to inform. Mrs. Ho that a young man would take all the responsibility if she would tell a lie and deny all that she had experienced. Master asked him to convey his words to Mrs. Ho. At lunch time when lunch was distributed the young man talked to Mrs. Ho and told her everything Master said. Mrs. Ho said that she had received a revelation from heaven that she would meet the Lord as Chung Yang met her husband in prison She said, "I see nobody, so I cannot follow your words." That man was released because, he denied. After that man was released the husband of Mrs. Ho came to Master's cell. Master told her husband what he had told the young man. Her husband said he would follow after his wife. So he would not receive Master's words. For the last Master himself wrote a letter -he thought that on paper it is one thing. That was the morning

of the 18th of September. He asked the man who holds the rice at meals to convey the letter to Mrs. Ho. After she read the paper she wanted to destroy it, but at that time she was found by the Communist watchman. That was because the man who carried the paper informed the prison watchmen. Master wrote, "The writer of this paper is a man of heavenly mission, and you should pray to find what he is. If you deny everything you have received, you will be released." That paper was discovered by the prison guard and Master was tortured. That happened at 2:00 p.m. September 18, 1947. At that time. Master was accused of being a spy of the American forces in South Korea and he was, questioned by a Soviet Russian investigator, but he was found innocent. He was released on October 31, in the afternoon. (If he was to speak in detail it would take so much time. Mrs. Ho and her followers did not deny. When the Korean War broke out in 1950 they were all slaughtered.

Because of the failure of that group, Master had to find other people. He worked there until he could find a conditional number. After he was released from prison he made connections with other groups and also led people of that group and he had a church movement of his own, and his members increased. But at that time the North Korean government policy was to diminish all the religions, and also, Christian ministers accused him because many members of their churches came to him, so he was imprisoned a third time. That was February 22, 1948.

In prison he met many people who followed him. They were told from heaven to follow after him. But those followers who followed his church became suspicious asking, "How can the man God loves enter prison? They couldn't believe in any longer, so they scattered. When Jesus was put on the cross he lost his 12 disciples. So Master had to restore those 12 disciples in prison. Even in prison there were many Communist spies disguised as prisoners. So he couldn't speak a word in prison. But the spirit world witnessed to the men and they followed him.

When he was hungry many men whom he did not-know brought him powdered rice because their forefathers told them in dreams to take powdered rice to Master, so they brought it. In such way there came followers that numbered more than 210 men. In 1950 the United Nations forces attacked North Korea and first landed in North Korea at Hungnam harbor. Our Master's prison was nearby. He was freed by the United Nations, forces.

Until that time there are many. stories. He walked back to Pyongyang from Hungnam, which is on the East coast. He walked to Pyongyang on the West coast. He sent men to all of his former followers informing them that he had come back, but most of them did not come. But he, could collect several people. He went South to Pusan to find his followers, who had fled down South. He went to see. Christian ministers. At that time the work of reconstruction, was very active, so they did not hear Master's words. So Master had to start again with new members. The first man who followed Master without seeing Master was the former President Eu. He saw the original book of Divine Principles, and by reading that he decided to follow Master, without seeing Master. He wrote a letter to Master.

Mr. Eu was six years older than Master. John the Baptist was 6 months older than Jesus. So Mr. Eu was in the position of John the Baptist. He had to explain the Principle in the position of John the Baptist. The book Mr. Eu wrote is not "Mr. Eu's book." When Mr. Eu wrote that book Master told him to write this way or that way. So you should study that book in the future in detail. From him the Unification Church started.

We will stop here and continue another night. Members of the Unification Church should know the history of Unification Church. For Master to speak of history, this is the first time. he never spoke of this before.

( Master prays)

Interpreter: … Doesn't everything sound strange? In Korea the heavenly side has been preparing all those things for 40 years, 40 long years. It is no easy job.

Even for those of us here it is the first time to hear some of those stories. He is going to have it published, in a book.

For newcomers, our Master would look very strange. Doesn't he appear to be a strange man?

The spirit world is very active. Up to the present we perform many spiritual ceremonies. Some times they have us make a cake. Afterwards we divide it among members. Those who hear those things don't understand. He has been able to double over things with the Principle and he could reason those things according to the spiritual law. That is why we can now tell the story.

You don't know how blessed you are to hear these stories. Don't take it for granted. There have been so many martyrs in that land. It took 6,000 years of history to restore one man. You must know you are a blessed person. How pitiful it has been. You should be thinking how God loved them more than you. If the people who were receiving from heaven did not solve those problems or carry out what they were told, the spiritual work of history could have been delayed so long. Now these stories are related to your own!

There are many such spiritual movements occurring in Korea. Even a group of as many as 100,000 could have perished without being able to carry out their mission. They have received revelations, but they couldn't carry out their mission. There are two representative groups: Mr. Hala Park's group and Mr. Daag's group. Including our group, there have been three groups. With those two

perishing or being destroyed, ours is the only one. Those who are in the leader's position are in a very dreadful position. Don't feel too serious. There is our Leader here and you. All You have to do is follow him. He looks like an ordinary man. That's what makes it more difficult for you to follow him.

Many people in Korea and Japan come to the Unification Church. The problem is how to receive these people. How to take these newcomers and make them our members. For that we have to have a training center or institute to train those people. So when he left Korea he made plans to take over or establish a new university. So now they are making contacts to take over some university in Korea. If we set up a university in Korea, then we will have to set up a university in Japan, and the United States, and in Germany. There is a very old man, Mr. Sasakawa. He is very close to Master. And he promised to establish a new university in Japan.

Then how about America? America is first in wealth. But in establishing a university in our movement, America is becoming the last. Do you want to be ahead of Germany, or behind? To set up a university is not easy, like buying some bread from the grocery store. Do you have money? Yes or no? How much do you have? How can you establish the university? If you are not able to pay right now, are you determined to set up and establish one in the future?. By what year? All things can be done by your determination. If one is determined and tries for 20 years and becomes president of a university, then if we have 20 such men, maybe we could make the way to the presidency in 1 year. If you are determined, then God will work.

We held a WACL meeting in Japan. At that time Master insisted to hold the best WACL meeting ever held. He gave orders to the members to prepare for that. They made $1 million for that meeting. At that time Master asked Mr. Kuboki, "How much money can you raise for that meeting?" Mr. Kuboki said $80,000. He told Mr. Kuboki, "Do you believe that". So do as Master speaks. He ordered a flower selling campaign. They started to sell flowers on the street. This was the severest war on the street. In 5 months they had about S1,400,000. So they could use that money and hold another meeting. They made that miracle happen. Last year we made about $5 million. That was a more difficult thing than to collect grass from the desert. But we believe, and know that God is working with us.

So the problem is how much you respond to his orders. If you put more importance on that order than your life, then that will be easy. Lets think, there is a prisoner sentenced to death. If he, were, told to do something to be saved, then what do you think he can't do? If he was told to hold a clip of water on his head and go down the street without spilling a drop then he would do that. If you are serious, then God can do miracles. If you believe in God, then you can't say You can't make a college or university here. There are many men who made universities by giving up their whole lives. You have more than one man here. Why can't you make a university? Those who are for a university raise your hands. (Hands are raised.) Then how will we do that? That is the main question.

If you become the men whom God wants to follow and sympathize with, then you can make it succeed. It will be very simple. Can you do the work, with which God is sympathetic? If you make God shed tears thanking you for your work, then … God is the God of creation, He can create. When there was a disaster in Pakistan, then we had our campaign in Japan. The highest record of income was $400, for one man. So Master is greatly concerned with the movement in America. If you want to do something, you should do great things, not small things. He will be the Chairman of the Board of Directors. Do you like his coming to America often? (Response of "Yes".) Then let's do that.

We visited the Catholic seminary. They want to sell for $160,000 a year for 12 years. As a down payment, we should pay for 3 years, S480,000. If we cannot pay that amount of money they will not trust us. Do You want to lose that seminary to other men or get it? If he (Master) can spare his money, then he will …

In Korea we teach Communism theory fully and after that we criticize it, and then teach an alternate view. So we can hold campus meetings. In Japan the Communist students come to our meeting, and they learn their Communism theory, and also they learn the defects of Communist theory. Then they must change their ideology. So for the Communists in Japan now are the most dreadful organization. They do not want to have debates with us. If they have, we will beat them, they know that. So we have to train our members and other Americans and we have to send them to all the states, 50 states, and have an anti-Communism movement. If we cannot collect enough people here for the institute, we will collect men from Europe and Asia and bring university graduates from Europe and Asia. How many members will fight to save America from Communist hands? Can the American people also follow?

Also we will hold a revival movement in established churches and we will organize Christians and through their strength we will work in a political way. And move the American government. We have to push the American government to take the right policy, the right way to save the free world. To do that Master wants to have a three-year plan. For that we will need much finance. We do not want to have money from American wealthy people. The money we use we will have to earn by ourselves. To make money he will teach you how. If it is not possible, then he, will bring money from other countries. If America receives aid from other countries, it will be ashamed.

Also, American members must try to witness to racial people. In the future he is going to make an Asian-American political association. For that we need much money. Asian Americans will not donate much money for this work. So we need some business. By giving our Divine Principles to them we will use them as staff members of our organization … By using an Asian American organization we can unite black and white.

Also we have to Work with black men. If we don't work with them, America will be taken by the Communists. If yellow men stand between white men and black men, then we can unite both people. That way we can check Communist infiltration through black men. If we make such an organization, the American government will not fall.

So Communists are aiming at America. They think they can subdue America ideologically. They are confident. When they surpass in military strength, then they will attack. American people do not want to fight, therefore if Communists take the aggressive position then America might retreat. The Communists party is trying to increase the underground movement. Through subversive activities, if they can weaken American strength, then they will take the last steps to complete takeover.

In various aspects, Soviet Russia is far ahead of America in military strength. Our members have to know that. If this world is taken over by Communists, then all our members will die slaughtered by Communists. So, death or life? We cannot maintain society just as we are. There is no other group which takes a firm stand against the Communist party. Are you a confident group which is ready to fight communism? (Answer: "Yes!")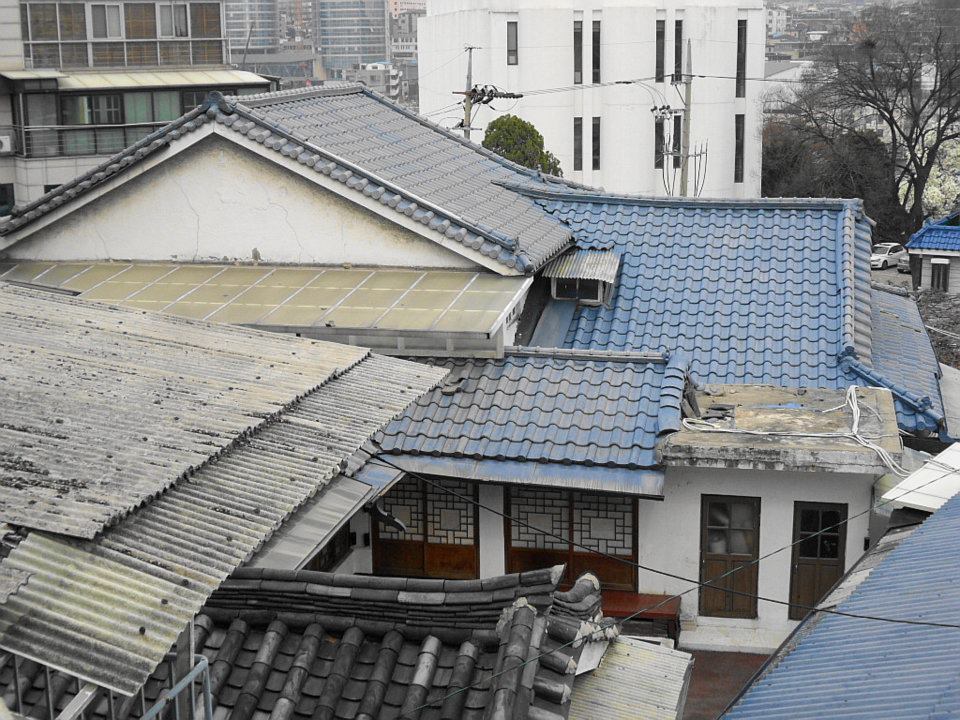 (photo 2)

History Of Unification Church, part 1

Reverend Sun Myung Moon
December 27, 1971
Washington, D.C.
Master Speaks
Probable translator Young Oon Kim

As you know, during World War II, Korea was under Japanese reign. Among Korean Patriots there were many who fought against the Japanese regime. As you know from the Divine Principles, God lost the four position foundation. Therefore, for Him, the purpose of restoration was to restore this four position base. Therefore, there were many number 4 in the Bible and in His providence Therefore, 40 years and 400 years providence. So all the restitution, indemnity has been done according to Principle. For Korea to become the Adam country in God's providence she must be put under Eve's country. By overcoming Eve's country she must get independence From Satan's side, Japan was united with Germany and Italy, which were all satanic countries. For the democratic side there were the United States, Great Britain, and France. During World War I Germany was almost completely destroyed. But the reason why she could recover in 20 years was because there was great significance for her to play in God's providence in the Second World War. Always the defeated countries, first attack. The three countries, the United States, Great Britain and France united and got victory over the Satanic countries. For Korea, she must be ruled by Japan for 40 years Japan was the female country on Satan's side During that 40 year period. The Japanese tried to kill all the cultural tradition and even the language of Korea. Master himself was imprisoned by the Japanese during that period. So there were many Koreans who were imprisoned and suppressed by the Japanese government.

To be called by God those people must be Patriots, pious children, or devoted people to their society. Patriots are those who are determined to devote themselves for the sake of the nation -- for God's providence. He also needs those people. When God finds and enlarges His foundation for His providence He always does His work under rejection by Satan. During that period, he was a young man, and as a young man he prepared himself for the coming public life of his ministry.

As the time went by near to the end of World War II the oppression became much severer. At the last period of Japanese ruling, the Japanese increased their oppression and forced Christians to worship idols at the Japanese shrines. Devout Christians refused and lived underground. Some went to Manchuria, some went to Soviet Russia, some went to the mountain's and had a hidden life. There were many people who longed for the day of liberation from Japan, believing in God. There were many Christian ministers who worked with the Japanese government. They did according to Japanese directions. But on the other hand there were many patriotic devout Christians who fought underground, in the mountains, still keeping their faith and waiting, for the day of liberation.

As the end was coming near, those devout Christians became more serious, and they prayed to God that decisive judgement or decisive sentence be brought to Korea. Also there were many people who were led by God or by spirit world directly and they could flee or escape the Japanese police when they tried to capture them. Most of them knew about when the Japanese would be defeated. Also many received revelations from heaven that after World War II history would be developed centering on Korea. Also, Master was connected with several such groups. But even though he had connected with such groups, he Could never speak any of the Divine Principles which you are now learning. Because there was word from God and he had promised God to begin this work right after Korean liberation, therefore he couldn't speak at this time. The will of God could not be established by one man alone. There must always be the object to work with. Also, God showed that after World War II all the Christian churches would be divided. Among the Christians were many who received revelations not to work with existing Christian churches.

The land of Korea is distinguished by East and West. Eastern side is more mountainous and. Western side is more flat. Also there was a group which had special mission to restore the Garden of Eden in Korea. The Eastern part of Korea has male-like nature and the Western part has female nature. Like the shape of Korea's land, God's providence also took the same pattern: male characteristics on the eastern part and female characteristics on the Western part. In North Korea on the Eastern coast there is a city called Wonsan. In this city was a Christian movement. On the Western coast there was a place called Konsan, and here a Christian movement arose. On the Eastern coast many men followed this movement. To them Jesus Christ himself appeared and told them his past life and what was to come, all those things that were to happen.

In Won San the leader was Paek Nam Su. Also there was a woman that was taking the counter part to the man. Her name was Han Myang Pa. To Han, Jesus appeared and through her, Jesus began to speak to Mr. Paeg. She spoke, Lord is with me, and Lord is speaking through me. So Mr. Paeg knelt down and he told through the lady, "Speak to me what you are going to speak." From that, trouble-began to occur. What was spoken to the two was transmitted to the ministers, and by hearing such things the ministers began to persecute them.

So, always such spiritual groups and Christian churches have fights. Even though they received such revelations or words, they didn't know the inside of spiritual movement. Therefore, they couldn't control such spiritual phenomena. So that group was moved according to the lady's speeches, as she spoke. By the words from heaven she was told that there was another group on the West coast, and to have connection with that group. So Mr. Paeg began to walk to that place. When he went, heaven told him to not wear any shoes, barefoot he was going to go to the West Coast. The distance was going to be 130 miles.

In Wonsan, the West coast town, there was a not too old lady, about 50 years of age. Centering on her, Mrs. Kim Son Do, a movement arose. She had her husband, and when she began to receive revelations from heaven her husband persecuted her and drove her almost to death. At that time Confucianism was prevailing in Korea and most people believed in that. When a man becomes Christian they don't worship their forefathers. Therefore. her husband did not like her to become Christian. Also she always got up early at 1:00 in the night and prayed until mid-morning so for a stranger such behavior couldn't be understood. Not withstanding her husband's persecution, she continued her work. So she was ready to give her life for the service.

She was recognized by the spirit world as an especially devout Christian in Korea at that time. She had direct conversation with God. She received direct revelations; she was taught many things from heaven. She was told the exact date of Korea's liberation, she was told that the Lord of the Second Advent would come to Korea as a physical man. Also, she knew that by the Lord, Korea would become a privileged nation, and by Korea all the world would be restored to God.

There were 12 main teachings which she received from heaven, and among these were:

1. Liberation of Korea from Japan

2. Lord of Second Advent would come to Korea not in clouds, but on earth as a physical man. And that man is Korean.

3. Fruit of the tree of knowledge of good and evil was not fruit, but the fall was the action of love; the fall took place by misuse of love.

4. Man and woman should not marry, because such marriages are not true marriages, but false marriages. She taught married couples not to have sexual life.

5. Lord was coming to establish new blood lineage. Therefore, all those who were to receive Lord of Second Advent must have purified mind and body. Therefore, there should be no sexual life between husbands and wives.

Many women came to her and they received many graces from heaven, and they were awaiting the coming of the Garden of Eden on earth. For her there were two sons. The wife of the elder son was the daughter of a minister. The minister was a very devout one. Her daughter-in-law also had spiritual experiences. Therefore she agreed with what her mother-in-law received from heaven. Her elder son believed in what his mother was doing, but he did not positively participate in his mother's work.

The old lady told her son and daughter-in-law not to have married life between them. But her son did not obey his mother's words and had life with his wife. Therefore, spirit world took her away, and she died. At that time the old lady did not know the principle of indemnity but her action was to indemnify her husband's action because he persecuted her so severely. Therefore, she wanted to indemnify it through his son (her son) and daughter-in-law. Also to indemnify all those wrong things which her husband did to her son, and also, she wanted to pass on her mission to her daughter-in-law. For her daughter-in-law to inherit her mission she alone couldn't inherit it, but she must receive the cooperation of her husband. But at that time she did not know that. So by uniting her son and daughter-in-law, she can indemnify her husband's persecution and pass on her mission.

By her words her second son did not get married. Also her other daughters did. not get married. When such things happened to her son the man from the East coast came to her place. That was to unite family level and God wanted to unite tribal level. God wanted to unite churches. By uniting West group and East group that could be done. So from the viewpoint of restoration the East coast group was in the position of archangel and the West coast group in the position of Eve. Also heaven told the archangel group to go to Eve's group. So the one who went was not Eve's group, but the archangel's group.

By such things this movement became known all over Korea. By this all the Christian churches began to persecute them. That was the worst time of the Japanese oppression. Soon after they received that the Japanese would be perished. What they received they began to transmit from year to year. Now this was broadly known. Such things reached the ears of the ministers. They wanted to destroy this group. Therefore they went to the Japanese government authorities and they told them such things. At that time the churches worshipped at the Japanese shrines: therefore devout Christians did not attend such worship services, because Mosaic -law prohibited worshipping idols. These people tended to follow this group. Therefore the ministers wanted to stop them from going to this group. That is the reason why the minister's went to the Japanese authorities. By the ministers' accusation the old lady was imprisoned. She was tortured bitterly, and after her release she died. By her death, God's work which was programmed underground came into good luck. Therefore God picked another lady to begin the same kind of movement.

That lady was a most devout lady who followed after Mrs. Kim Son Do. That lady was Mrs. Ho Ho Bin. Her husband was also a devout Christian. He also followed after Mrs. Kim Son Do. This couple were united as one, and they were decided, they had a determined mind to follow whatever difficulties may he ahead. So this couple came to pray to God seriously. They wanted to inherit Mrs. Kim's work. So they prayed fervently, believing that this work through Mrs. Kim was the providence of God. This wife, Mrs. Ho, also began to receive revelations. Then Jesus appeared to her. Jesus told the couple that he had tried to find one man and one woman who could inherit the final mission on earth. And finally he was able to find the lady Mrs. Kim and through. her he wanted to prepare for the last mission. Those ministers who should have received her did not receive her story …(end of tape)

Jesus began to give revelations to this couple. He asked them to bear all difficulties in any situation and to uphold His will. Mrs. Kim received persecution from her husband, but this couple

was united, so there was no persecution from the husband. But persecution began from the external world, from outside, from Christian Churches. From this time she began to receive special revelations. This couple was taught the heart of God, how grievous God was at the fall of Adam, also God's providence at the time of Jesus. All kinds of things. Also, Jesus told the story of Mary, the situation when Jesus was born in the world. Also, Jesus spoke about his childhood life and also that Mary his mother couldn't fulfill her mission. Also, they were told that John the Baptist couldn't fulfill his mission. Therefore, Jesus was crucified on the cross. So by these things, the cause of Jesus' crucifixion was the disbelief of the Jewish people.

So when this couple received revelations, they received in fragments, not as whole ones. They also taught that the Lord would come as a Korean man. They received that the Lord comes as the prince of heaven, and he is the one coming after the sacrifice of 6,000 years of history. Therefore, he cannot be traded for all the things of earth, or all the things of past history. Those who were to receive him must be those who fulfilled, restored, solved all the resentments of Jesus, and who solved all the things that Jesus couldn't fulfill during his lifetime.

Also they received order from heaven that Jesus was born as the prince of heaven. Therefore his life should have been the life of a prince. He shouldn't have had any difficulties in his life time. Everything that he wore should have been the best clothes. Jesus had to have for meals the highest ones. But by the failure of the Jewish people, Jesus couldn't have the food and clothes. So they were told to indemnify all these things that Jesus couldn't have in his life. This group started to indemnify all those things. They started to make everything for Jesus.

So they were told to make clothes the size which Jesus would have worn from his childhood to 33 years old. As many clothes as Jesus could change every three days. So you can imagine how many that would be, And that was not one, but in Korean costume and also Western style. One Korean costume and one Western suit every three days. And when they made his clothing they couldn't use sewing machines -- they were told not to stitch more than three at a time, and to make this they had to clean out the whole room, and they couldn't stand up until they had finished one garment. They didn't allow them to go to the toilet. "Even though you pay such a price you are not worthy to receive him," that is what heaven told them. And when they made a mistake in something they were severely chastised from heaven. So they couldn't but follow after heaven's instructions.

At that time the group had more than 1,000 followers. And those 1,000 men worked for 7 years. For the food, they prepared 3 meals a day just like a banquet -- meat three times a day. The size of the clothes became larger and larger as he became grown-up. Then, after they finished making clothes for Jesus they were told to make clothes for the Lord to come. Also, they were told to give more sincerity in making the Lord's. clothes.

When they brought a, meal for the Lord, they were told to bow 300 times, sometimes they were told to bow 3,000 times. Heaven told, "Even though you pay your courtesy and respect to the Lord by bowing 3,000 times that is not enough to pay your respect to the Lord." To bow 3,000 times took almost 10 hours; after finishing bowing, they collapsed. Heaven told them all sizes, the length of sleeve, everything. Also her husband was told what she was told -- the Lord of Second Advent was already taller than her husband. She was told his academic background, everything from heaven. So they were waiting for the day they could meet the Lord. Waiting day by day to receive the Lord. Also, those followers of hers were so resolved that they were ready at any time to he down and die if they were told. They were ready to give their lives. They were trained in every way.

Also the lady especially trained her husband. She told her husband, "You are the archangel who made Eve fall. By the archangel, her chastity was defiled. I was the one who was to receive the Lord of the Second Advent, but by you, my chastity was defiled. So you must die." She sent him out and told him to die. This husband obeyed her words. When he was told to die he was ready to go out and die. So when he started to do that thing, she told him not to die.

In wintertime she drove out her husband wearing sackcloth. In those clothes, barefoot she sent him out and told him not to come back for 6 months and told him to eat by begging. That was to indemnify the 6,000 years caused by the archangel. He began to wander away, and after 1 week she called him back. So he indemnified 6 months in 6 days. (Whenever she was told what to do, if the man believed her and obeyed, then indemnity was made and it was shortened.)

The peculiar thing was that whenever she received a revelation her whole stomach moved according to the words she received. The reason why she had such experiences was this she was a Christian and believed that the Lord would come from the clouds of heaven. Heaven didn't want her to think that way. So that was to remind her that the Lord would come through a mother's womb. This group was named by Christian churches, "Inside Belly church." Whenever her stomach moved she received revelations. By such experience God made her believe that the Lord would come through the mother's womb.

Also she testified that Japan would surrender on 16 August 1945, that was, 7 July by lunar calendar. She often spoke in public of what she received from heaven. So it was very significant that the day fell on July 7 by the lunar calendar. The reason she spoke openly was that if she were put in prison she would soon be liberated. She was told that, so she could speak. The day before her release by the Japanese police, she received a vision of an angel standing over the Japanese Emperor's head, telling the Emperor, "You are the enemy of heaven, and you will be destroyed." The very next day, the Japanese Emperor spoke on radio. She was also told what hour the next day the Emperor would broadcast. The next day the same thing happened -- All the things which she received from heaven were realized just as she was told. Therefore all her followers could not but. follow her. By such they could receive the liberation date. They received, "When Japan perishes, you will meet the Lord of Second Advent." When they were released from prison they danced for joy.

But still they had persecutions from the Christian churches. When Korea was liberated, many devout ministers who were imprisoned by the Japanese were released, They started reconstruction work on the Christian churches. So even for Christian churches, they were divided into two, internal and external.

For Eastern coast spiritual movement, there was another successor. His name was Lee Yong Do. He was a minister. He gave much spiritual fire to the people By doing such works, heaven wanted to have a united work among such spiritual workers. For spiritual movements also there were two types; one was internal the other external. Centering, on Minister Lee, a new Jesus church was started. At that time there were instructions from heaven to unite these two churches: "Inside Belly church" and the "New Jesus church." The West group went to the Eastern group to be united, but this group did not receive them. By failing to accomplish the unification of these two groups, God had to have a new movement, and pioneer a new field.

So God wanted to have another man who could receive His direction. That was Mr. Kim, another man. After that time Mr. Lee died. The spirit of Minister Lee came to Mr. Kim and spiritually Mr. Lee passed on his mission to Mr. Kim. From this Mr. Kim a new group began.

So if we see it from the path of growth, the first path was the formation stage, Mr. Lee the growth stage, and Mr. Kim the perfection stage. So Minister Lee was in the position of Growth. That was the same position as Jesus. He died at the age of 33, in 1932. Korea's liberation took place in 1945. There were 12 years in between. By this you call see how heaven wanted to make the way of preparation for the Lord. God started from so early a date to overcome Japanese oppression.

In these circumstances, Master began to prepare his way.

The West group, centering on Mrs. Ho, waited for the Lord of Second Advent after liberation. They knew that the Lord to come should have a bride, and that he comes to form a family. So they prepared everything: bride, circumstances to form a family, 12 disciples, 70 disciples, they selected them at this time. They bought the best house in Pyongyang. They bought a fine house and prepared it for the Lord. At that time Master was in South Korea.

From the providence of restoration, there must be a lady who proclaims herself as the wife of Jehovah. Without finding this lady the providence cannot be carried on. Therefore he looked for such a lady. So in South Korea he visited every religious group and all prominent ministers to find such a lady. And Master met that Mr. Kim in November 1945, three months after the liberation. He knew that on him was a great mission, so he met him.

At that time he had a (Protestant) seminary. He was told to have a seminary by heaven. He was told to prepare forces to receive the Lord of Second Advent. That was what he was told by Heaven. So Master went to his group and met him there and stayed with him for six months. During that period God worked in various ways. There were many women who followed after Mr. Kim. Before Master went to that place they were told to follow Mr. Kim After Master went to that place they were told to follow after Master, not Mr. Kim. At that time he didn't speak of the Divine Principle. Just as Jesus was blessed by John the Baptist, Master was to inherit everything from Mr. Kim.

After six months Mr. Kim received a revelation from heaven, and he put his hand on Master's head, and blessed that the glory of King Solomon of the whole world would be on him. But at that time he (Master) didn't speak. He did the most menial things. He cleaned his place all those things. Master was in the last seat. His meeting Mr. Kim had great significance, so Master prayed very hard at that time. If Mr. Kim was told to give such a blessing to Master, he had to ask Master questions to find out things from him. That was his 5 percent. But at that time his former devout followers followed after Master. he knew that, and didn't feel good seeing that Master received blessing from him, so he inherited what he had.

After he received the blessing from Mr. Kim he had to find a lady like Anna, an old lady. That lady should be the lady who claims herself to be the wife of Jehovah. At that time there were many people who went between South Korea and North Korea, and he found out that there was a lady who was claiming herself to be the wife of Jehovah. Beside these groups were many, groups like Old Testament Age groups. That group was a New Testament Age group. There was Mr. Paeg who played the role of an Old Testament Age group. (We don't have time to refer to all those groups.)

In the last days all those things written in the Old Testament and New Testament must be realized horizontally.

He learned that the lady was in North Korea and that there was such a group. According, to the principle of indemnity and restoration, Master himself cannot meet those groups which are prepared, waiting for him. The reason why Jesus died was because he couldn't have a bride. Because there was no preparation of Bride to receive Jesus, that was the cause of his death. Therefore when the Lord of the Second Advent comes, those prepared groups in the position of bride, must come with their preparation. If the lady, (Mrs. Ho) who was the leader of that group prayed to God to find the place where the Lord was, then heaven would teach her. Heaven could have taught her the place. So Master was waiting until they came. He couldn't go to their place.

During that period, he came across the old lady who was like Anna. That woman did both works. Sometimes she worked on the Heavenly side and sometimes neutral. (It' not Heavenly side, neutral, but not Satanic side.) After meeting the old lady he sent a man to that group, and told Mrs. Ho to pray to find out what Master's group is. But at that time Mrs. Ho expected a great sign, she

did not expect a young man, Master sent a regular man, not a special man. Meeting that man she did not realize he was of great mission, so she sent him back. Next, he sent a young woman to that group. But there was no action from that group. Then Mrs. Ho received another revelation that when her group staff members were

gathered at one place they would meet the Lord as Chung Yang met her husband. In prison. [From Korean folk tale.] She was told, "You will meet the. Lord as Chung Yang met her husband in prison. At that time North Korea was occupied by Communists. Then the Communists found out that this group collected much donations from people, made fine clothes, bought a fine house. So they accused this group of being a religious deceiver of the time. So, they put all the staff in jail. And also at that time Master was accused of having a connection with that group. Actually he had no connection, but he was accused that way so Master was also put in jail.

Master was put in the same room with the man leader of the group. (under Mrs. Ho was a man leading that group.) That man was in the same room with Master. That was the 11th of August 1947. Those staff members were tortured by Communists very severely. The Communists told Mrs. Ho that if she denied when she received revelations her stomach moved she would be released. That was the time of Kim Il Sung and he persecuted religions. He wanted to diminish all religions. Mrs. Ho's brother died under all the torture. Mrs. Ho was also tortured severely, and her clothes were almost all torn down. (At that time Master was also tortured by the Communists, Master was, released on the 31st of October, At that time Master bled so much that he was almost dead. So his followers thought he was dying. But it, was a miracle that he recovered.)

It was at night that Master went into the room where the man next to Mrs. Ho was. He went into the room at 11 p.m. That night the man received a revelation about him. When Master went into the room they were sleeping. Master had such experiences before, so he was very accustomed to such circumstances. He slept beside the toilet. In that room there were many prisoners. The next morning, the head of that room (the man leader of Mrs. Ho's group) spoke. The custom of the cell was for the last comer to sleep in the worst place. But the head stood up and told the other men that this newcomer is a special man, so please let him sit beside him. When Master sat beside him, he bowed to Master. Master asked why he bowed, and he answered that he had a revelation last night. In his revelation, he saw Mrs. Ho bowing to him, and she told him, "Now I have met the man I wanted to meet." Looking at his face, that was Master.

So that morning Master told him, "I can understand every thing you have experienced, so please tell me all you have experienced." So the man began to talk. He explained everything that had happened in his group. Master knew, all the principle of restoration, but those men did not know. But those men performed to such an extent that he could understand how much they had suffered. Also he knew that the Communists would release them if they denied what they had received from heaven. So Master told him, "I will take all responsibility if you deny all the facts you have experienced before the Communist authorities."

Also, Master told him to inform. Mrs. Ho that a young man would take all the responsibility if she would tell a lie and deny all that she had experienced. Master asked him to convey his words to Mrs. Ho. At lunch time when lunch was distributed the young man talked to Mrs. Ho and told her everything Master said. Mrs. Ho said that she had received a revelation from heaven that she would meet the Lord as Chung Yang met her husband in prison She said, "I see nobody, so I cannot follow your words." That man was released because, he denied. After that man was released the husband of Mrs. Ho came to Master's cell. Master told her husband what he had told the young man. Her husband said he would follow after his wife. So he would not receive Master's words. For the last Master himself wrote a letter -he thought that on paper it is one thing. That was the morning

of the 18th of September. He asked the man who holds the rice at meals to convey the letter to Mrs. Ho. After she read the paper she wanted to destroy it, but at that time she was found by the Communist watchman. That was because the man who carried the paper informed the prison watchmen. Master wrote, "The writer of this paper is a man of heavenly mission, and you should pray to find what he is. If you deny everything you have received, you will be released." That paper was discovered by the prison guard and Master was tortured. That happened at 2:00 p.m. September 18, 1947. At that time. Master was accused of being a spy of the American forces in South Korea and he was, questioned by a Soviet Russian investigator, but he was found innocent. He was released on October 31, in the afternoon. (If he was to speak in detail it would take so much time. Mrs. Ho and her followers did not deny. When the Korean War broke out in 1950 they were all slaughtered.

Because of the failure of that group, Master had to find other people. He worked there until he could find a conditional number. After he was released from prison he made connections with other groups and also led people of that group and he had a church movement of his own, and his members increased. But at that time the North Korean government policy was to diminish all the religions, and also, Christian ministers accused him because many members of their churches came to him, so he was imprisoned a third time. That was February 22, 1948.

In prison he met many people who followed him. They were told from heaven to follow after him. But those followers who followed his church became suspicious asking, "How can the man God loves enter prison? They couldn't believe in any longer, so they scattered. When Jesus was put on the cross he lost his 12 disciples. So Master had to restore those 12 disciples in prison. Even in prison there were many Communist spies disguised as prisoners. So he couldn't speak a word in prison. But the spirit world witnessed to the men and they followed him.

When he was hungry many men whom he did not-know brought him powdered rice because their forefathers told them in dreams to take powdered rice to Master, so they brought it. In such way there came followers that numbered more than 210 men. In 1950 the United Nations forces attacked North Korea and first landed in North Korea at Hungnam harbor. Our Master's prison was nearby. He was freed by the United Nations, forces.

Until that time there are many. stories. He walked back to Pyongyang from Hungnam, which is on the East coast. He walked to Pyongyang on the West coast. He sent men to all of his former followers informing them that he had come back, but most of them did not come. But he, could collect several people. He went South to Pusan to find his followers, who had fled down South. He went to see. Christian ministers. At that time the work of reconstruction, was very active, so they did not hear Master's words. So Master had to start again with new members. The first man who followed Master without seeing Master was the former President Eu. He saw the original book of Divine Principles, and by reading that he decided to follow Master, without seeing Master. He wrote a letter to Master.

Mr. Eu was six years older than Master. John the Baptist was 6 months older than Jesus. So Mr. Eu was in the position of John the Baptist. He had to explain the Principle in the position of John the Baptist. The book Mr. Eu wrote is not "Mr. Eu's book." When Mr. Eu wrote that book Master told him to write this way or that way. So you should study that book in the future in detail. From him the Unification Church started.

We will stop here and continue another night. Members of the Unification Church should know the history of Unification Church. For Master to speak of history, this is the first time. he never spoke of this before.

( Master prays)

Interpreter: … Doesn't everything sound strange? In Korea the heavenly side has been preparing all those things for 40 years, 40 long years. It is no easy job.

Even for those of us here it is the first time to hear some of those stories. He is going to have it published, in a book.

For newcomers, our Master would look very strange. Doesn't he appear to be a strange man?

The spirit world is very active. Up to the present we perform many spiritual ceremonies. Some times they have us make a cake. Afterwards we divide it among members. Those who hear those things don't understand. He has been able to double over things with the Principle and he could reason those things according to the spiritual law. That is why we can now tell the story.

You don't know how blessed you are to hear these stories. Don't take it for granted. There have been so many martyrs in that land. It took 6,000 years of history to restore one man. You must know you are a blessed person. How pitiful it has been. You should be thinking how God loved them more than you. If the people who were receiving from heaven did not solve those problems or carry out what they were told, the spiritual work of history could have been delayed so long. Now these stories are related to your own!

There are many such spiritual movements occurring in Korea. Even a group of as many as 100,000 could have perished without being able to carry out their mission. They have received revelations, but they couldn't carry out their mission. There are two representative groups: Mr. Hala Park's group and Mr. Daag's group. Including our group, there have been three groups. With those two

perishing or being destroyed, ours is the only one. Those who are in the leader's position are in a very dreadful position. Don't feel too serious. There is our Leader here and you. All You have to do is follow him. He looks like an ordinary man. That's what makes it more difficult for you to follow him.

Many people in Korea and Japan come to the Unification Church. The problem is how to receive these people. How to take these newcomers and make them our members. For that we have to have a training center or institute to train those people. So when he left Korea he made plans to take over or establish a new university. So now they are making contacts to take over some university in Korea. If we set up a university in Korea, then we will have to set up a university in Japan, and the United States, and in Germany. There is a very old man, Mr. Sasakawa. He is very close to Master. And he promised to establish a new university in Japan.

Then how about America? America is first in wealth. But in establishing a university in our movement, America is becoming the last. Do you want to be ahead of Germany, or behind? To set up a university is not easy, like buying some bread from the grocery store. Do you have money? Yes or no? How much do you have? How can you establish the university? If you are not able to pay right now, are you determined to set up and establish one in the future?. By what year? All things can be done by your determination. If one is determined and tries for 20 years and becomes president of a university, then if we have 20 such men, maybe we could make the way to the presidency in 1 year. If you are determined, then God will work.

We held a WACL meeting in Japan. At that time Master insisted to hold the best WACL meeting ever held. He gave orders to the members to prepare for that. They made $1 million for that meeting. At that time Master asked Mr. Kuboki, "How much money can you raise for that meeting?" Mr. Kuboki said $80,000. He told Mr. Kuboki, "Do you believe that". So do as Master speaks. He ordered a flower selling campaign. They started to sell flowers on the street. This was the severest war on the street. In 5 months they had about S1,400,000. So they could use that money and hold another meeting. They made that miracle happen. Last year we made about $5 million. That was a more difficult thing than to collect grass from the desert. But we believe, and know that God is working with us.

So the problem is how much you respond to his orders. If you put more importance on that order than your life, then that will be easy. Lets think, there is a prisoner sentenced to death. If he, were, told to do something to be saved, then what do you think he can't do? If he was told to hold a clip of water on his head and go down the street without spilling a drop then he would do that. If you are serious, then God can do miracles. If you believe in God, then you can't say You can't make a college or university here. There are many men who made universities by giving up their whole lives. You have more than one man here. Why can't you make a university? Those who are for a university raise your hands. (Hands are raised.) Then how will we do that? That is the main question.

If you become the men whom God wants to follow and sympathize with, then you can make it succeed. It will be very simple. Can you do the work, with which God is sympathetic? If you make God shed tears thanking you for your work, then … God is the God of creation, He can create. When there was a disaster in Pakistan, then we had our campaign in Japan. The highest record of income was $400, for one man. So Master is greatly concerned with the movement in America. If you want to do something, you should do great things, not small things. He will be the Chairman of the Board of Directors. Do you like his coming to America often? (Response of "Yes".) Then let's do that.

We visited the Catholic seminary. They want to sell for $160,000 a year for 12 years. As a down payment, we should pay for 3 years, S480,000. If we cannot pay that amount of money they will not trust us. Do You want to lose that seminary to other men or get it? If he (Master) can spare his money, then he will …

In Korea we teach Communism theory fully and after that we criticize it, and then teach an alternate view. So we can hold campus meetings. In Japan the Communist students come to our meeting, and they learn their Communism theory, and also they learn the defects of Communist theory. Then they must change their ideology. So for the Communists in Japan now are the most dreadful organization. They do not want to have debates with us. If they have, we will beat them, they know that. So we have to train our members and other Americans and we have to send them to all the states, 50 states, and have an anti-Communism movement. If we cannot collect enough people here for the institute, we will collect men from Europe and Asia and bring university graduates from Europe and Asia. How many members will fight to save America from Communist hands? Can the American people also follow?

Also we will hold a revival movement in established churches and we will organize Christians and through their strength we will work in a political way. And move the American government. We have to push the American government to take the right policy, the right way to save the free world. To do that Master wants to have a three-year plan. For that we will need much finance. We do not want to have money from American wealthy people. The money we use we will have to earn by ourselves. To make money he will teach you how. If it is not possible, then he, will bring money from other countries. If America receives aid from other countries, it will be ashamed.

Also, American members must try to witness to racial people. In the future he is going to make an Asian-American political association. For that we need much money. Asian Americans will not donate much money for this work. So we need some business. By giving our Divine Principles to them we will use them as staff members of our organization … By using an Asian American organization we can unite black and white.

Also we have to Work with black men. If we don't work with them, America will be taken by the Communists. If yellow men stand between white men and black men, then we can unite both people. That way we can check Communist infiltration through black men. If we make such an organization, the American government will not fall.

So Communists are aiming at America. They think they can subdue America ideologically. They are confident. When they surpass in military strength, then they will attack. American people do not want to fight, therefore if Communists take the aggressive position then America might retreat. The Communists party is trying to increase the underground movement. Through subversive activities, if they can weaken American strength, then they will take the last steps to complete takeover.

In various aspects, Soviet Russia is far ahead of America in military strength. Our members have to know that. If this world is taken over by Communists, then all our members will die slaughtered by Communists. So, death or life? We cannot maintain society just as we are. There is no other group which takes a firm stand against the Communist party. Are you a confident group which is ready to fight communism? (Answer: "Yes!")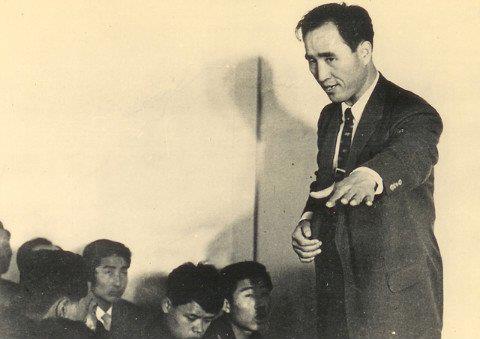 (photo 3)

History Of Unification Church, part 1

Reverend Sun Myung Moon
December 27,The Eight-Stage Indemnity Course

What is the thing that Satan until now has held on to historically, based on the eight stages of the individual, family, tribe, people, nation, world, heaven and earth and God? He has been saying, "God, You are the Master who follows the heavenly principles, and Your son and daughter, the ideal Adam and Eve, that is, the True Parents, are a son and daughter who follow these principles. Because You, the Father who follows the Principle, created me as the archangel, it was a fundamental rule that before falling, I would have been able to receive Your love and the love of Your son. If You cannot love and work in that way, You will not be able to love the principled son as the principled Father." This is the problem.
In other words, Satan is saying that although he fell, if God could not love him, He would not be able to return all the creation, which is in Satan's possession, to the realm under the dominion of God's love, and the love of Adam in the original Eden. He means that if God and Abel united and loved Satan, they can restore everything based on the condition of individual love, but otherwise, they will not be able to do this. Next, the same applies to the family, tribe, people, nation and world, which are in the same position, and he claims that heaven and earth are in such a position as well. That is the way in which Satan grabs us by the throat or, as you might say, how he tightens the noose around our neck. (132-29, 1984.5.19)

The Principle of the Unification Church is a fundamental path, but we cannot just follow the path of the Principle doing nothing. It is the path of destiny on which we must pass through eight stages. These eight stages are those of the individual, family, tribe, people, nation, world, heaven and earth, and God. The number eight is the number for starting anew. After we achieve that there will not be another new start. (135-304, 1985.12.15)

Throughout history, there have been numerous paths of suffering and hardship, but you must realize that the path of hardship of the eight stages that I have passed through never existed in past history. You must understand that it was the way of indemnity where, because of the difficulties, I still wasn't allowed to shed tears, crying out, "God, I am not able to endure this position!" Those who are going to build the kingdom must not shed tears for themselves while walking this way. It is the heavenly principle that unless we pass through the place of tears with joy, the foothold of the heavenly kingdom will not remain in this earthly world. (161-194, 1987.2.3)

Restoration through indemnity will not be accomplished if there is even one element of self-affirmation remaining. Indemnity conditions are set from a position of absolute denial. That kind of standard of absolute denial must be established from the individual level to the family, tribe, people, nation, world, and heaven and earth level until we reach God. Then, if the eight stages are fulfilled, this will be connected to the utopia of human history. Unless a course of absolute denial is undergone at each stage, we cannot connect to the utopia where we can relate directly with God. (God's Will - 697)

You might be thinking, "Those eight stages were just thought up by Rev. Moon. I have no need for indemnity," but that is totally wrong. The human portion of responsibility is a fact, and there exists a formula course springing from our portion of responsibility. If there had been no Fall, we would have been able to pass this course naturally in 21 years, but now because there are walls blocking our way, we must deal with them one by one. Because of Satan we cannot go through all stages at once. We have to deal with them one by one and restore them. Because of the Fall, Satan appeared, and indemnity conditions appeared. Because we must fulfill our human portion of responsibility, indemnity conditions are an unavoidable process. (124-306, 1983.3.1)

The course of restoration must go through eight stages, restoring the individual, family, tribe, people, nation, world and heaven and earth, and restoring the love of God. But, this cannot be accomplished all at once. Had Adam and Eve not fallen, they would have naturally perfected themselves, but because they fell to the level of servant of servants at the beginning of history, we cannot be raised up through all the stages at once. Thus, in the process of pioneering each stage, continuous indemnity conditions were absolutely necessary for each course. By setting up these conditions, we can separate from Satan. Because of Satan, indemnity conditions are necessary; if Satan did not exist, indemnity conditions would not be required. (161-204, 1987.2.4)

How should we go about climbing up through the eight stages from the individual to family, tribe, people, nation, world, heaven and earth and God? To climb up this trunk, you need to go out sideways and attain individual victory. Based on your heart of love, you must climb up the side, fight with Cain and win. In this way, you have to go up through the eight stages by fighting with Cain and subjugating him. Why? It is because Satan is attached to you. You must understand this. (181-211, 1988.10.3)

After I learned about the law of indemnity in this world, in heaven and earth, I focused on the love for an individual, then on the love for a family, then on the love for a tribe, people and nation. At each stage, Satan tried everything imaginable to try to crush this love. That is why religion goes the way of persecution. It has had to shed tears and blood. We cannot go up to high and comfortable places. We have to stay in the uncomfortable places. That is our safety zone. Satan is arrogant, so he dislikes difficult places. That is why the most miserable place is the safety zone. (181-213, 1988.10.3)

Even though Adam fell as an individual, he was the center of everything; therefore restoration must take place on the worldwide level. Restoration cannot be done all at once. It must be carried out step by step. The position of an individual must first be restored, then the environment on all levels should be provided: from the level of a family, to levels of a tribe, a people, a nation, the world, and heaven and earth. This process should go through the eight stages. Human beings who are seeking the ideal world must resolve such issues in order to encounter God, the subject of love. If there is a blockage somewhere, people can only relate to the realm below that standard, but not to the realm above it. The path to becoming one with the absolute God will not be attained. If you go up to a certain level, you can only receive the assistance of spirit people up to that level in the realms of formation and growth in the spirit world, and so it will be difficult to relate with God. (God's Will - 697)

There are eight stages from the servant of servants to the servant, adopted child, child by a concubine, child of direct lineage, mother, father, and God. There are eight stages to pass through. You must know this clearly. Before you can become a leader in the Unification Church, you must become a servant of your mission country otherwise there is no way to attain liberation. You must become the servant of servants, and be treated as an adopted child. You must be treated as a child by a concubine. Then, as a child of the direct lineage…you must go up in this way. When you pass through these stages, there must always be indemnity. You have to fight with Satan so that God can award a victory to you. Without this you can't pass the way of indemnity.
Can you successfully go through the indemnity course on the tribal level without having brought victory on the family level? There is no way for this to happen. Similarly, can you consider going to the level of the people without having dealt with your tribe? This also applies to the levels of the nation, the world, and heaven and earth. This must be very clear in your mind. (181-213, 1988.10.3)

Speaking of my situation, I am the individual Adam, but at the same time I also had to weave the history of Adam on the levels of family, tribe, people, nation, world and heaven and earth. I had to climb up through the eight vertical stages starting from the position of servant of servants. Not only did I go through these eight stages, but I also embraced all the horizontal stages of individual, family, tribe, people and the world. Therefore I had to go through the vertical and horizontal indemnity course that includes all the five billion people of the world. By doing so I created a realm of liberation free from satanic accusation. Do you think that path was easy? (194-110, 1989.10.17)

Human history until now has supposedly lasted approximately 850 thousand years. Within this period, from primitive times, religious movements have received persecution. Then, who makes history occur like that? It is God, and so, from the position of servant of servants, history developed in stages. Then, for the servant of servants (humankind), the servant (archangel) becomes the master. It is not a case of the master controlling the servant, but the servant taking control of the master. In order to become the master of servants in the heavenly kingdom, you must be persecuted by all the servants of the satanic world and become victorious. Therefore, you must be prepared to die. That is the origin of the words, "Those who seek to die, will live."
To rise from the position of servant of servants to that of servant, or from the position of the servant to the adopted child, you will definitely face persecution. The same principle applies, through all eight stages until God. Then, who will receive this persecution? People change, but God will never change. Thus, different religions of the world are in the positions of the servant of servants, servant, adopted child, child by a concubine, child of the direct lineage, mother, father, and true parents. At the very highest level, the religion in the position of parents will appear. In the Last Days, there will appear the religion of True Parents centered on the True Parents. After its emergence the Unification Church started teaching about the unification of religions. Such unification is only possible through the doctrine of a religion that teaches about the True Parents. (124-69, 1983.1.23)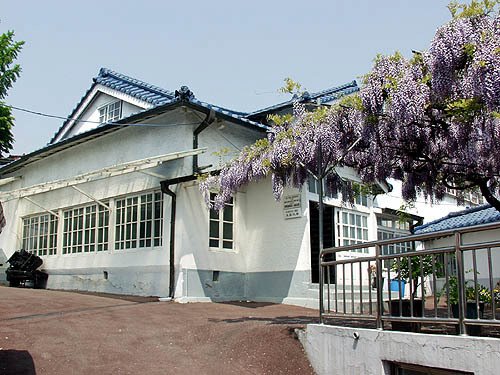 (photo 4)

History Of Unification Church, part 1

Reverend Sun Myung Moon
December 27,History Of The Unification Church, part 3

Reverend Sun Myung Moon
Washington, D.C.
December 29,1971
Master Speaks
Translated by Mrs. Won Pok Choi

You understand now how much God labored, through such struggle, to restore the Adam, Jesus. By the birth of Jesus God could have God's-side son. Then who is on Jesus' side besides Jesus? That becomes the problem. To stand in the position of perfectly restored Adam, he has to have Eve and three archangels restored. He had to restore the original members who were in the Garden of Eden before the fall. In the Garden of Eden by the Fall Adam lost Eve and three archangels. Therefore Jesus had to restore Eve and three archangels at this time.

For the Lord of the Second Advent to appear on this earth he had to restore all these things lost in the Old Testament Age and the New Testament Age. So God's providence of restoration can be simply said to be the restoration of Adam, Eve and three archangels.

When God created this universe He first created angels. Then He created Adam. Then He created Eve. So the three disciples of Jesus were children of faith and at the same time restored archangels. You have to know that clearly. The fall was caused by the failure of serving Adam by three archangels. Therefore three archangels must become one with Jesus. They have to work with Jesus to restore Eve. The three archangels had to go the way of even sacrificing their lives for the work of Jesus. They had to obey absolutely because the archangels didn't serve Adam and couldn't become one with Adam and God. They had to indemnify that.

So they had to follow wherever Adam goes. Therefore the three disciples of Jesus had to go with Jesus even to the line of cross. If at Jesus' time the three disciples had gone with Jesus to the cross, then spiritually Jesus could have restored Eve on this earth. By doing that Jesus could establish the four position foundation spiritually. If he could have established this four position foundation spiritually, then Satan couldn't intervene in his work. But by losing his three disciples, because they did not follow Jesus when he was crucified but denied him, he lost his three spiritual archangels. He had to restore that. So after his resurrection for forty days he called those disciples who had fled.

Spiritually Jesus restored three disciples, but for Jesus there was no Eve restored. Because of the disbelief of the three disciples after his death, Jesus and his disciples were put under the dominion of Satan. Satan always could intervene. That means that although Satan could not accuse Jesus himself, whenever Jesus tried to bring disciples, because they disbelieved Jesus, by that condition Satan could always take them and intervene, invade. Can you understand that? Because they disbelieved, they fell under the dominion of Satan, and from there Jesus tried to take them back. Therefore Satan always had a condition to accuse or invade them.

Therefore, even when Jesus has to restore her from the dominion of Satan. Therefore, to have resurrection work, the separated Adam and Eve had to come together and be reunited. Jesus himself had no condition to be accused by Satan, therefore he could ascend to heaven. But Eve had to be restored from the base which was laid by the restoration of the three lost disciples on the earth. Therefore, Eve's spirit had to come on the earth. Do you think you understand so far?

Is it true that Christ did ascend to heaven and not Paradise? Individually he did ascend into heaven, right?

Yes.

What is the relationship of the three disciples to unite with Jesus and the need to restore Eve?

If they had become one with Jesus before he died, Jesus could have restored the four position foundation. But they disbelieved, they denied Jesus. Therefore, Jesus was left alone. Jesus could not restore the four position foundation. After his resurrection he had to continue his work with them. His disciples remained in Satan's dominion. Therefore Satan could invade them.

How does that relate to the need to restore Eve?

If Jesus had three disciples, and the three disciples had united with Jesus, on that basis Jesus could restore Eve. That means that Eve could stay with Jesus and the three disciples spiritually. Then Jesus and the Holy Spirit both could ascend into heaven. They could work on this earth spiritually. Then we could not be invaded by Satan spiritually. We could be invaded physically but not spiritually. If that had happened, then for Christians it would not be hard to pray to see Jesus. As it is, though, for Christians to see Jesus they have had to pray very hard. They had to go through great sufferings. They could not easily meet Jesus and receive instructions from him.

Because we have four position foundation on this earth, we can easily have relationship with Jesus and the Holy Spirit. By losing this spiritual four position foundation, the Jewish people lost their country. Otherwise, they would have remained independent. If that happened, God could restore the country. If the Christians had subdued the Jewish nation, then they could have won the Roman Empire. If the disciples had believed, then Jesus could have established the four position foundation vertically and horizontally. But by their disbelief, Jesus ascended into heaven, so the four position foundation was formed vertically, not horizontally. So for a spiritual foundation the Christians had to receive the Holy Spirit and become one with the Holy Spirit. Then they could go to Jesus. So it took much effort. By becoming one with Jesus, they could be saved spiritually -

The space between Jesus and the Holy Spirit was occupied by Satan. To become one with Jesus they had to break through this space. So the individual has to go through Satan's dominating area. Whenever men prayed hard, Satan came and sometimes choked their neck. So Satan's interference came because of the disobedience of the three disciples.

Are you talking about the actual Eve, the Holy Spirit or some woman?

If Jesus had become one with three disciples on the earth, then Jesus could have restored Eve physically.

What person are you talking about? Eve who was with Adam?

No, Jesus is not Adam himself. The same thing applies to Eve.

Who would he have chosen? Some woman?

Of course -- not a man. A woman. But there's no more time.

So the Jewish people lost their nation, their country, and were scattered. The Christians received persecution from the Roman Empire. And from there they are being restored.

So when the Lord of the Second Advent comes again on this earth he must restore the three lost disciples. The three disciples will be the restored archangels. After that he will restore Eve.

To restore Adam God came through the Old Testament Age, New Testament Age, and Completed Testament Age. The reason why He had to go through these three stages was to restore Adam. Therefore, to restore Eve, he (Master) could not just do that, but he had to make conditions that he had restored the Old Testament Age Eve's position, then New Testament Age Eve's position, and finally Completed Testament Eve. That means, originally God wanted to love Adam and Eve together. But in the Old Testament Age God only chose men in Adam's position: Noah, Abraham. In the New Testament Age, it was the same thing. That means that the women in Eve's position couldn't be loved by God until the right conditions were made. Therefore, he (Master) must restore such conditions in the last days. Understand?

In Korea in the field of archangels there were three stages of the providence. To restore the three archangels, God had to go through a three stage providence. As Master explained the day before yesterday, in Korea on the East coast there was a man's group and on the West coast a woman's group. The man's mission was succeeded in three stages: Mr. Paeg, Mr. Lee and Mr. Kim. The woman's was the same. If Master can restore one man and three women united with that man, from the spiritual group, by that he can restore all the conditions for the restoration of Eve.

The Old Testament Age can be compared to the old woman, the married old woman; the New Testament Age to the woman who is engaged but who couldn't get married. In one family, the old woman can be compared to the grandmother, the New Testament Age woman to the mother, and the Completed Testament Age woman to the daughter. (That means a sister for Jesus.)

Master went to the group of Mr. Kim, who was the third man. Before Mr. Kim blessed Master, there were three women who testified to Master. If these three women and Mr. Kim had become one with Master, then all the conditions would have been restored at that place and at that time. If Mr. Kim's group had become one with Master, then that would have become the Perfection Stage group.

Then he would have had to find another Christian group and with that group to make connection to Christian ministers; and then to the Government. (At that time Korea had no President, because there was no government yet. So one of those connections would then become President.) So that makes three. That means Mr. Kim's group becomes Perfection Stage.

That is because the vertical providence must be restored horizontally in the last days. That means Mr. Kim's group becomes Perfection Stage group. New Testament Age comes this way, and Old Testament Age group becomes the last one. Therefore, the center will be established by Christians. So that becomes Growth Stage. The government group becomes Formation Stage. Like the Old Testament was formation, the New Testament Age growth, Master is perfection stage. They have to become one. Those three women testified to Master. After that, they had to become one with our Master, but they didn't follow him. So that's the reason why he had to go to North Korea,

In North Korea he had to go through all the conditions to restore the three women and one man. Jesus lost the foundation. The time when Jesus was crucified on the cross can be compared to the time of Master's imprisonment. Prison is physical hell. Jesus lost everything on the cross. So Master had to go through the same situation. So in North Korea he was imprisoned. In the prison he had to restore all the figures.

At this time, not from his side, but from their side, they had to come to him. They left Jesus. Therefore they themselves must come to him. Going to North Korea was going to prison. It was hell. The Christians after Jesus' death went to the Roman Empire. Those Christians were in the position of Jesus. Jesus was lost under the Roman Empire. To restore that, Jesus' followers had to go to the Roman Empire and from there begin restoration work. North Korea was Satan's-side Roman Empire. Democratic world is the spiritually restored disciples' position. To come to the present Christian world Christians had to go through persecution.

If Mr. Kim's group had become one with Master, then eventually all the democratic world would have become one with him. If that happened, the Communist world couldn't be like this.

At the time Christians should have become one with our Master, Korea was under American military government. So through the Christians he could have united with the government. And through the government he could have united with the democratic world. And through the democratic world he could have destroyed the Communist world at that time.

Soviet Russia developed the atomic bomb in 1948. Before Soviet Russia developed the atomic bomb, she was weak after the Second World War. To come back to a former position it takes twenty years. (We have to sweep away the Communist world by 1981-85, by that time). Since he went to North Korea, he went the path of hardship and suffering. Therefore all the followers, members of the Unification Church, will also have to go through the same path. That is the reason why our members suffer. We have to take things back from the Satanic world. When the parents are restored, the children will automatically be restored. Therefore all people will be restored through the family lineage. That failed. Therefore, to restore people he had to go out and fight the Satanic world. So we are now on that way. That way will continue until we reach the spring season, the time of restoration of the nation. Even when we restore the nation and the free world, still the Communist world will remain.

For us to fulfill this mission there are two means: one is Divine Principle for the Christian nations, the other is anti-Communist theory for the Communists. Are you confident and do you believe that we can restore Christians through the Divine Principle? Can we destroy Communism through anti-Communist theory? To go this way, we work in Korea in two ways. The first blessing took place in 1960. From that time on, Master wanted to have anti-Communism work. In Korea we came to receive attention in both ways, Anti-Communism movement, and Divine Principle movement. When this applies to the nation and world, the providence will be complete. To do this, we must establish anti-Communism institutes for Communists.

America is the archangelic nation in the democratic world. He hears that 80 percent of American couples get divorced. That means most American homes are broken. Archangels are not supposed to get married. Beyond divorce is the time of the fall. So there are many such broken homes. Now the unmarried boys and girls have sexual relationships. So we have to restore that, restore that relationship too. So now families, couples are separated. So we have to separate those who are unmarried. If we cannot sweep away these things the providence cannot be realized. Originally, the Lord of the Second Advent comes to bless those unmarried men and women, not those married couples. Now the time has come that all the families are broken, so on that condition he can bless even married couples again.

His two works must unite in America. The work to restore Christians must be done in America, and also to overcome the Communist world, to prevent Communist domination must be done. Now, the Communist world is becoming stronger and stronger, and at this time we, the members of the Unification Church, must stand up and fight. If we can restore America, then even if we lose Korea and Japan, we can go ahead. He thinks that there will not be such a situation, but even if we lose Korea and Japan to the Communist world, we will be able to restore the whole world. We will have to go back and make a firm foundation here. We have to start that work from now on. So Master spoke to you that he was going to have a revival meeting here in America.

Now he is going back to when he was in North Korea! He had to restore those lost three disciples in prison. In prison he met Mrs. Ho's group, as he said the night before last. There were also her husband and men members. There they didn't obey Master's words. So he had to go to prison again. Jesus' three disciples rejected Jesus. So when Master went to prison there had to be at least three disciples who would follow him in the face of death. So when he went to prison he had hopes to see those three. In prison he met them.

One of them was a young man who had lived originally in South Korea. After the war he went to North Korea and became an artillery officer in the North Korean people's army. His rank was lieutenant colonel at the time, but he was put in jail. He had connections in South Korea, so he was accused as a South Korean spy. He was sentenced to death at that time. The day of execution was coming near for him. How serious would he have been. Before he was put into jail he worked under the commanding general of the artillery command of the people's army. The commanding general's name was Muzon. When he was arrested the commanding general was in Manchuria, not North Korea. After he came back he found out that his man was put into jail. But he loved this man very much, and he thought he could train this man and that he would become a very good officer, and that he could use him greatly in the future war. So he sent an appeal to Kim Il Sung. Such was being done at that time. Before such a thing happened, God worked.

At that time he already was ready to die. He had his mind serious and he was ready to be executed. In the daytime he had a vision and a white old man appeared before him. That old man told him he would not die. The old man told him that he would meet a young master who was coming, from South Korea, and if he met him his problem would be solved. But he did not believe that, because he was not a very, religious man. So he forgot his vision. He did not remember what he saw in the vision.

Then a second time a white old man appeared, the same man, and asked him why he did not believe what he had told him. He said again you will have to meet the master from South Korea. But he did not believe, so he was beaten by him in the dream. So he begged him not to beat him any more. Then finally he began to believe the vision. Several days later his sentence was decreased to four years. Those things were done by the guidance of heaven. Before Master went to that prison he knew that there must be some prepared men, so he had a great deal of hope.

In 1948, February 22, he (Master) was put into prison in Pyungyang. In the jail, in the same cell, he met that man. He went into the cell where that man was. He was put on public trial on April 2. After that trial he was put in that cell, and that was on the 10th of April. Then he was the head of the cell. If he would speak such things he could not finish. There Master met him. But even though he saw Master he didn't think Master was the man he saw in the visions. After Master went into that cell he didn't recognize him, so he again saw a vision.

Again he saw the father and the white old man appeared before him. So they said, I will show you this man. So he was taken to the palace. To enter that palace he had to go through a gate and there were many steps. When he had taken three steps he had to bow. He repeated it again. He came to the throne. Because that was such a brilliant vision he couldn't raise his head. The man on the throne told him to raise his head. In that palace there was a big meeting; a big conference was being held. A man was sitting on the throne and beside him were many people. The man sat on the last seat and he couldn't raise his head. Then the white old man told him to give a deep bow, which he did. Then the old man told him to raise his head. Then he saw the man on the throne, and that was Master's face. So from the next day he began to follow. If he speaks in detail he can talk many days.

By such teachings from spirit world he could collect many men. Peter denied Jesus three times. Therefore those people denied three times. Every time, heaven taught them, and gave them visions, dreams, and different things to make them follow.

So he stayed in prison for two years eight months, a period corresponding to Jesus' public ministry, and he could restore all those twelve people. And by restoring twelve people he can restore all the conditions that Jesus lost. Even if those people would not follow him, he could put other people in their places when he was freed. Because he fulfilled all the things he was supposed to do, the archangelic nation (the United States) and the United Nations attacked North Korea and freed him. So he came out of prison. Four men followed him. Because the United States and the United Nations freed South Korea, for that condition heaven can come again to the Democratic world and work again to restore Christians.

Before he went to jail there were many members who followed after him in his group in Pyungyang. Jesus' disciples fled when he was put on the cross, so among the group there must be someone believing in Master. By fulfilling all the indemnity and conditions to restore a man in the position of Mr. Kim (leader of the Eastern group), his number of followers had to remain the same when he came back as there were when he went to prison.

So there was a man who played the role of the South Korean Mr. Kim. That was Won Pil Kim. Also there were three women. By having one man and three women, he had the four men he wanted to restore in Mr. Kim's group in South Korea. So he had these four men (three women and one man) in his group and the four which followed from prison. He took one man with him when he went South, and that man had a broken leg. He took him with him down to Pusan. And there are many stories about when he came down to South Korea. Because he restored such a number of people, he could start spiritual work in South Korea. From that the Unification Church began. By fulfilling this he could restore what Jesus had done on the cross. And the providence after that was a new one. That was the one that Jesus without dying could restore on this earth. From 1960 he began that work.

Mother came from that group. On the West Coast was Mrs. Kim's group. Mrs. Kim died, Mrs. Ho continued. Mother's mother was a devout follower of Mrs. Ho. She took Mother to that group when Mother was four years old, and Mrs. Ho blessed Mother. So that was a succession of missions to Mother. Mother, of course did not know that. When Master met Mother in 1960 at that time he knew. All the things which were prepared by God

came into one in 1960. So now True Parents appeared. From this came the blessing of children.

When he left North Korea, it was winter of 1950. He came down to Pusan on the coast of South Korea in 195 1. From that time for ten years he fought severe persecution until 1960 when he succeeded. Even after 1960 we have received persecution, but our work can grow.

Restoration providence is the fighting between Cain and Abel. So in the work always a Mr. Moon appears in the Cain position. Always the one who persecutes Master is a Mr. Moon. A man with a Moon surname. Also at the family level and national level. When we wanted to register with the government, the Ministry of Education handled registration, and Mrs. Moon, the Minister of Education rejected our application. We had to fight it. After one week, it was reversed. So that one week, seven days, corresponds to seventy years, seven-hundred or seven thousand years. At that time if his rejection was not passed, we could not have any religious movement. He was supposed to reverse. Finally we had registration, May 31, 1963. At that time we had thirty-six couples and seventy-two couples blessed. That was the time to fight the state and nation. By undergoing such a process we came to our present status. In the future we will have a record book in which we will explain these things in detail.

Now he is going to speak about the way for our members to follow him. Jacob's course became Moses' course. Also Jesus had to follow Moses' course. Jesus' course became Master's course, and Master's course becomes our course.

Now he is going to explain the four conditions that our movement must fulfill:
1. Perfection of the individual
2. Perfection of family
3. Restoration of nation
4. Restoration of the world

These four things must be fulfilled by each individual of our Unification Church. And if Master dies at this point then our members will do all these things. If we lose Master we will have to go through hardships three times as much. That means if you do not know the detailed contents of the Principle then it will be impossible for you to fulfill. Do you think you need Master? So you think how much you need Master. You need Master more than family, more than nation, more than world. You have to know this perfectly. ,

You have thought of him as you like, he thinks. "Master is Oriental and his way of thinking differs, and he does not know Western ways because he was born and raised in the Oriental world. " Do you think God's Will will be realized by following Western style? It cannot be done. Because we are new individuals, new families, new tribes, we are the first ones to restore this earth. So there is no tradition. For us there is no style. We don't have any culture. We have to make a new one. From now, we have to make new customs, new tradition, new culture, new life, a new way of living, new morality, new laws. Are you ready? You have to be more confident. You have to be confident more than your life. That is the absolute way; that cannot be changed.

So Master's mission is to establish new tradition, new morality, new ways of life, so even if he loses thousands of millions of people, even risking those lives he has to establish new tradition, new culture. Like Master, we, you, have to be that way. Our weddings also must be done for his purposes. Do you understand?

This time he feels that the purpose of his visit is to make you sure about this. You have to remember this always. So when we do something, we have to do it in a separate way, not like worldly men. When he says let's do something, there must be someone who is ready to run. If we are such men, then the providence will be shortened. Can you imagine when we do not have Master with us? He cannot stay with us always, all the time. Ten years, twenty years -nobody knows how long we can have him with us. Without fulfilling such mission on earth, our descendants have to suffer. If we cannot restore a nation, other nations, worldly nations will oppose us. If we can restore a nation, then from that base we can go to the world-wide scale.

Now in the present world situation, the nation which is in the most difficulties is Korea. So we have to restore that nation. Now the North Korean Kim Il Sung is about to attack South Korea. Especially when Master is not in South Korea. Master thinks it will be thirty days to one-hundred days, that will be his world tour period. So when he left Korea he did not explain such things to Korean members, but he told them to have special prayer. So now in Korea at the headquarters church, every night more than five blessed members (men) with other members come to the church and stay and pray overnight. The very next day after our Master left Korea the government declared an emergency state. That is not just an accident. Also he wants not to have a cold winter this year, not to have rivers frozen. Because of this you have warm weather now. If two weeks pass, it will be all right, no freezing cold. April 15, 1972 is Kim Il Sung's 60th birthday. The perfection number for Satan is sixty. If he goes over that year, he comes down.

The three year course from 1970-72 is a most important time. The second seven year course ends in 1974. So by 1974 we have to establish certain conditions in South Korea. So far you did not know that we will face great difficulties if we cannot restore a nation. That nation must be the nation that is divided into two, as he explained before. Also there must be a place like Panmunjom where God and Satan accuse each other.

Now Western civilization comes to Eastern civilization, to become one. So in the Western world there are many young people who study Eastern things. You might think that in the East are India, China, many other countries. But those countries cannot be the nation. That nation must be the nation that is divided into two and has the place where God and Satan accuse each other.

North Koreans call Kim Il Sung father, and in our church we call Master father. The civilizations of East and West must be united in Korea, no other place. During the Korean War 16 nations, including the United States, came to aid South Korea. Such a thing never happened before in history. It was like a civil war between North and South. Then why did so many countries come to aid?

At that time Truman was President. The United Nations resolution passed. Soviet Russia had veto power, but at that time the Soviet government did not send its representative to the Security Council. So in his absence, it passed. For the United Nations troops, that was the first time to come to the aid of another country. Young people from sixteen nations shed their blood. They had to make such conditions that they participated in the restoration of the nation, for all people of the earth. The number sixteen also has significance. It is 4 x 4. The number represents all nations. That was the first time the Korean and American people and other nations sacrificed for the independence of one nation.

If we see externally, there is no connection between Korea and America and the other countries. But if we see it from the view of the providence, that fight, the Korean War, was the war for the restoration of their own country. The restoration (unification) of Korea becomes the chief piece for the unification of the whole world. So everything lies on Korea. Now Korea is making rapid progress in an external way. That is because the time is coming to restore the internal.

In Korea we had three regimes. The first was Syngman Rhee's regime. The next was Eung. But at that time the boss of the party was a woman, so that was Eve. Now we have the Park regime, and Park is a military man, symbolic of the archangel. This military regime supports our movement. President Park is the seventh President. That means Syngman Rhee was elected three times; President Eung one time; and now President Park is in his third term, which ends in 1975, the end of the second seven year course. Number eight is the number of a new start. So that time is the time of a new fortune for the world.

So the history of God's providence coincides in this way. That is not the only one, but through thousands of years God worked. And there will be no time like this again. If we lose Korea, then where can we find such a nation again on this earth? So this is the most serious time. Master knows very well how serious it is. It is not just serious for Korea and the Korean people, but for the whole world, all people, heaven and earth.

Our members, Korean and Western, must become one with our Master and work together hard enough to overcome the situation of North Korea. We have to surpass the degree by which the North Koreans and Kim Il Sung became one. We have to surpass North Korean Communists, and those in Red China and Soviet Russia. We have to be strongly united, more so than the Communists. If that is done, the free world cannot be destroyed. Therefore from such a standpoint, the United States cannot withdraw from Asia. The United States would suffer great loss, and after, she will have to come back to Asia.

So now India is falling to Soviet Russia, and Southeast Asia will go to Red China or Soviet Russia. The United States will face again the situation which she faced in the days of Japan before World War II in Asia. At that time, the British Prime Minister said that if the United States, Great Britain and Japan become one, then the free world can be saved. America has trouble with Japan regarding the devaluation of the dollar and the yen, and also trade, but the United States must hold Japan on its side. America must open the way to aid Korea through Japan. That is the view of the Providence.

Now America is starting to withdraw from Asia; therefore we have to put an anchor in America not to withdraw from Asia. We have to do this through our members. So at this time we have to send our members to all fifty states. We have to make bases in each state. During his tour he will do that. So he wants among you many volunteers. It is much better for you to volunteer than older people. You are in the archangelic position. Therefore you must do that by yourselves. You have to help Adam. Do you understand me? Will you make application.

If you fulfill your mission in America, you can restore America and at the same time help Korea to be restored. So now we have to make bases in fifty states. We also have to restore Senators. So Master will assign three young ladies to each Senator. The Senators are archangels, so restoration will have to be done through Eve. So we need three-hundred young ladies. To restore the Senators you first must make the aides your friends, particularly secretaries. Do you understand that? They do not know what the future will be. So if you know the Divine Principle and can communicate it well, he will give you directions how to do it in the future. So we need many young ladies. After we restore the Senators, those ladies will be sent overseas. By doing this you can save America.

You as individuals must follow Master, your family must follow Master's family. Jesus couldn't restore his tribe. So we have to restore our tribe, and surpass Jesus' mission. By doing that we can restore the nation. So that is our mission.

The individual, family, nation, and the world; those are always the problem, always the question. For Jesus, too, his purpose and mission was to restore himself on the individual level, and then to restore his family, tribe, nation, and the whole world. We are in the position to accomplish what was left unaccomplished by Jesus. It is the mission of our Master, and what our Master has to do is for you to do also. He was left all alone, like Elijah, and from then on he was going to perfect himself on the individual level, and then restore his family, and tribe, nation and whole world.

By going through three regimes, three periods, Old Testament, New Testament, and Completed Testament ages, by going through all those stages, performing the restoration through indemnity, he has set up the tribal level, and from then on horizontally all the rest of the types or scopes will be solved. So he is now on the way to offer sacrifices. By having you, the dedicated members, sacrifice yourselves he is going to save the whole world.

Your mission is on the tribal level, because he has already laid the foundation on the tribal level. From now on he is going to lay the foundation on the national level, and then you will have to open it up. On the national level we have to fight through our way until we gain restoration on the worldwide level. If we do that then those who are born from you can grow up anywhere unreservedly without having to go through any indemnity course. Do you understand?

So in a sense our Master is ahead of you, one age ahead of you. That is why you are still on the stage of the tribal level. Your tribal level corresponds to his national level. If Master has attained or gained the goal of the national level, you will go there, by a jump and a leap. You will not go through as much suffering as Jesus had under the Roman Empire, because Jesus did not have the national level of restoration. He was even persecuted to death. His death was caused by the Israelite nation. So you must stand in the position of one who can restore the Israelite nation which persecuted and killed Jesus. When you have done this, you are qualified to have a world-wide level mission.

When he blessed 430 couples, that meant the gate for the world-wide level mission was opened. After you attain the goal on the world-wide level, that means you are in the position to be the Messiah on the tribal level. For those of you who are blessed, you are not in the position of the dead Jesus now, because you are blessed. You are in the position of Jesus having come again to restore the tribe.

Master is in the position to develop the restitution course to restore the nation. If the blessed families in Korea can restore their own clan and tribe, then the nation-wide restoration will be much easier. For the blessed couple to restore the tribe or clan means to restore the family and the church, just as Jesus had to make into one his family and Judaism. He must repeatedly say that you are in the position to have to restore the tribe. In having blessed. the families, he means to have them stand in the position of having restored the clan and family level restitution course. So from then on their ancestors, their passed away ancestors, can come to stand in the position of those figures, personages of God's choice in past history: Abraham, Moses, etc. So they have to come into the position of those people who have carried out their mission.

In that case you, the blessed couple, are in the position of having attained the restoration on the family level. So from then on, your clan can have the condition to be saved. So those passed away ancestors of yours, if they have been good, correspond to those historical personages who belong to those ages -Your ancestors who belong to the age of Abraham, of Noah, Jacob, or all those people can have the same grace on the same level because you, as the fruit of your ancestry, have attained that much. They are privileged to come down, to come again and through you to work to attain their own mission.

Spirit world corresponds to the angelic world. So you are in the position of Adam and Eve, and they are coming down in the position of the restored archangels to work through you. They are free to associate with you and contact you at any time. By centering on you and your individual home, they can work on this earth in restoring your relatives and clan. As your family foundation broadens, more of your ancestors are free to work. The world is darkened by evil. If those good spirits come down and fight against those people who are occupied by the evil spirits, they can bring them to surrender. Good ancestors of yours are in the position of the restored archangels. With the whole of the spirit world mobilized like that fighting against the evil spirits, then the restoration of the world will come about in the nearest possible future.

The blessing of the 430 and 777 couples means to have laid the foundation of Jesus having succeeded. The 777 couples represent the whole world. In that case those couples are in the position of Messiah in their country. Each family member who got blessed must be in the position of Messiah to his clan and must be in the position to set up his three sons. Then each son should bring in more people (at least twelve) and make them blessed, making thirty-six. Then we can widen the scope into seventy, and then 120 couples. That is the point where Jesus lost his clan which caused his death on the cross. So you have to restore from that point. You are in the position of the Messiah on the tribal level, so after having brought new members, you should be able to bless them. You can do the same thing with your own family, relatives, cousins.

Master could not do that. He could not witness to or influence his own family. He never once talked about the Divine Principle to his own brother, parents or any relatives. Why? He was in the position of Jesus, who was driven out by his people. So all alone, in the outside world, he had to restore those personages. Now that he has restored outside people, and formed clans by blessing, and has formed the tribal (and almost national) level, from now on he can witness to and bring in his relatives.

You have your own clan and relatives. So you can restore your own relatives. You can bring them. By witnessing to them you can form three disciples, twelve disciples, and people on the tribal level. Can you evangelize your families? In that sense you are in a better position than he is. You have inherited what he has gained by going through his whole life. You can be blessed after having worked for three years or more. By going through only three years course you can be blessed, just like that. You are greatly privileged. In fact, you must be resolved to bear the cross ten times as much as many have done.

When he was in prison, if his parents visited him, he just drove them back. He had to. He has never seen his brother. At the cost of his brother, family, relatives he was going to find new ones. He has loved you more than he did his parents, brother, sister, or his own relatives. Why? Because God is like that. He wanted to save the whole world at the sacrifice of His son. God had to sacrifice his beloved one, nation, His only Son's life. He wanted to save the whole world. Master had to follow that example.

Therefore Jesus, following God's example, had to put himself on the cross. Even on the cross, he had to bless the people who rejected him and persecuted him. In Christian history too we find how God wanted to restore the world at the cost of many martyrs. Master is in the position of saving the gentile world at the cost of his own beloved ones. How much more you should be doing the same. But you don't have to do that. You are only to do what he has told you. You are in such a privileged position. From now on, you are responsible for bringing in your own parents, brothers, sisters, and relatives. You must be loving them and trying to bring them in more than he did the gentile nations. You don't have to go through as much suffering as he has, because people are naturally attached to their own relatives.

But for Master he could not do that. He had to go round about and seek people in the outside world without being able to restore his own family. Now he imagines that his parents have been persecuted. He imagined all those things before he left North Korea, but abandoned his relatives and thus brought those disciples down. So you realize you are in a blessed position.

His mother was a loving mother who loved her son more than anyone else. She was a very loving and understanding type of person. But Master put himself in the position of Jesus who said to his mother, "Woman, what have you to do with me?" His mother was in the position of helping him and cooperating with him, but he still turned back.

There is not an inch of modification in the course of restoration. Now that you have heard Master speak these last few days, you can understand to a certain extent what he means. You must love your parents, brothers and sisters and relatives and you do that in his stead. You restore his not being able to do that. Try to love your parents, sisters, brothers, and relatives as he would have. Can't you imagine how much our Master wanted to witness to them, and teach them the Divine Principle in detail?

His elder brother was spiritually attuned. He was taught by spirit world and sensed somehow that his brother, our Master, was the best brother in the world, more than any other brother anyone could have, and more than any other brother he would have. He only vaguely sensed his mission, but did not know it in detail. He was ready to do anything for his brother, he loved him so much that he could do anything for him. But Master couldn't tell him the story. He couldn't witness to him. Jesus was driven out by his family, and Master was in the position of Jesus, so he couldn't do it. Knowing these things he couldn't do it, but he was agonized in his heart. If he had been allowed, he could have stayed up all night many nights witnessing to them.

Knowing that you are in a position of having to restore those people on the horizontal level, you should work hard to gain those people. If it was he, he would have talked all night and written many letters everyday. It will be easier for you to gain relatives than to bring in outsiders. You must show them that you are blessed because you joined this group. If you bring your parents here and show them the life you have here and all those things, they will be overjoyed. If your parents could prove the fact and you tell them that you are in a blessed position, it will be easier for your brothers and sisters to join. When you go home you could have your parents gather all the relatives, on your parent's birthday, and you could have your parents preside at the meeting and you could speak there. You could have your mother lead the hymns and have your father preside over the meeting. And then you could give lectures on the Divine Principle. Then they will be astonished, with wide open eyes, and say, "I should never have persecuted them. I see that they are in such a blessed position and they can do such and such things, and they are capable daughters. " Do you think you can do that? From now on, that is for you to do.

Oriental tradition is very good for the restoration. The younger brothers are supposed to obey their elder ones. If not, they will be beaten. On the permission of the parents, any elder brother can bring in the younger ones. Nephews and nieces are of no question. It is much easier for Korean people to bring in their families. The situation here, I see, is a little different. But people are the same everywhere.

In the United States, the adolescents are the question. But if your parents find that you are spiritually elevated and you have become a good influence after you have joined this group, they will be willing to send you their problem children. Why is it easier to bring your relatives? When you have been recognized by your parents, or your brothers and sisters, the rest of the people are easily brought in. Your younger brothers and sisters will watch, and if they find anything good in you after you have joined this group, it will be natural for them to be drawn.

Suppose you have to bring in outside people. Though they are taught the Divine Principle, and study for quite a time, yet they cock their heads and become skeptical, and they compare the life here with the life outside, and they vacillate. To be fruitful, it may take a year or more. But for your own brothers and sisters, once they are resolved to follow and come into the movement, you can just drive them out. That's what makes it easier for you to bring in relatives. From now on he wants you to write as many letters as possible to your brothers and sisters, and you can put in some flowers from the garden here. Even though some of your brothers and sisters do not know you are in this group, they will be influenced like that.

Why don't you send a plane ticket for them to come to visit you or pay the train fare, and they will be pleased to come visit. They can find out what circumstances you are in. Even in witnessing to outside people you can use that amount of money. So, bearing in mind that you are in the position of Messiah to your tribe, why don't you bring those people into your movement? From the position of Jesus accomplish that mission. Well, let's mobilize all the people here and dash to the goal.

If you are in the position of the blessed couple, one is in the position of Adam and the other in the position of bride - In that case will you prefer to bring in your own relatives, or go to the outside world? For all the members here, even though they are not blessed, the man should think of himself in the position of Jesus and the woman in the position of bride.

You must understand that Jesus had to be put on the cross because his bride and relatives could not lay the foundation for the bride. And Jesus on his side failed to take a bride because he could not lay the foundation on the tribal level. So in order to restore those things, you have to be able to bring your relatives. If a man who has restored the tribal level and a woman who has restored the tribal level get together and are blessed in marriage, how happy and blessed they are. They can never part from each other. Though they may turn, there is no place else they can go...

(End of tape. Continued from notes) And within the scope of relatives and tribes, he can bless thousands of couples. If you can bring in three people from the outside world and not one of your relatives, you will be accused by the spirit world.

You must bring people from three generations (four including yourself). Grandparents, parents, your own couple, and your children after the blessing. Until you can love people of three generations, you cannot enter the Kingdom of Heaven. In the United States, after 18, you turn your back on your parents. This is because you are in the position of the fallen archangel, and archangels have no parents.

Orientals make restoration easier. Each stage builds on the preceding one. After three stages, you are given children and the eternal heritage of the Kingdom of Heaven is yours. Your children are in the position of Adam and Eve before the fall. Because of the fall Master had to go through restoration. After you gain the blessing you must give birth to children having nothing to do with sin. You have to inherit three generations, the mission of three stages. Is this Master's word, or the Divine Principle?

You should respect your grandparents and parents more than yourself. Then you teach your children to do the same. Thus you set up a new tradition. You can enter the Kingdom of Heaven with your grandparents, parents, and children. If no grandparents, put it to practice with elderly people.

Everybody is born from their parents' love and grows up in their parents' love. In that case, they want to die in love. Everybody here will become aged. Do you want to die all by yourselves? You should love your grandparents and parents in place of Master. Your parents and grandparents will be overjoyed to know he is telling you this. You cannot enter the Kingdom of Heaven without respecting older people. Because God is the oldest one!

Vertically and horizontally we are supposed to inherit all the good things having taken place in history. You should love what is old, including God, because you are the fruit of these things. If you visit home you should make those people think that you are different from what you used to be.
| | | |
| --- | --- | --- |
| (photo 5) | (photo 6) | (photo 7) |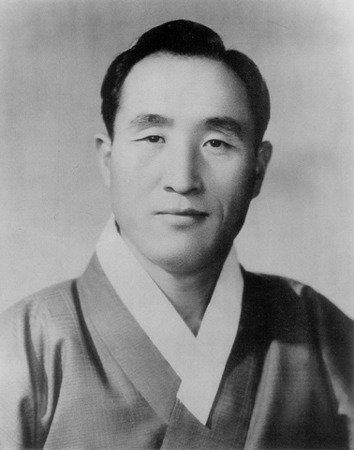 (photo 8)

What is the purpose of the Messiah? It is to complete the vertical foundation and bring forth the horizontal foundation. Then, who is the Messiah? The Messiah is the one who comes with a firm grasp of the fundamental plan for attaining the individual, family, national, and global standards of vertical completion. He does so by uniting to the vertical standard everything connected to the heavenly way and the public purpose that God and humankind must pursue. (71-79, 1974.04.28)

There are two beings in the universe who claim to be great – God and Satan. These masters of good and evil are fighting against each other. They are waging a battle of good and evil over human beings.
To what degree is Satan extraordinary? According to anthropologists, human beings have lived on earth for one and a half million years. Throughout this time, Satan, as the overall com-mander leading the battle on the evil side, has inflicted heavy casualties upon God's side and has bound Him fast. This is why I am teaching about Satan's extraordinary power.
Who should end this battle? Neither God nor Satan can end it. You must be hearing this for the first time. Who can bring to an end the fight between the evil spirits and good spirits? Neither God nor Satan can. Then, who can put an end to it? Only a true person can end the battle. Without being a central figure of love who can be followed by all people, the true person cannot end the fight between God and Satan. As long as we are not liberated from this fight, future peace will be an impossible dream for the world, and ideals will be nothing but abstract, sentimental concepts.
Then, who can resolve this fight? For this task God has sent a representative. This is the typical concept of the Messiah. The Savior is the person who liberates not only people but also God. In addition, he punishes evil. The one responsible for the overall task of liberating God and liquidating evil is the Savior.
The character se (世) in Savior (gu-se-ju) refers to the world. God gave His only begotten son because He loved the world, not because He loved Christianity. Many Christians memorize John 3:16 and repeat it over and over! It does not say that God so loved Christianity that He gave His only begotten son, that whoever believes in him should not perish but have everlasting life. It says that God so loved the world that He gave His only begotten son. What is the mission of the Savior? It is to liberate God and punish Satan. Who will get rid of this bitter enemy who has sunk his teeth into human beings and is accusing them so viciously? God cannot get rid of him. Only the Messiah, the Savior, can do that! (136-219, 1985.12.29)

What will the Messiah do when he comes? He comes as the commander, who for the first time in history, will lead the battle to regain the sovereignty, territory, and citizenry of a nation and, on that basis, take back the world of God's creation. This is the mission of the Messiah.
In subjugating Satan, it is not enough just to defeat a nation. Since Satan also has global sovereignty, we must strip him of that global sovereignty as well. Only then will the realm of liberation unfold on this earth.
God created the Garden of Eden as a garden of freedom and peace. If there is any shadow of Satan's opposition anywhere on earth, the ideal of that garden will not be realized. The Kingdom of Heaven on earth will be completed only when the shadows of Satan's antagonism have disappeared from the earth. We can start the liberation movement in the spirit world only when this task is completed on earth. This is the path the members of the Unification Church should follow. (57-128, 1972.5.29)

What is the task of the Messiah? On the individual level, he has to subjugate Satan and eradicate Satan's lineage, thereby paving the victorious road for the individual. He must then pave the road of victory on the levels of the family, nation, and world. This is the path the Messiah must walk. In other words: first, he must pave the road for individuals; second, he must pave the road for families; third, he must pave the road for nations; and fourth, he must pave the road for the world.
After the Messiah wins the individual victory, Satan will mobilize worldwide. The nations and the democratic world will join forces to attack him; he must fight against them and win. He must do this on the family and worldwide levels. In other words, he must win just as Jacob prevailed over the angel and just as Abel should have succeeded over Cain. This is a one-on-one fight. Now, all of Satan's world must be struck, and for this a representative nation is needed at the front. This nation is Korea. (54-197, 1972.03.24)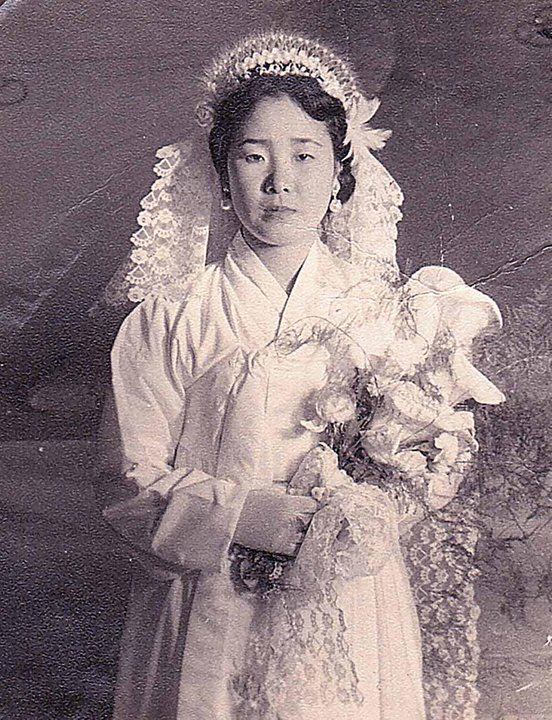 (photo 9)
Selecting True Mother

Through two thousand years of Christianity God made the Second Advent of the Lord possible. If, immediately after World War II, I could have stood on the victorious foundation of Christianity and the United States based on the Christian cultural sphere, would I have undergone hardships? If they had accepted me in those days, then who would have been Mother? If Sung-jin's mother had been unable to take that position, who would have replaced her? It would have been a British woman. As seen from God's will, it would have been a woman from Great Britain. The British royal family would have made a connection with me. Doesn't that belong to the realm of Christian culture? Britain gave birth to America. There was symbolic significance to Korean president Rhee Sung-man (Syngman Rhee) marrying a western woman. Ultimately, due to the opposition from Christianity, True Mother gained this blessing. (181-217, 1988.10.3)

In order to restore Eve, the number '7' has to be restored through indemnity. Mother was designated to her position in 1960 and had to go through the seven-year course until 1968 when God's Day was established; for her that was a period of persecution. In this period, women of the Unification Church engaged themselves in all kinds of intrigues and slander against her. Mother did not understand the reason for this, so she could overcome everything only if she obeyed my words absolutely. So I told her, "Do this and do that, just as I say!" Thus, after the Holy Wedding I drove her away from my house for three years, and only after three years, did she stay in the same room with me. This is all true. You Unificationists can understand this, can't you? It was for the sake of indemnity. We are going through the individual course of indemnity, and the family course of indemnity. (139-296, 1986.1.31)

I have established Parents' Day, Children's Day, Day of All Things and God's Day. Having gone through the seven-year course in the 1960s, I was able to establish God's Day in 1968 based on the realm of unified heart. Mother also had to go through a seven-year course from the completion level of the growth stage to the completion level of the completion stage. Without doing so, she could not have stood in the same realm of heart as me. Thus, although I married in 1960, it was only after seven years that I established God's Day, on January 1, 1968. This is according to the Principle.
Everyone must undergo a seven-year course, including the blessed couples. There are no exceptions; everyone must go. If Blessed Families are unable to go through this course, they cannot enter heaven. The paradise realm for the Blessed Families of the Unification Church is emerging in the spirit world. This is all logical. (139-311, 1986.1.31)

It was fourteen years after the liberation of Korea that I received Mother. It was in 1960. Why was it fourteen years? It was because our first ancestors fell at the completion level of the growth stage when they were still passing through their second seven-year course; they fell in the very end of this seven-year course, before the beginning of the third seven-year course. Therefore, according to the principle of restoration through indemnity, I settled in Korea through a course of fourteen years of persecution, built the altar called the Unification Church, and chose Mother and raised her to this position while battling the established churches and the nation of South Korea. From that point, when Mother was chosen and designated to her position, God's providence could settle on earth for the first time. (143-178, 1986.3.18)

Mother had to be less than 20 years of age. Why was that? It was because Adam and Eve fell when they were teenagers; they were younger than 20 years old. Since they fell at that age, Mother had to be of a similar age. How difficult that was! Moving the Unification Church was a difficult task in itself. On top of that, when I had to choose Mother, there were a number of young ladies in the Unification Church who were university graduates and some even held doctorates. With their eyes burning they were making all kinds of maneuvers to become my mate. While keeping an eye on this situation, I actually had to look for an innocent, unworldly teenage girl. That was not a fate to be enjoyed, but I had no choice. Because of the principle of restoration through indemnity, I could not do as I pleased. (145-161, 1986.5.1)

Because I knew the principle of restoration through indemnity, I had to grow older alone until I reached forty. Moreover, I could not take an older wife, but married someone who was eighteen years old. My bride was not supposed to be older than eighteen! There were many women in the Unification Church with university degrees or even doctorates who were gazing at me with their eyes wide open as if they wanted to swallow me. They were howling like a pack of wolves, but I ignored them and welcomed Mother who was totally unworldly. How complicated that was! (164-61, 1987.5.3)

After the Holy Wedding, I told my mother-in-law, "For three years, you may never enter or exit through the house's front gate. Don't come to visit your daughter just because you are her mother. In the Garden of Eden, Eve did not have a mother. Do not use the front gate." Can one possibly say such things? From a normal viewpoint, it was as if the son-in-law told the wife's mother, "When you visit your daughter's house, always come in through the back gate. You must not come in through the front gate, for three years." That is why I became the most fearful person for my mother-in-law; she became very afraid of me. (184-262,
1989.1.1)

As Eve was created through Adam, Mother had to come from a position where she did not know anything. She was not supposed to have many relatives. It wouldn't work if she had three generations trailing along with her. She could not have had any vertical relationships within her family. She could not have come from an ordinary kind of family. In fact, True Mother satisfies this criterion, isn't that so? She had no elder brother or father. There were just the two of them, mother and daughter. Her mother was a representative figure among Koreans when it came to offering devotions for the Second Coming of the Lord. Such were the followers of the "Inside the Belly" Church, who believed that the Lord would come in the flesh. After I came to know Mother, she received the blessing of the women elders who represented the history of Korea in the providence, and who had fulfilled every responsibility related to Eve. (184-293, 1989.1.1)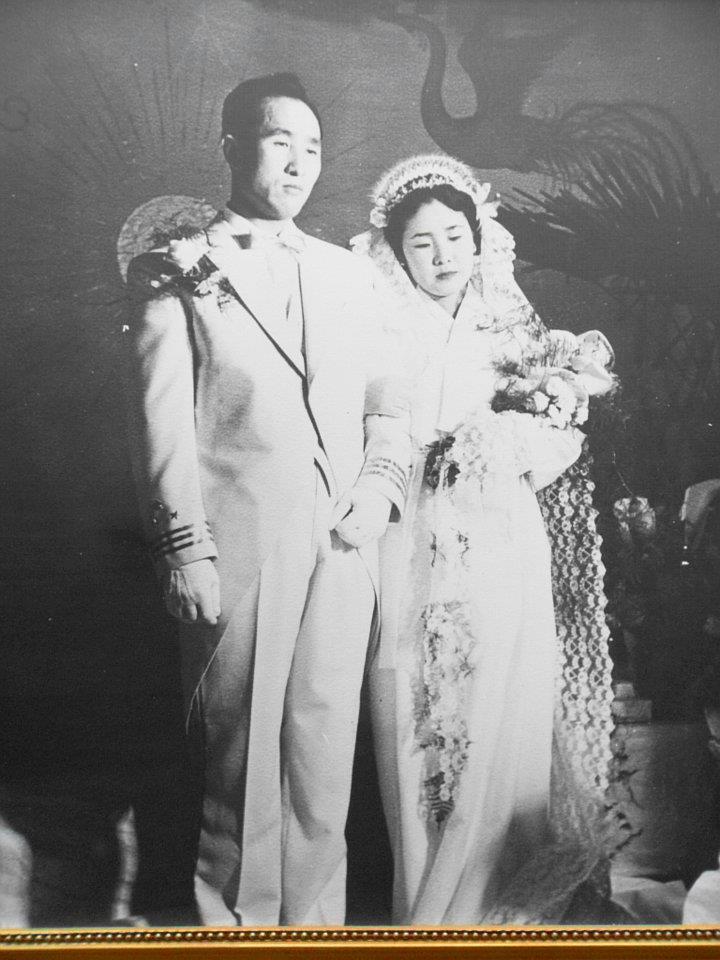 (photo 10)
The True Lineage Must Come Through the True Parents

It is the True Parents whom we need. What began with false parents must now begin with True Parents. False parents inherited false life and false lineage through false love. This must be reversed. The issue relates to inheriting true life and true lineage through the love of True Parents. The question, in other words, is this: how can we, after having wrongly received the seed of life, receive the original seed?
The Messiah has to return to earth to address this question and plant the seed of the Messiah, the True Parents' new seed of life. We cannot receive this seed without True Parents. Through this we will return to the position of the original true olive tree. This is simple.
So God is our real parent. How close He is to us. God as the vertical parent and True Parents as the horizontal parents together realize ideal love. (218-223, 1991.7.29)
Democracy is the ideology of brothers. This is why they fight. That is why I have declared, "We need parents. Only parents can stop the fight. What we need in this miserable situation is the way of the parents, and Godism, the ideology centered on God!" What kind of parents are these parents? These parents do not exist in the satanic world. They are an exact opposite of the parents in the satanic world. These parents are called True Parents.
Why do we need True Parents? We need them in order to dismantle the foundation of satanic love, life, and lineage. How did men and women fall into such a situation? It was because of the sexual organs. In the original sense, sexual organs are a palace of love. But what happened to that palace of love? It is the palace of love, palace of life, and palace of lineage. The human sexual organs are that precious. They are holy.
Through the Fall, they became something dirty. From God's viewpoint, they were originally not something dirty, but holy. The human sexual organs are the most precious things. Life, love and lineage are connected to them. Satan defiled something so precious. (218-176, 1991.7.28)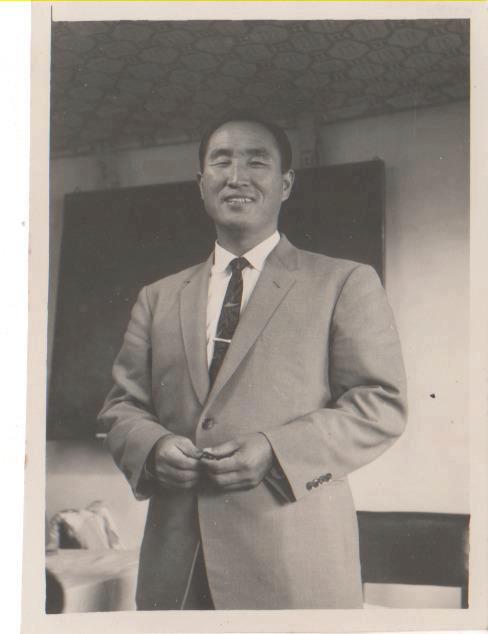 (photo 11)
| | | |
| --- | --- | --- |
| (photo 12) | (photo 13) | (photo 14) |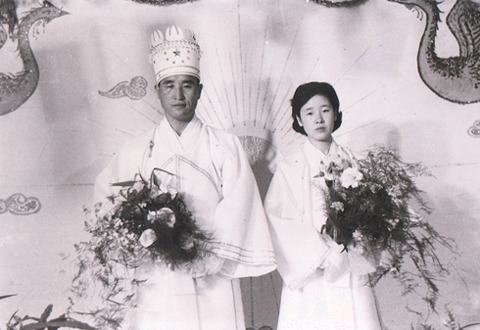 (photo 15)
Because I knew the principle of restoration through indemnity, I had to age like a 'spear' until forty years old. I could not take an older wife, but 18!.…she could not be older than 18! In the Unification Church, there were Ph.D.s and B.A.s out of university; it was a place where a pack of women were aiming to catch me, wide-eyed, and howling like wolves, but I had to ignore them and receive Mother who knew nothing. How frightening that was! (164 - 61, 1987.5.3)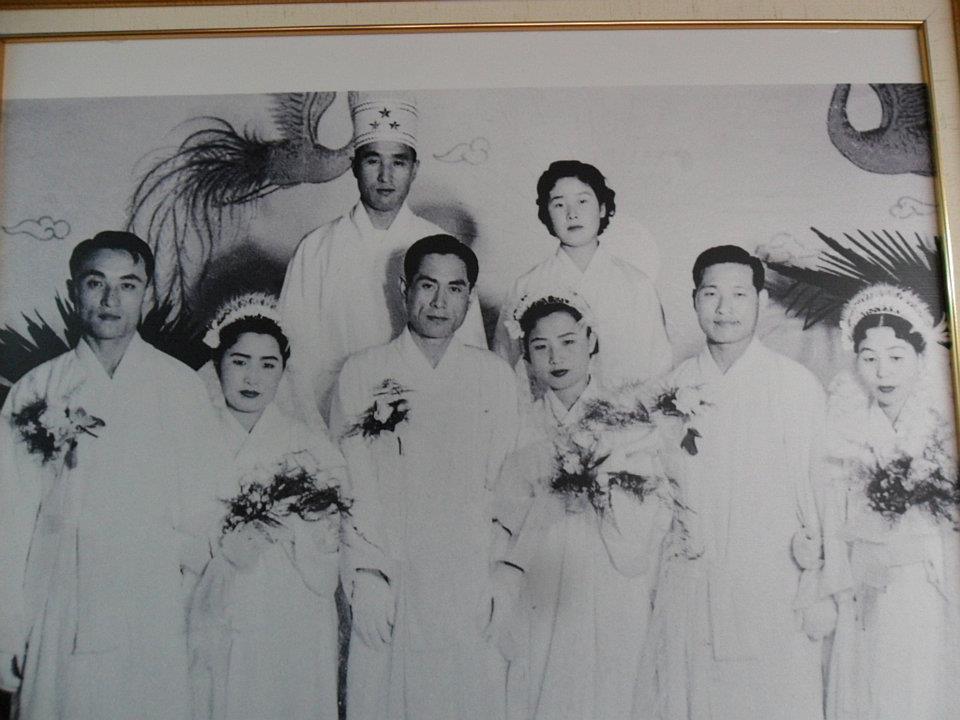 (photo 16)
The first 3 Blessed Couples

In 1960, Father engaged three of the 36 couples before carrying out his own Holy Wedding Ceremony. He then blessed these three couples after conducting the original Holy Wedding Ceremony. Through this, Father set the condition that restored three children centered on Father were now standing in the realm of God's ideal, just as Peter, James and John would have been, centering on Jesus. What that meant was that a victorious foundation had been laid, in which the children could never separate from Father. (55-164, 1972.5.7)

What has Father been doing until now? He first blessed the three couples. Did he bless them, or not? He did bless them. In 1960, Father would not have been able to hold his own Holy Wedding Ceremony if he had not gained the foundation through these three couples. Before marrying Mother in Holy Matrimony, Father first found spouses for the chosen three, then conducted his Holy Wedding Ceremony, after which he blessed the three betrothed couples. That was how Father followed the path of the Divine Principle. (89-243, 1976.12.1)

The people representing the three chief archangels and Adam's eight family members should be arranged before Adam. By establishing the three central children, that is three spiritual children, and having them married, the eight family members would be arranged, and then Adam would have to come in front of God with his family and the three archangels. That is why the founder of the Unification Church first set the three sons and daughters, the first of the 36 couples, and had them betrothed before holding his own Holy Wedding Ceremony. This was all done according to the Divine Principle, brought forth through the establishment of a foundation which cannot be accused in the slightest way. Since the original Adam lost his family, the new Adam must restore the family. (126 - 49, 1983.4.10)

When you look at Father's family, you can see that he has children in the vertical position. On the horizontal foundation, who of the True Children represents the position of the horizontal Abel? It is Heung Jin. He is the second son. In the Unification Church, in order to establish the 36 couples, Jesus' three main disciples must be settled through restoring the number three which is represented by the archangel-type couples. Since the number three has been settled, 36 couples representing Adam's family, Noah's family and Jacob's family could come forth. The first of the three couples who represent the 36 couples, is that of Won Pil Kim. Providential history cannot allow just anyone to stand in that position. He must have a suitable ancestral background in the spirit world, according to a special dispensation; otherwise he cannot stand in the position of the eldest son. The one who fulfilled these requirements was Won Pil Kim. Then the one who would occupy the position of the second eldest son was Hyo Won Eu, and the third was Young Hwi Kim. (169 -109, 1987.10.29)

Centering on the three representative couples, twelve people must be raised up. These twelve people will be entrusted with a historic mission; however, twelve will not be enough to fulfill this great mission. That is why 36 people, twelve of the past, twelve of the present and twelve of the future, must be decided on. That is how the 36 couples first came to be established. The 10 generations from Adam's family to Noah's family, the 10 generations from Noah's family to Jacob's family, and the twelve sons of Jacob, in other words the ancestors of the 2000 years of history who remained unconnected, are represented by the 36 couples. (89-243, 1976.12.1)
| | | |
| --- | --- | --- |
| (photo 17) | (photo 18) | (photo 19) |
| (photo 20) | (photo 21) | (photo 22) |
| (photo 23) | (photo 24) | (photo 25) |
| (photo 25) | (photo 26) | (photo 27) |
| (photo 28) | (photo 29) | (photo 30) |
| (photo 31) | (photo 32) | (photo 33) |
| (photo 34) | (photo 35) | (photo 36) |
We believe in God who wants to realize one world, a world of one purpose. Since God is Jehovah and Lord of all nations, and the center of all centers, when we face Him from afar, we want to be loyal subjects before Him. We were born for this duty and responsibility. Understand that as we draw near to Him, He becomes our Father to whom we owe the duty of filial piety as His sons and daughters. That is our priority. Only when you have lived like that can you say to God, "If you want to send me to hell, send me there. If you want to send me to Heaven, send me there. Do as you please." Nobody went to hell after living like that.
(154-314, 1964.10.5)

The time for us to become God's filial children will not always be there. It will not exist in the spirit world after our death. In our lifetime, which, when viewed against the backdrop of eternity, is as extremely brief as a single ticktock, we must establish the condition of having loved God as well as that of having fulfilled our filial duty to Him.
Furthermore, we have to confirm our status as the children that God absolutely needs, and we must accomplish this within our lifetime.
(26-114, 1969.10.19)

In conclusion, there is nothing odd about being filial children. They are simply people who love their parents with absolute faith, absolute love and absolute obedience. Truly loyal subjects emerge by absolutely believing in the king and absolutely believing in the people and absolutely loving them and totally investing themselves centering on the king and the people of the nation. (270-156, 1995.5.29)

A wife who sacrifices her life for her husband is called a virtuous woman. A filial child sacrifices his life for his parents. A loyal subject sacrifices his life for his country.
However, from the heavenly standard, loyalty and filial piety are fulfilled when you offer your eternal life. Our bodies die, but the standard of a heavenly virtuous woman is only established when she offers her eternal life to God, to her husband, and to her parents. You have to devote your entire lives to God.
That is why the Bible teaches us to love God with all our heart, with all our soul and with all our mind. So what is the standard of "all"? You have to be better than any other loyal subject, any other filial child, and any other virtuous woman in the world. If not, then God's dignity cannot be established.
Even in the satanic world, there have been many loyal subjects and virtuous women until now. Yet God's dignity cannot be established if the standard for being a loyal subject and a virtuous woman is the same as in the satanic world. (09-108, 1960.4.24)

(photo 37)


(photo 38)


(photo 39)


(photo 40)


(photo 41)


(photo 42)


(photo 43)


(photo 44)


(photo 45)


(photo 46)


(photo 47-prayer_room)


(photo 48)


(photo 49)


(photo 50)


(photo 51)


(photo 52)


(photo 53)


(photo 54)


(photo 55)


(photo 56)


(photo 57)


(photo 58)


(photo 59)


(photo 60)


(photo 61)


(photo 62)


(photo 63)


(photo 64)


(photo 65)


(photo 66)


(photo 67)


(photo 68)


(photo 69)


(photo 70)


(photo 71)


(photo 72)


(photo 73)


(photo 74)


(photo 75)


(photo 76)


(photo 77)


(photo 78)


(photo 79)


(photo 80)


(photo 81)


(photo 82)


(photo 83)


(photo 84)


(photo 85)


(photo 86)


(photo 87)


(photo 88)


(photo 89)


(photo 90)


(photo 91)


(photo 92)


(photo 93)


(photo 79)


(photo 94)


(photo 95)


(photo 96)


(photo 97)


(photo 98)


(photo 99)


(photo 100)
Heung-jin nim and the establishment of the right of the eldest son in the spirit world

Through my son Heung-jin going to the spirit world, Abel and the angels who had been completely separated like the earth and spirit world, became closely tied together like twins. When they became one, parents could be mobilized on that foundation. This is the view of the Unification Principle.
Heung-jin is the Abel-type son. This son went to the spirit world on the foundation of the indemnity conditions for the realm of God's dominion based on accomplishments through the Principle, which was established through True Parents' love. He went to the spirit world after the establishment of the direct dominion of God, based on the victory over Satan's dominion. For that reason, he attained the state of being the son who went to the spirit world with the qualification of perfection for the first time since the Fall. Originally, if human beings had not fallen, those who passed to the spirit world would have qualified as owners, or heirs, through the establishment of a family with love at the center. In this family, the realms of direct dominion and dominion based on accomplishments through the principle would have been unified centered on the realm of True Parents' heart.
It is a rule of the Principle that you cannot reach the realm of direct dominion without the proper qualification. (131-52, 1984.4.1)

I held the Unification Ceremony before Heung-jin passed away. I prepared everything for this and gave permission to the doctor to take off the oxygen mask. In this way, I sent him after paving his path. In this world, people would say that I was crazy to do such things while my son was dying. I was offering him to heaven. In this three-sided historical era, I was offering him for the sake of humankind, the people of Korea and the Unification Church, for the sake of this world and for the sake of the spirit world. Just as Jesus returned after ascending to heaven, similar things will occur. Thus, from the spirit world's point of view, Heung-jin is the returning Lord. He is the savior of the spirit world. Heung-jin was the one sent by True Parents as the Messiah of love. Since Heung-jin is assisting the Parents on earth, the age of resurrection and a unified world are coming about on the earth. That is why the time has come for the second generation to receive the Blessing. Do you understand what I am saying? (225-86, 1992.1.2)

How is the Unification Ceremony performed? It cannot be accomplished by grabbing any random thing. I performed this ceremony for Heung-jin by holding his sexual organ. Only by holding the Unification Ceremony of love for this son who was passing away without fulfilling the purpose of love, could he be directly connected to Jesus. Even Mother did not know anything about this. By performing the Unification Ceremony for him as he was dying, we were overcoming everything that was under the watchful eye of the devil.
It is not a matter of crying. The problem was not about a son dying or about crying. The issue was about what a family loved by God is. In that situation, with everyone feeling bitter grief, I had to drive all that away, and as the father, pave the way for my son to pass on. (212-93, 1991.1.2)

Because I sent Heung-jin as a living offering, he has become a bridge. He is the bridge from the spirit world based on love, based on his family behind him. Thus, even Jesus must follow Heung-jin. Don't you know Jesus has to go through the bridge of the family? Ultimately, Heung-jin was the only one who went to the spirit world as a victorious offering after being loved by True Parents on this earth as True Parents' son. Therefore, he can govern with the full authority of Heaven. (280-281, 1997.1.2)

Heung-jin came into unity with the spirit world linking it to True Parents' family by virtue of his passing away as an adolescent and scion beloved of True Parents. He becomes the first son and elder brother in the spirit world.
Consequently, the domain of True Parents' love is expanded to the spirit world. Therefore, the Christians in the spirit world who could not establish a connection to the earth, and all the other religions, can now do this through Heung-jin... Jesus should attend Heung-jin as the elder brother. By doing so, Jesus can connect to earth. Through these developments, the spiritual support in this world will swell rapidly due to spirits returning to the earth, and as a result, the satanic world will begin to crumble. It will start to go into a rapid decline.
The borderlines that were created after the Fall between the spiritual and physical worlds will all be eliminated. Through Heung-jin's ascension, the earth is linked to the spirit world based on the domain of True Parents' love. Therefore, the walls between the earthly world and the spirit world have crumbled and we have entered an age of communication between the two worlds. (225-86, 1992.1.2)
In this age, how will the domain of the adopted children and that of the children of the direct lineage exchange places? Heung-jin has an important responsibility with respect to this. He must bring order to the spirit world before the coming of that time. Until now, Jesus and all those who passed on to the spirit world have had no relationship with True Parents by lineage. They have not been related to the flesh and blood of True Parents. Neither could they establish a relationship with True Parents' love. Thus, all those who have passed away to the other world are like single, unmarried men and women. Jesus himself is like that. They must come down to earth and make that relationship with True Parents' love. (225-85, 1992.1.2)

Didn't I bless Heung-jin in marriage? Since he is in the position of the com-mander-in-chief of families in the spirit world, he must be blessed in marriage. Everyone is connected under him. And centering on Dae-mo nim and Choong-mo nim in the spirit world…When people pass on to the spirit world they must receive the blessing from Dae-mo nim. Many denominations and religions, such as Islam, Catholicism and Protestantism, must become closely united…. Then, a great migration will occur. They can only be connected through the True Parents on earth. In order to do so, they must become filial sons, patriots and saints. That is the tradition. (292-226, 1998.4.17)

At this time, I enabled Jesus' family and Heung-jin's family to live in one house. Heung-jin and Jesus should live in the same house. Jesus' adopted son should be entrusted to Heung-jin. God cannot do this. True Parents must do this. True Parents must do what God cannot do. Didn't God say in the Bible, "Let it be as Adam names them."? Do you understand? (292-327, 1998.4.27)

I must now go to Cheongpyeong and take good care of Jesus' family, let him establish the ties of brotherhood with Heung-jin, and bless all the apostles of Christianity. The Unification Church stands in the position of Abel, and Christianity stands in the position of Cain. How can they be brought into unity? From a spiritual and physical point of view, I must unify everything. Heung-jin, the true child, stands on the Abel side and is the eldest son. The eldest son on the Cain side is Jesus. I am connecting the earthly world with the spirit world and blessing members of the Unification Church and the Christian churches all at once.
I am also blessing white and black people together, so that in the future, they will have mixed descendants. Then there will be no more conflict. Who will resolve the very troubling racial problems in America? Who will bring an end to that conflict? This is something that no one in America can do, nor any institution. Even the religious organizations cannot resolve this. It is only possible through me. (292-312, 1998.4.27)

I declared the unification of the physical and spirit worlds to the people of America, which stands as the eldest son nation of the Christian cultural sphere. Heung-jin and Jesus have become one…. Heung-jin, who is fully dedicated to True Parents, who represent the Unification Church, and Jesus who represents Christianity, are in a subject-object relationship. The latter is Cain. Those who opposed the Unification Church have now surrendered and stand in the position of the younger brother, and the previous younger brother now stands in the position of the elder brother. Those standing in the younger brother position do so because Heung-jin and the Unification Church are united….
The right of the eldest son does not only belong to America. Unity comes on the basis of people attending True Parents, the Unification Church, Heung-jin, and Unification Church members. After unity is established between such people and the Unification Church, they take the position of having the right of the eldest son. By standing in the position of the first son in the spirit world and earthly world, they will unify these two worlds, complete the Kingdom of Heaven on earth and enter that unified sphere. Amen! (293-79, 1998.5.24)

For the spirit world, the day they received Heung-jin was the most joyful day in history. Heung-jin opened the gates of the spirit world as the messiah of love and opened the path of an exemplary martyr on earth. That is why the Unification Church members should love Heung-jin. (130-201, 1984.1.15)
Consequently, Heung-jin can let the domain of the younger son inherit the blessings and fortune of the domain of the eldest son. Satan tried to prevent this happening by plundering the inheritance, but Heung-jin, who now stands in the domain of the eldest son, delivered all the blessings he had, to the earth. That is why the connection can be made. Heung-jin unceasingly endeavored to deliver this despite the satanic world trying to prevent it. (131-52, 1984.4.1)

Since Heung-jin is in the spirit world, he should take responsibility to become like a protective fence, and educate and train people to make determined efforts to remove their shame for the things they failed to accomplish on earth. True Parents are not just an empty shell. They are moving forward with total authority in relation to the spirit world. That is why I can bless people in the spirit world. Since the actual authority of the Parents exists in the spirit world, I can give the unified Blessing to the earth and the spirit world, so that people who are blessed will be able to go to the Kingdom of Heaven. The Kingdom of Heaven is empty. In order to occupy it, the Blessing must first be given on earth. Without the Blessing on earth, there cannot be Blessings in the spirit world. (304-306, 1999.11.12)

I am now going to build an experiential hall for education, even in the spirit world. It will teach the traditions of the various world faiths and religions. It should also teach the affiliated philosophies of the world. It should teach Unification Thought. I need to make that kind of education department…. The spirit world is ignorant of these things because it is completely divided and separated. We should teach them that God is our Parent, and educate them to establish an ideal family by becoming His beloved sons and daughters. (300-314, 1999.4.15)

With Shin-choon's birth into my family there are now forty members in my family. There are exactly forty people. The number forty has been fulfilled. That is why the name is Shin-choon. What does Shin-choon mean? In his name, the Chinese character for shin means "faith" rather than "new." In terms of faith, spring has come to the Unification Church. This is the case when we look at the number of indemnity and everything else.
There will be many sons and daughters in my family in the future. Many grandchildren will be born. How many children do I have? Is it twelve? I had thirteen, though Hye-jin passed away eight days after her birth. In the future, Heung-jin should also adopt a child.
Should you practice birth control? In the satanic world people have to do this but our Blessed Families should not practice birth control. However, if your body is defiled and you believe that you should not give birth to children the way you are, you should not do so. (213-189, 1991.1.20)

True Parents' family, which represents the whole historical realm of victory, attained this position because it went through a history of purification to the root. If Hye-jin was sacrificed for the sake of cutting off the bloodline of the fallen woman in the Garden of Eden, then Hee-jin represents the Old Testament Age. They have different mothers. So, Hee-jin pertains to the Old Testament Age and Heung-jin represents the New Testament Age. He was not married, just like Jesus. Yet subsequently, since he was blessed in marriage, the earth is connected with the spirit world. This Blessing is also connecting the perfected physical foundation of Christianity with the work of establishing the spiritual perfection of those in Christianity who were not blessed. The family-level Blessing is being connected to the spirit world. (304-304, 1999.11.12)

(photo 101)


(photo 102)


(photo 103)


(photo 104)


(photo 105)


(photo 106)


(photo 107)


(photo 108)


(photo 109)


(photo 110)


(photo 111)
The Reason True Parents Must Come

What is it that you desire? You want to be people of the heavenly kingdom or children of the heavenly kingdom. This must be your desire. If you become people and children of the heavenly kingdom, the heavenly kingdom will naturally appear.
Then, what kind of world is the heavenly kingdom? Is it a democratic world? Democracy is a means and a transitional ideology to make regime change easier when the Lord comes. When the Lord appears on earth, all the people of the world must follow him. The people as a whole must go before the Lord. Then, this would be convenient for organizing all the nations of the world into one nation.
But democracy cannot unify the world. The experiment is already over. Can America itself lead the world? America itself is doomed. So the question is how to save America and guide it to govern the world. If this is God's will, it has to be handled through the philosophy of the Unification Church, "Rev. Moonism." Until this happens, there is no way for America to survive, and the bridge to the heavenly kingdom cannot be built by the American people.
The spirit world is organized on the basis of certain principles. How long will it take for something like this to appear in the physical world? First, God is the central existence. Second, the True Parents must appear; third, true children must appear, and fourth, a true nation must appear through its true citizens. How long do you think they have been waiting for this! How eagerly, over thousands of years, do you think those in the spirit world have waited for you to appear on earth and realize God's original will?
The one who rules this world is Satan. This world is, first, a world centered on Satan, second, a world centered on false parents, that is, fallen and evil parents, third, a world centered on evil children, and fourth, a world centered on evil nations. The spirit world and the future ideal world must reject all this.
When the Unification Church says True Parents your parents oppose that, saying, "Then who are we?" There have been incidents where parents kidnap their children who are trying to be true sons and daughters. Although all the nations of the evil world have opposed us and chased us away, they cannot oppose us now. Now, even if they fight, they cannot beat Rev. Moon.
So we must escape from Satan's domain. But Satan is keeping us from escaping by mobilizing all individuals, families, tribes, peoples, nations and the world. This is the final battle. (166-222, 1987.2.15)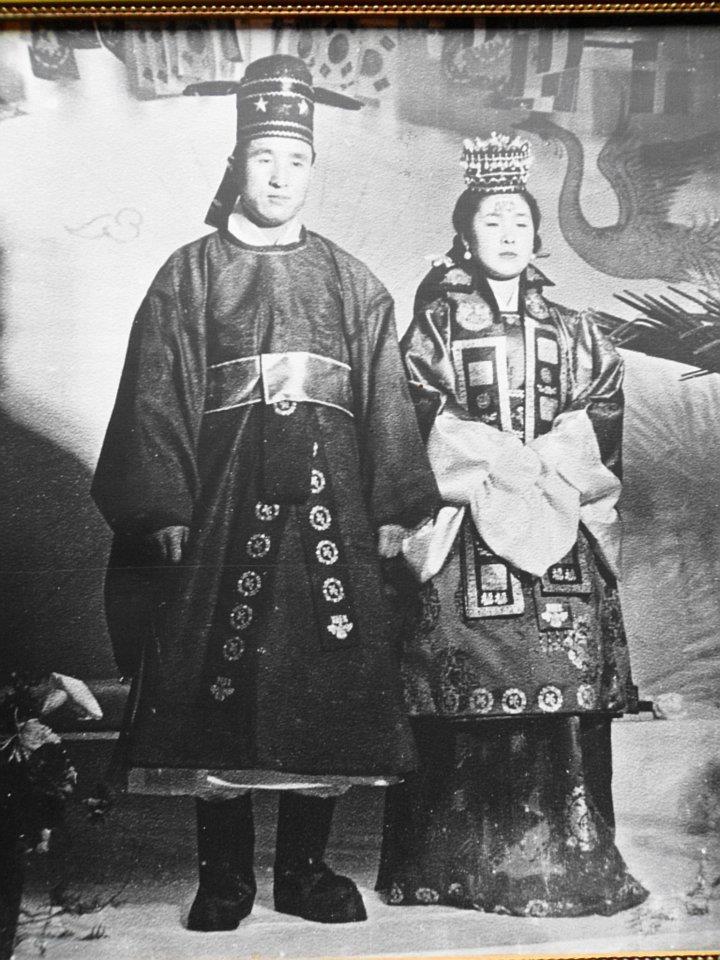 (photo 112)
The Designation of the True Parents Was Foreseen and Predicted

What will come to pass in the Last Days? Because we inherited the devil's love, life and lineage, True Parents must appear here in order for us to inherit God's love, life and lineage. The True Parent is not someone who just passes by. Do you know how much God had toiled and how much blood religions have shed before I declared the name "True Parents"?
The book called Gyeokam-yurok, which appeared after Jeonggam-rok long ago, prophesied about my name. Many people saw me even before I was born. How do you think they saw me even before my birth? The spirit world existed before my birth, so it taught them that such and such a person would have to appear. Only then will the people who have been through such ordeals and suffering on earth come within my realm of dominion in the spirit world. God uses this strategy. Since these people have lived in attendance to him, they are supposed to follow him even after he comes. For this reason, our loving God revealed everything tens and hundreds of years before I was born.
So I am a historic figure. Now, even if I say that I am a historic figure and say even one word to the Korean people or to the people of the world, whether at night or in early morning, they acknowledge it as something they heard in the bright light of day; and no one denies it to be true. (213-27, 1991.1.13)
| | | |
| --- | --- | --- |
| (photo 113) | (photo 114) | (photo 115) |
True Parents' Position Is Not an Elected One

Until now, it has been hard for me to find a family and hard to find a church. It has been hard to set the direction for Christianity, hard to bring the free world and communist world back from their paths to ruin. Now, through me, the right of the eldest son has been restored. Again, the right of the eldest son has been restored. Had Adam not fallen at the outset, Adam himself would have possessed the right of the eldest son. Also, Adam would have become the authentic True Parent. Adam himself would have become the king among kings.
What did human beings lose through the Fall? They lost the right of the eldest son. They lost the right of the eldest son to inherit the great foundation and assets of heaven and earth. They lost it because of the devil. We have been ignorant of this. Moreover, although we were to become eternal blood relatives who can attend the Parent, the Creator of heaven and earth, focusing on God's love, life and lineage, Adam lost the right to become the True Parent. Also, had the Fall not occurred, there would be one culture, the culture of Adam and the tribe of Adam. This would have established one right of kingship.
The democratic world is like a guiding staff. It is an ideology of brotherhood. Since there are many brothers, in order to appoint a representative to receive the inheritance, they must get together and choose the one who sacrifices more, serves more, and can better uphold the tradition. That is the democratic style. Democracy is a global ideology, but above it stands the ideology of parents. The age of the parent is coming in the future. Do you choose your parents through an election? Could you choose the returning Lord through an election? Could you choose God through an election? You could not. Democracy has the basis to create an atmosphere of distrust. Why? People do all kinds of things for their own personal gain. They do all sorts of things, such as using money and utilizing networks to slander others and plot against them. (211-343, 1991.1.1)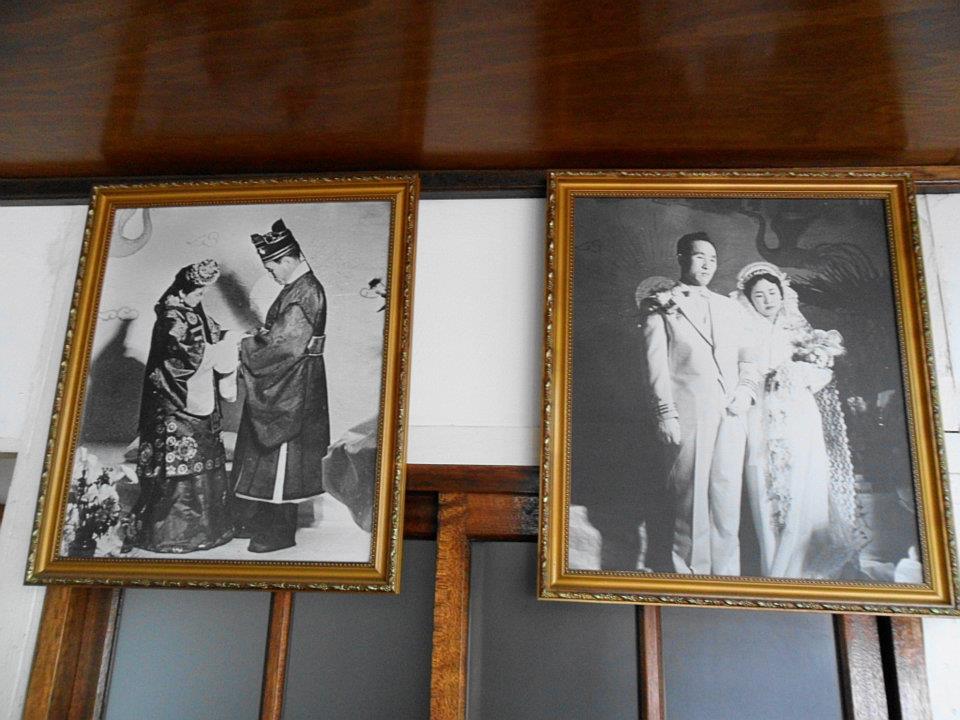 (photo 116)
The True Parents are Needed Absolutely

What do the Unification Church members call me? They call me the True Parent. The words "True Parent" are fearsome words. It is also a great thing that these words exist. Without a family that emerged from the womb of God's love as a model, no tribe, people or nation can be formed. A family expands to form a tribe, a people and a nation. Therefore, to defeat the world of the devil, we must deal with things based on the model of the true family.
Fallen people have evil parents. Your mother and father are parents within the fallen domain as well. What does this mean? It means that they are ancestors within the fallen tradition. So the fact that the term True Parents has appeared is an amazing fact.
Why do we need True Parents? The unfallen Adam and Eve should have aligned completely with the original will of God. They should have accomplished the ideal of oneness with God and established the world of love, with the unified realm of heart at the core. It would have been a cozy nest where everything can become one, where everything is certain, and where everything begins from a perfect situation.
But this realm of love has not emerged. We need True Parents in order to accomplish it.
On the day this realm of love appears in the world, the Unification Church will become obsolete. The world will not be needed either. We must put the nation and world aside and find this family. This has to happen. We must seek out this family even if we have to abandon every-thing. This is crucial. (138-277, 1986.1.24)

It is the True Parents whom we need. Who are the True Parents? They are people more precious than your friends or teachers. So you must follow True Parents even if you may have to abandon your friends or your teachers. You must walk this path even if your friends say, "Alas, that's it between you and me" or even if your teacher says, "I am no longer your teacher" because you go to the Unification Church. Furthermore, you must go this path even if your mother and father disown you. If you follow the path that everyone all at once can acknowledge as good, there will be a new historic beginning of heaven and earth there. (33-336, 1970.8.23)

Humankind needs True Parents. Why? For the first time in history, an event based on principles and connected to the axis of love has occurred. It is unprecedented in history, and will never be repeated in the future. This axis is one, not two. What is this axis? It is the axis of true love. The love that your mother and father share is not true love.
That is why it is written, "You shall love the Lord your God with all your heart, and with all your soul, and with all your mind." This is the great and first commandment. And the second is like it, "You shall love your neighbor as yourself." This is what God has been doing. (137-107, 1985.12.24)

Why do we need True Parents? By fulfilling their individual responsibility, True Parents can expel the worldwide Satan that is clinging to individuals. By establishing the family level indemnity condition and fulfilling our responsibility, Satan can automatically be restored through indemnity.
Without accomplishing the worldwide restoration through indemnity and the individual portion of responsibility, restoration through indemnity cannot be carried out. Without getting rid of Satan through fulfilling our responsibility, restoration cannot be achieved. (137-106, 1985.12.24)

The reason we need True Parents is to bring God down to dwell on earth. This is why Parents are going through suffering on this earth. (217-354, 1991.6.12)

Why do you need True Parents? It is in order to receive the new lineage. The Old Testament Age was the age of the foundation of faith, the New Testament Age was the age of the foundation of substance, and the Completed Testament Age is the age of the new ideal. Hence, it is said that it is in the age of love where we should inherit the good lineage of the heavenly kingdom. Until now we had different blood. We inherited mixed blood.
I have inherited the original, traditional blood and so I am fighting with Satan with knowledge of all this truth. I am doing this because I know such things. True Parents are the new bud of the true olive tree. You should cut yourself off and be engrafted with the bud of the True Parents. The Parents' bud and God's bud must be engrafted. Then, your body may be cut down to nothing, but your thought becomes the same as that of God and True Parents. You will be able to give birth to the same fruit – sons and daughters of goodness. This cannot happen in the satanic world. It is not good to have sons and daughters before this happens. (125-208, 1983.3.20)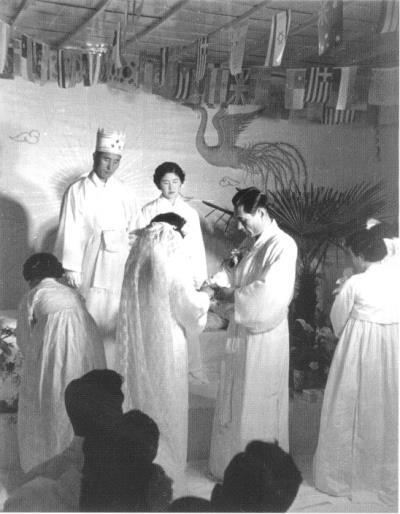 (photo 117)
True Father sprinks holy water on the thirty-three couples; the thirty- six couples comprised three groups: virgins, those who had experienced unfulfilled love, and married couples.

"The thirty-six couples represent all of history What are the thirty-six couples? Their blessing signifies that the two-thousand-year period, during which Adam's family, Noah's family and Jacob's family all failed, has been indemnified for the first time. They represent all providential history....
So, what is the first group of couples among the thirty-six? I brought those who had married by themselves and joined them in God's presence. What is the second group? I connecter those who were unable to fulfill their love. What about the third group? They had been single men and women. The third group of couples are the center. In this regard, as the model ancestors, who are the representatives of all types of people on earth, they need to pave the way to the kingdom of heaven an. act as guides for others."

"What are the thirty-six couples? They are the ancestors. In becoming those ancestors, can they consult their own parents? They have to consult God. Therefore, only after I matched you with God's authority did I send an invitation letter to your family members.
Those sons and daughters are not their parents' children. They are Heaven's children. Restoration must be done through indemnity. I loved them more than their parents did. In order to create heavenly sons and daughters, I invested all my energy day and night even while their parents were sleeping and doing secular things.
Still, their parents had to be notified.... In a letter, I wrote, "Since your son (or daughter) will take part in the Holy Blessing Ceremony, we request the honor of your presence." That's how I phrased it.
The wedding invitations were sent out a week before the wedding, but the question was how to word the invitation. The invitations gave the name of the bride and of the groom that were to be married and the wedding date. Because they were invited, they had no choice but to come. We stipulated, however, that if they wished to attend the wedding, they should do their best to find and wear the type of holy robe that Unification Church members wear. It was as if we were telling them not to come. We didn't want them to come, because they would create a commotion. Unification Church holy robes are white. Do you think they had ever seen robes of that type or even dreamt about them? Where on earth can you find a man who orders you to wear a particular kind of clothing at your own son's or daughter's wedding?"

"From the viewpoint of God's providence, everything began from false parents. So, from the position of being True Parents, I had to coach the children in everything. Not only did their parents oppose me, but the nation also opposed me.
Newspapers reported on the wedding ceremony and made a ruckus about it, but we held it three times -- one for each group of twelve couples. Some of their parents, relatives and friends came and created a commotion. There was a lot of fuss.
The blessing of the thirty-six Unification Church couples had to be conducted in the dark of night, behind locked doors. During the ceremony, we heard all kinds of shouting: "Let my son go!" "Let my husband go!" "What do you think you are doing with other people's children?"
People were outraged because traditionally parents arrange their children's marriages; yet here was the founder of the Unification Church marrying them off on his own. The families protested so vehemently because they were fathers and mothers from the satanic world. Since God's children had been snatched away by Satan, I snatched them back from his clutches. It was through the blessing that I had to regain the children lost throughout history. Hence, I concluded the Blessing Ceremony hurriedly. I had no choice, because I was trying to accomplish restoration through indemnity.
I told policemen at the Yongsan Borough Police Station, "People opposed to us will come. Please protect the place." Because the police would then be held responsible if somebody were to be killed, what else could they do but protect us? They sent some policemen. I also posted two burly brothers as guards. What was this for? It was to protect a wedding ceremony!
I thought that the parents of the children whose wedding I conducted and who at the time insulted me and protested would all become enemies of the Unification Church. Now, however, they all tell me I did well. "Oh my!" they say "There are no daughters-in-law like Unification Church daughters-in-law. They are the best." or "You can't find sons-in-law like Unification Church sons-in-law."
One mother, an elderly lady, came to the ceremony with some of her family. Her husband was a teacher at a teachers' college. He came and entered the place, saying, "My daughter is going to get married. Is someone against my being here?"
We said that since he was not wearing a holy robe we could not allow him in. We had to be strict. So, he went out and borrowed a robe, and put it on. His black suit was visible beneath the robe. He came in and sat down. At the wedding ceremony, I offered a benediction. How much he must have disliked me! He wanted to say something bad to me, but as the head teacher of a school he would not have been able to do that and still maintain his dignity.
When he saw me, he was thinking to say something rude, he told me later.
Afterward, he joined the Unification Church and became a dedicated member. When I asked him whether I had selected a good son-in-law for him after all, he said, "Oh, I'm sorry for what I was thinking."
Ceremonies necessary for the restoration process The engagement ceremony is intended to reverse the Fall, which Adam and Eve, the ancestors of humankind, committed while they were engaged. The Holy Wine Ceremony is intended to completely remove Satan's blood, which stained human blood through the Fall. In other words, it is the ceremony to fully remove the original sin.
Holy wine is not something produced easily. It was produced in the presence of Satan, God and many angels in the spirit world. It contains twenty-one things you don't know about. It contains all the elements of the created world and of human beings formed in the process of the history of restoration. It is ordinary wine, but it is the same as the original core of life. After you have attended this ceremony you must not betray this. When I give you the blessing, I ask, "In case you fail, will you take responsibility?" It is a conditional blessing.
You have heard of the Indemnity Stick Ceremony haven't you? In the past married men and women betrayed one another and did many other bad things. Those mistakes must be corrected once and for all. Since the mistakes were made with that general area of the body, you have to be struck on your buttocks. This is not a game. It is the condition by which to overcome resentment that arose within the stained lineage through three ages.
After you go through this ceremony a forty-day separation is necessary. Why? It corresponds to a forty-year period. Because the returning Lord came four thousand years after Jacob, it has to be a period that represents four thousand years.
These forty days are a time for setting an indemnity condition. During that time, you should think of God's will for the whole, and while longing for the kingdom of heaven, you should not think of your wife or husband. You should offer your sincere effort for the sake of the nation and for God's will."

(photo 118)


(photo 119)


(photo 120)


(photo 121)


(photo 122)
Importance of the 36 Blessed Couples

<The candidates were divided into three groups of twelve. This ceremony was carried out at three different times, starting at 4:30am on May 15th 1961, in Chung Pa Dong church, one for each group.>

The 36 couples consist of a first, second and third group of couples. The first group symbolizes the Old Testament Age, an era which represents marrying without the permission of God. The second group symbolizes the New Testament Age, an era representing the desire to be married in the land given by God. However, with the death of Jesus on the cross, this desire was not fulfilled and so it became the age of the bride awaiting the bridegroom. The third group symbolizes the Completed Testament Age, an era of perfection which yearns for the substantial beginning of God's family.
Today we are passing through the providence of restoration in which Jacob was victorious. Therefore, Father needs to restore, through indemnity, the era of the servant, the era of the adopted son and bring forth the era of true children. The 36 couples were established in order to restore the courses of these three eras symbolically. (55-165, 1972.5.7)

Of the 36 couples, the first group of twelve couples comprises previously married couples who represent the Old Testament Age. The second symbolizes the era of Jesus, where marriage was yearned for but not achieved. The third, representing Jacob who overcame every hardship and became victorious, symbolizes the Completed Testament Age.
In particular, the 36 couples, centering on Father, are the victorious foundation upon which the Old Testament Age, the New Testament Age and the Completed Testament Age are indemnified in his lifetime. Furthermore, through the perfection of these victorious couples, three eras were indemnified horizontally within Father's generation. This is the historic significance of the Blessing of the 36 couples. (God's Will and the World-165)

When you look at the world today, you can see those who have formed families, and those who have not. Those who did not form families can be subdivided into two groups; one of which is of people who had love relationships with the opposite sex of their own accord, and later broke up. Therefore, we could say that the people in the world can be divided into three groups: the people who got married of their own free will; the people who were in relationships that did not result in the formation of families, as can be seen frequently in this time and age; and finally virginal men and women. These three types of people make up the world today.
Seen from a vertical point of view, the people in the world can be divided into three classes. There are people who got married by themselves, and then there are people who were in engaged relationships by their own choice, which did not come to fruition. The latter are in a similar situation to Jesus and the Holy Spirit, who were in the engagement stage and would have been able to form a new family. Finally, there are the pure single men and women. In order to restore through indemnity all these different types of people, some representatives must be called to form families according to God's dispensation. That is how the 36 couples came to be established. (58-183, 1972.6.11)

(photo 123)


(photo 124)


(photo 125)


(photo 126)


(photo 127)
True Father preaching in Korea, circa 1954. He is wearing a double breasted suit and tie, standing behind a table, reading from the Bible.
| | | |
| --- | --- | --- |
| (photo 128) | (photo 129) | (photo 130) |
| (photo 131) | (photo 132) | (photo 133) |
| (photo 134) | (photo 135) | (photo 136) |
| (photo 137) | (photo 138) | (photo 139) |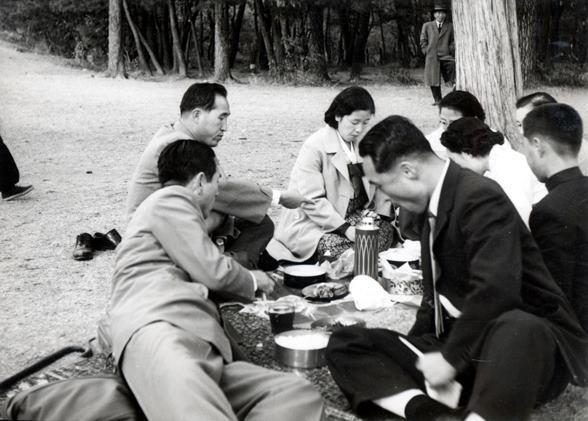 (photo 140)
I slept for only two hours a night for seven years. You must do so as well. I made the national leader, Mr. Eu, lecture sixteen hours a day for three and a half years. My heart aches to think how I said, "Who are you trying to kill by lying down? You lay down without even asking me?" to Mr. Eu when he was feeling tired. He liked fish. I still clearly remember how he used to eat a kind of tiny shrimp with gusto that I could not even go near because of its smell. Now I could give him beef ribs by the dozens, but I feel heartache thinking about those pitiful days. Why did we live in such a way? We lived that way in order to establish the tradition.
(185-250, 1989.1.
| | | |
| --- | --- | --- |
| (photo 141) | (photo 142) | (photo 143) |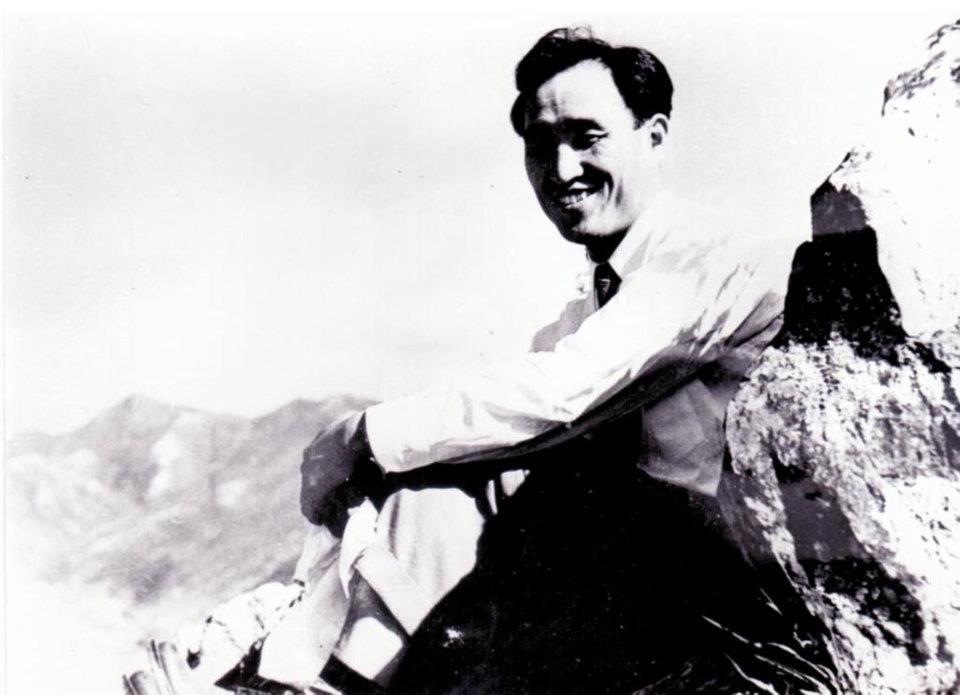 (photo 144)
<Father spoke on July 17, 1961, about his tour of Korea>

I have returned from a five-day visit to every part of South Korea. I passed through Daejeon, Jeonju, and Gwangju. Making my way through Masan to Daegu, I visited Samcheok, after which I visited Chuncheon, passing through Jecheon on the way.

What I came to feel during the tour is that now is the moment for us to fight. I saw that our young brothers and sisters in the provinces are strongly determined, which tells me that during this time we will emerge as victors in this great fight. What really pained me, though, was that our members walked hundreds of li to come to see me when they heard of my coming to visit them.

People of the world have so much money that they can afford to travel anywhere, yet they don't come to see me; whereas our Unification Church young people walked hundreds of li to do so. When I went to Gwangju, I heard that our members came from as far away as Mokpo or Mu-an, and that they had had to walk for two or three days, night and day. In light of this, I thought to myself, Whatever goals we may set, our church will surely achieve them.

These people, who have thrown themselves into this work for the extraordinary will of God without a moment's hesitation, with total disregard for their own difficulties, and who have overcome all their suffering and made progress, have no worldly experience. Moreover, they are not tied down by their own individual circumstances, and they don't have any self- centered consciousness or views. When I see young people of about twenty working hard, determined to devote their lives to the providence, without really knowing themselves yet, I cannot help feeling proud of them. I saw many such members among us.

On the whole, they have more spirit than the young members in the headquarters. If I compare them with the members in Seoul and Gyeong-gi Province, which the headquarters oversees -- that is, with those of you here -- I can even say that they have more spirit than you when it comes to their earnest yearning for God and their loyalty in following His will. If you were to fail in fulfilling your responsibilities, I feel they could step over you and fulfill them in your place.

At the end of the tour, I found that my voice had become hoarse, because I gave lectures for three or four hours or even more wherever I visited, and I talked all night with members I was meeting for the first time.

There was a problem on one of those visits. I was scheduled to arrive at Samcheok at 9 pm, but the car broke down on the way and we finally arrived at 4:40 the next morning. You can imagine how long the Samcheok members had waited for me. They were very tired by the time I arrived. We held our meeting in the early morning, and because the place was on the East Sea, there were patrols in the area, and we couldn't even talk for long. After about an hour, I left for Chuncheon by way of Wonju and came back to meet you here this morning.

What do you think I thought and prayed about while I was doing this? This year, our young members have gone out to witness, as I instructed. They have made God's will their common mission and are striving to fulfill it. In fact, they have had many difficulties. I worried about them and prayed, "I offer this prayer to transfer the burden of their difficulties on to me, so please take that into consideration." I also slept outdoors for a night.

You are brothers and sisters to the members in the provinces. You have the same bloodline. If any one of us weren't here, it would not be good. Even when you meet a member for the first time, you feel you have the same heart. That is what Unification Church members wish for. We call ourselves "family members," which could easily be misunderstood by the outside world. We are, in fact, family members, in every sense of the word.

<Father speaks about witnessing over the summer of 1961>

I am thinking about sending Seoul members to the districts where they would encounter the most hardship. I want you to be proud, not of how much you enlighten people, but over how you cried, trembled, went hungry, were pushed against the rocks, and prayed. Go out witnessing now and experience material deprivation, suffering caused by other people and suffering of the heart.

You should return having been trained in feeling sympathy even for bad people. Don't take much money with you when you go this summer. Unificationists must raise walls coated with their blood, sweat and tears. It is the process of building a house. You have to march ahead, searching for the different places where blessings can be given. I would like to bless the simple house that you build. Don't look for support for building a church.

Itinerant missionaries, 102 in number, are mobilized during these forty-days of witnessing, including regional leaders, district leaders, general itinerant workers and special itinerant workers. Each of these 102 people touring for forty days would amount to 4,080 days.

"With a parental heart and a servant's body, let's become a bleeding, sweating, crying offering that goes out to the place of the high priest and takes responsibility for sins and that goes to the place of the son or daughter who judges Satan in the place of the Father." This is our motto, our basic approach.

1961 is the first of three years during which we have to make an all out effort to advance. We must establish a base in every local district. I am planning to expand this to every small village next year.

I want to walk through the mountains and rivers of this land in my bare feet, wearing my only suit of clothes. The revival group is sent out to show that kind of heart, the heart of parents looking for their children.

(photo 145)


(photo 146)


(photo 147)


(photo 148)


(photo 149)


(photo 150)


(photo 151)


(photo 152)


(photo 153)


(photo 154)


(photo 155)


(photo 156)


(photo 157)


(photo 158)


(photo 159)


(photo 160)


(photo 161)


(photo 162)


(photo 163)


(photo 164)


(photo 165)


(photo 166)


(photo 167)