Memoir Contest to Mark Anniversary of True Father's Seonghwa
Translated by Lymhwa Kim
May 10 2013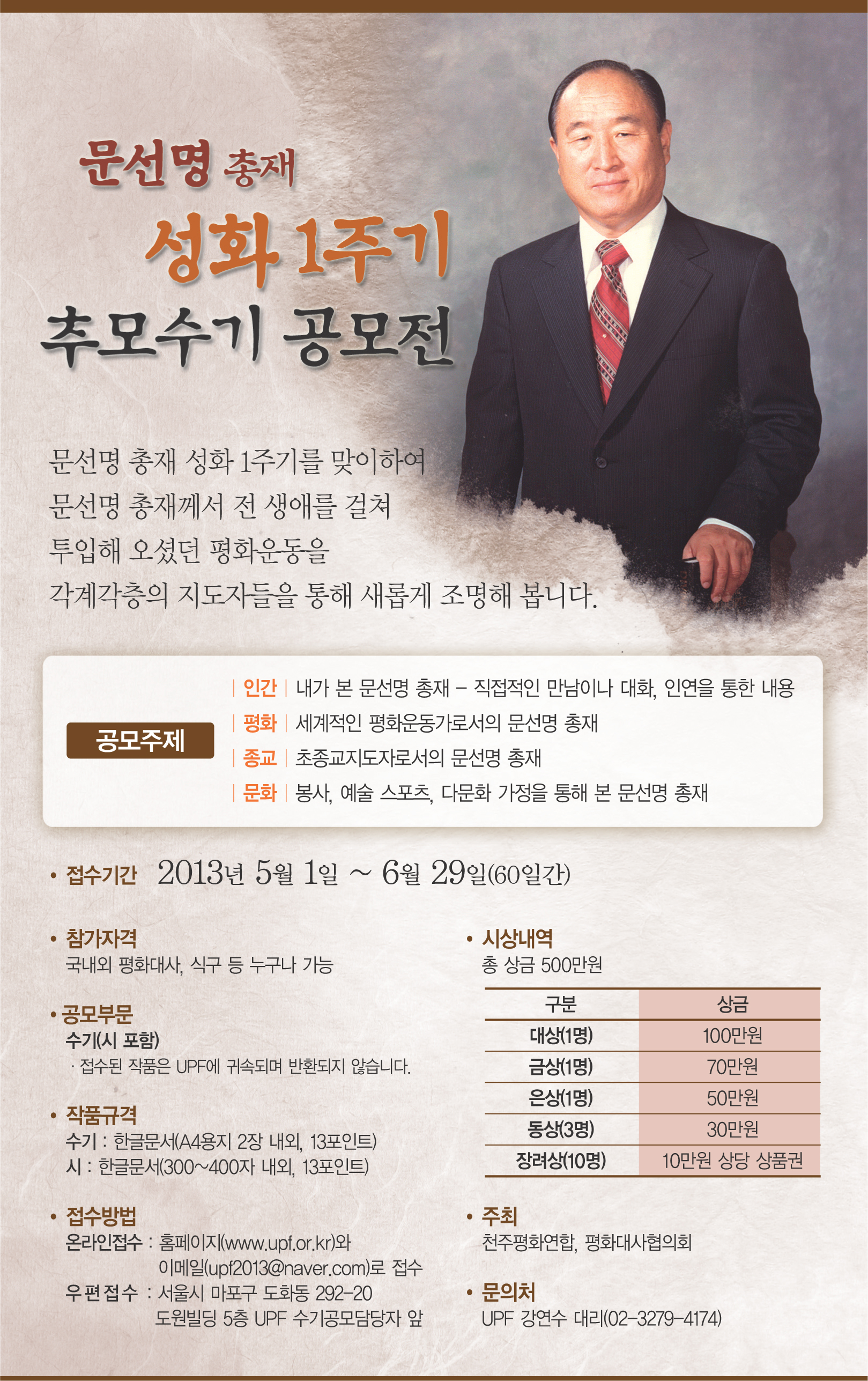 One year after Rev. Sun Myung Moon's
Seonghwa
(Ascension), the Universal Peace Federation (UPF) in Korea and the Peace Ambassadors Council will memorialize his life-time devotion and dedication toward a peace movement with a literary contest composed of memoirs or poems from leaders and church members commemorating his life. Submissions in any language may be entered in the contest. The following are specifications for entries in the contest.
Contest theme:

The Man – Rev. Sun Myung Moon, the man I personally knew (personal interactions or conversations, connections)

Peace – Rev. Sun Myung Moon as a global peace activist

Religion – Rev. Sun Myung Moon as an interfaith religious leader

Culture – Rev. Sun Myung Moon, the man I saw through volunteers, art, sports and multi-cultural families

Submission period: May 1, 2013 to June 29, 2013 (60 days)

Eligibility: Peace ambassadors from any country and any church members.

Contest sections: Memoirs and/or poems

Format of Submissions:

Memoir : Hangeul word document (Hwp) file or Microsoft word Document (2 pages of A4 or 2 pages of Letter-sized [8.5 in. x 11 in.] paper, 13 font size)

Poem : Hangeul word document (Hwp) file or Microsoft word Document (300~400 words, 13 font size)

How to submit:

Online : Homepage (www.upf.or.kr) and email ( upf2013@naver.com This e-mail address is being protected from spambots. You need JavaScript enabled to view it )

Mail : Contest director, Dowon Bldg. 5th floor, Dohwa-dong, Mapo-gu, Seoul, SEOUL 121-728 Rep. of KOREA

Prizes:

Grand prize (1 person)

1,000,000 won (about $910)

Gold Prize (1 person)

700,000 won (about $640)

Silver prize (1 person)

500,000 won (about $450)

Bronze Prize (3 person)

300,000 won (about $275)

Participation Prize (10 people)

Value of 100,000 won gift certificate (about $91)

Contest Organizer:

Universal Peace Federation

Peace Ambassadors Council
For questions contact UPF assistant manager Yeon Su Kang (82-2-3279-4174)
All the submitted compositions will belong to UPF and will not be returned.