| | |
| --- | --- |
| | The Words of Dae Mo Nim (Mrs. Hyo Nam Kim - Hoon Mo Nim) from 2013 |
We thank all members who attended the '2013 Purification Azalea Festival for the Inheritance of Heavenly Fortune
Dae Mo Nim
May 5, 2013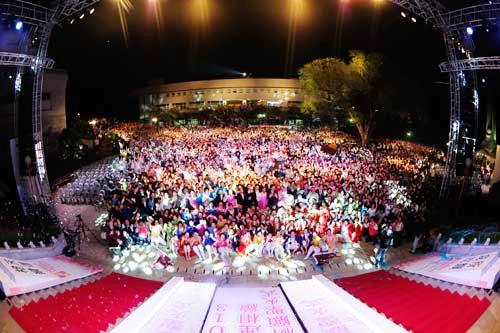 This Special Great Works started with a Starting Prayer at Jeongshim Won with Dae Mo Nim and many other members from around the world.
From 3.24-26 by the heavenly calendar (solar: May 3-5) for 3 days the '2013 Purification Azalea Festival for the Inheritance of Heavenly Fortune' was held with a total of around 28,000 people attending from 68 nations. We are ever grateful towards members' never changing love and interest.
This Special Great Works was the first to be held after welcoming Cheon Il Guk Foundation Day. Also through the Prayer-Wish Purification Ceremony for Restoration members were able to offer not only their Wish Papers but the Resolution Form for the New Beginning which they wrote before the Foundation Day.
There were many exciting programs held during this Special Great Works; Prayer-Wish Purification Ceremony for Restoration, Fulfillment of Wishes Papers Prayer, Ancestor Liberation Ceremony from 1-238 Generation and Ancestor Blessing Ceremony from 1 to 231 Generation, special removing of evil spirits by the True Children from the spirit world and the 460 billion absolute good spirits, holy item lottery event and Children's Day Event, visit to Water Story, Cheon Jeong Gung Museum Pilgrimage, Blessing Ceremony for Spirits of Unmarried Blessed Children and the Global Worship Service for Victory of Vision 2020 and etc. It was a great time for members to feel the grace bestowed from heaven.
We did our best to welcome you, however, we ask you your forgiveness for the inconvenience that you experienced over food and accommodation. Chung Pyung Heaven and Earth Training Center will strive more for you.
We wish that True Parents' heavenly blessing and heavenly fortune would be with you and your family. Once again, we would like to express our gratitude to all members who visited Chung Pyung Holy Ground. We wish to see you at '2013 Summer Parent and Child Chung Pyung Special Great Works' from August 9 to 11.
3.26 by the heavenly calendar, 1st Year of Cheon Il Guk (solar: May 5, 2013)
Chung Pyung Heaven and Earth Training Center