43 Couples' Blessing
28 February 1969 (solar) - American
28 March 1969 (solar) - Europe
1 May 1969 (solar) - Japan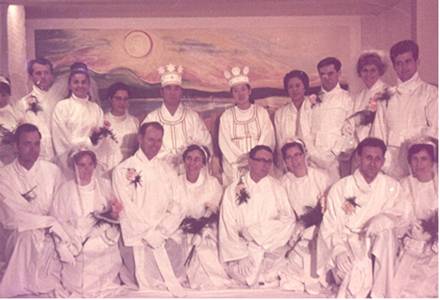 (Europe)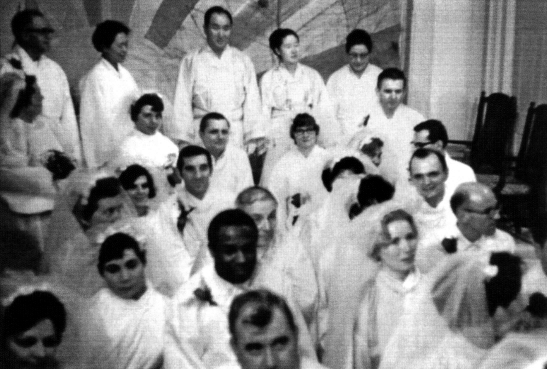 (USA)
The 43 Couples' Blessing was actually done in three parts, the first in the US at Upshur House, Washington DC, then in Europe (Essen) and finally in Japan. This was the first blessing of non-Korean members, and was an international extension of the 430 Couples' Blessing.
The American portion of the blessing was on February 28, 1969, with 13 American couples--including Edwin and Marie Ang, Wesley and Gladys Samuels, and George and Diane Fernsler. Eight couples were blessed in Germany on March 28, 1969--Reiner and Barbara Vincenz, Teddy and Pauline Verheyen, the Martin Porters, Paul and Christal Werner, Peter and Gertrude Koch, the Johann Van der Stoks, the Kunkels, and Dennis and Doris Orme. Twenty-two Japanese couples were blessed on May 1, 1969, in Japan. Ken Sudo's and Takeru Kamiyama's couples were part of that blessing. Later Michael Runyon officially joined the ranks of the 43 couples, actually the Japanese portion, when he was reblessed to Chizuko whose Japanese 43 couple husband had left the church.
At the time of the blessing, the American couples considered the match up of the number with the number of the American founding colonies.
(Contributed by George Fernsler, with additional information from Reiner Vincenz)
| | |
| --- | --- |
| Washington, D.C. | Essen, Germany |
| Edwin and Marie Ang | Peter and Gertrude Koch |
| Philip and Vivian Burley | Hermann and Romana Kunkle |
| George and Diane Fernsler | Dennis and Doris Orme |
| George and Sylvia Norton | Martin and Marion Porter |
| Robert and Vivian Oswald | Johann and Elke VanderStok |
| Vernon and Maxine Pearson | Teddy and Pauline Verheyen |
| Carl and Linna Rapkins | Reiner and Barbara Vincenz |
| Ken and Ora Pope | Paul and Christel Werner |
| Galen and Patty Pumphrey | |
| Wesley and Gladys Samuels | |
| John and Marie Schmidli | |
| Jon and Sandra Schuhart | |
| Fred and Jacque Stock | |