Opening Ceremony of Peace art exhibition for true father's first year Sunghwa memorial were took place on the 16th of July (solar.Aug.22) 2:30PM Thursday first year of Cheonilgook at Cheongshim Pyunghwa World Center in the presence of true mother along with 50 other people including true children, and Contemporary painters of Korea Culture and Arts Association with institutional business representatives.
At about 80 pictures were exhibited with respect of true father's course of life for this opening ceremony of peace art exhibition. The exhibition was conducted in order of Han-il Na and Hong-Ja Seo's bouquet presentation, declaration of opening, progress report by President Chang-Shik Yang, Tape Cutting and commemoration photo shooting.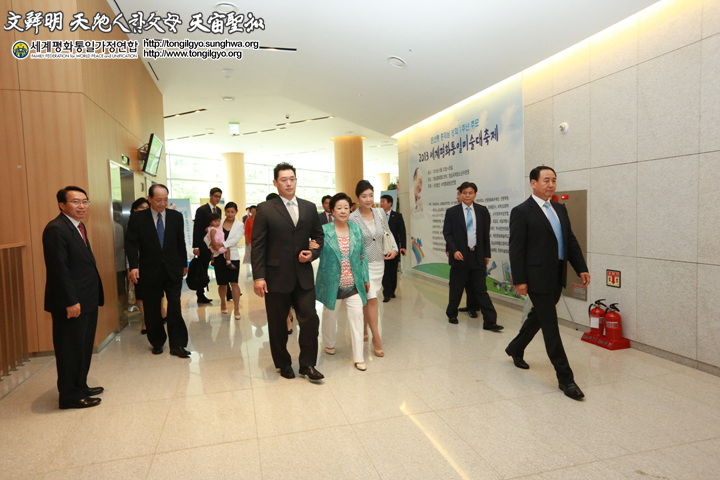 Entrance of True Mother
That day, Along with flower presentation at opening ceremony, true mother appreciated the art exhibition after conducting tape-cutting together with YeJin Nim, KyunJin Nim, SunJIn nim with 6 representatives of peace art painter, president Hyo-Yul Kim and Daemonim.
After tape cutting, true mother looked around 80 pieces of picture listening to description from Byung-Ho Lee, the president of the Modern operating Cultural Arts Association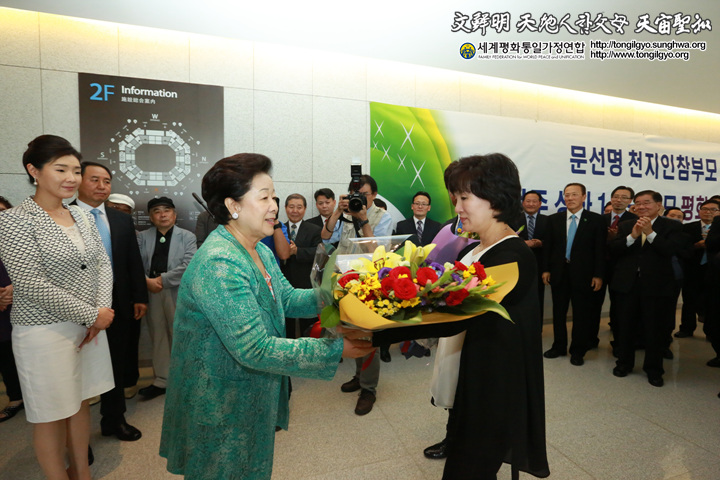 Offering flowers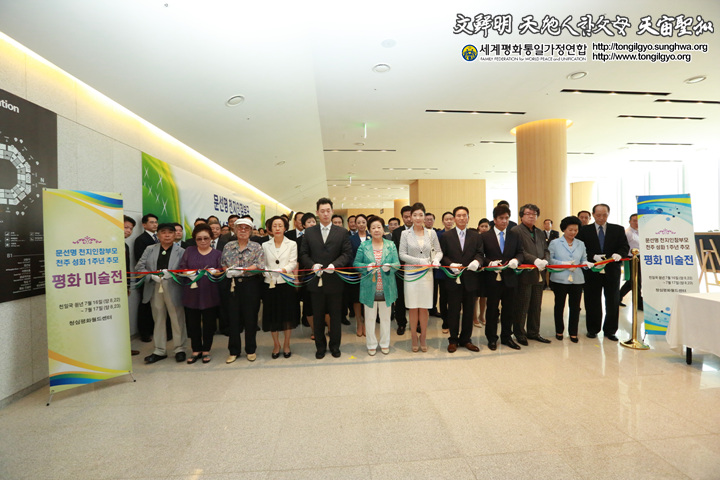 Cutting tape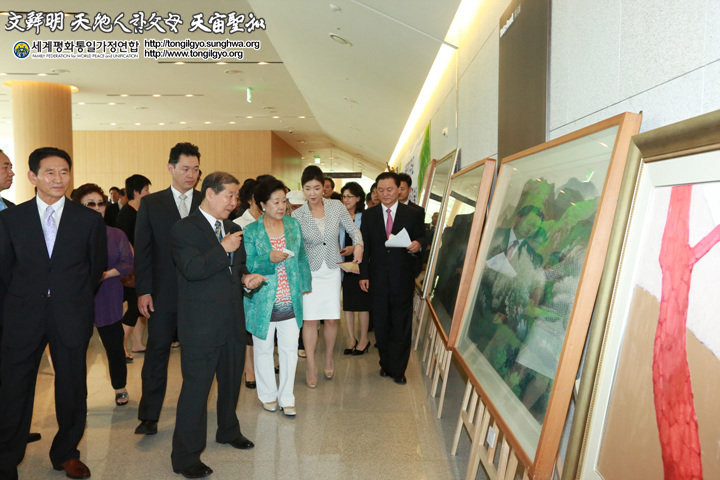 True Mother listens to description
56 artist including 22 Korean painting artists, 20 Western painting artists participate in the exhibition. 'Tortoise 'by Jo Nam Gue, the invited artist at Paintings and Calligraphic Works Exhibition and 'Reincarnation' by Chang Gue Jo, the invited artist at Modern Art Exhibition were showed with other 87 art works.
Those participants classed up the exhibition as Korean artistic notabilities who consist of the visited artists at Korea Art Exhibition (national show), senior artists had served as judge and renowned artists
Especially, Chairman of Korea modern art association Hyung-Tae Kim gave BongJeong (offering) an Art Exhibition of 34 years who have kept a collection of masterpieces whenever the dedication of works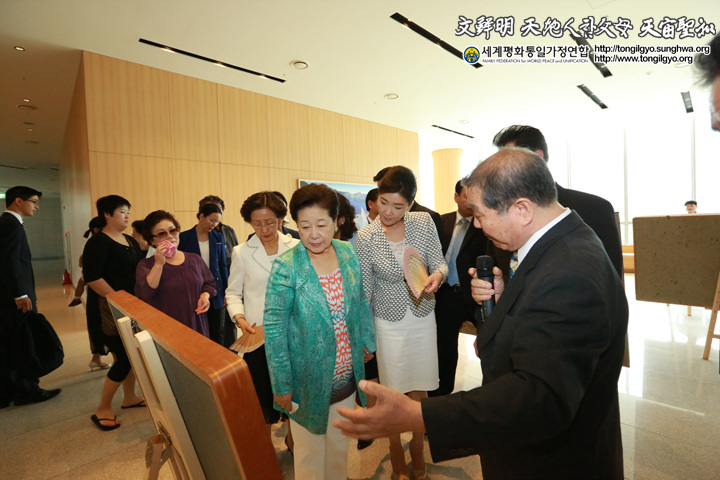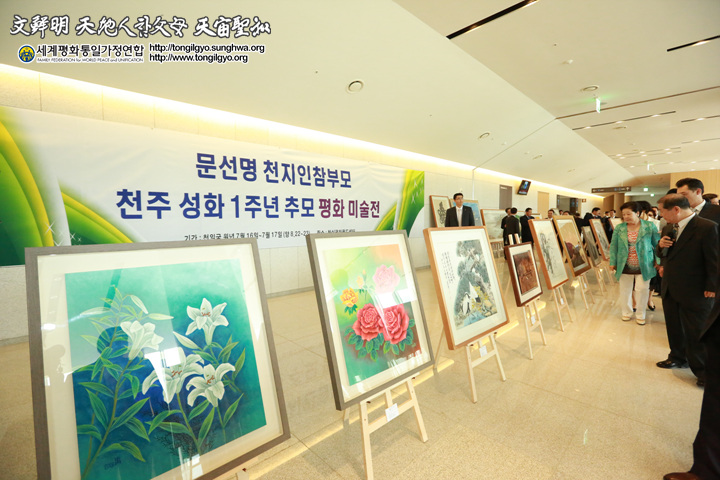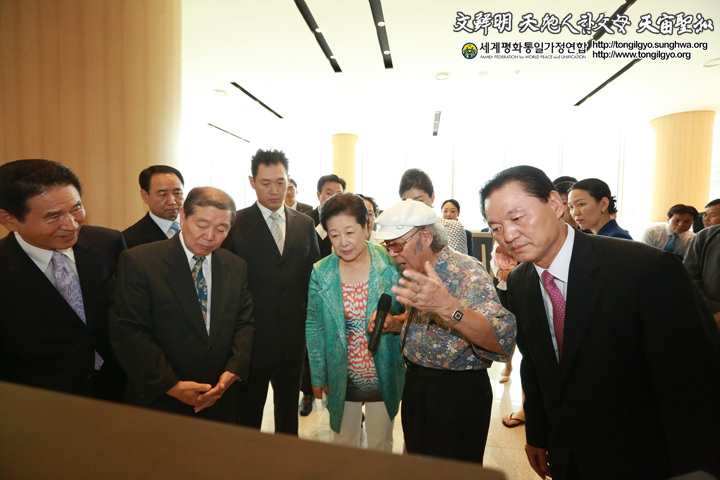 True Mother listens to description
President Beong Ho You, head of Modern Culture Association participated as one of Memorial Peace Art Exhibition Operator. "There was no way I can pay off kindness and backing from Rev.Moon. However, I become to owe a debt of gratitude to him through this event.", said Beong Ho You.
President Chang-shik Yang delivered in his report, "This event is distinguished comparing to any other exhibition where expressed Sim-jeong cultural world True Father pursued. I hope this Peace Art Exhibition give momentum to commemorate his honorable life.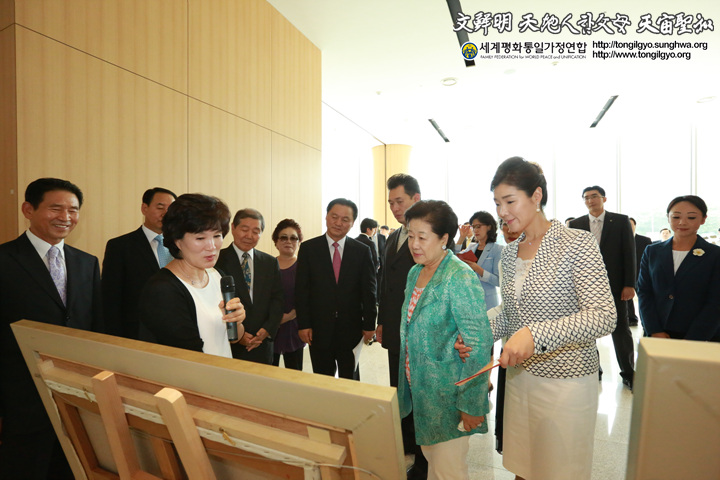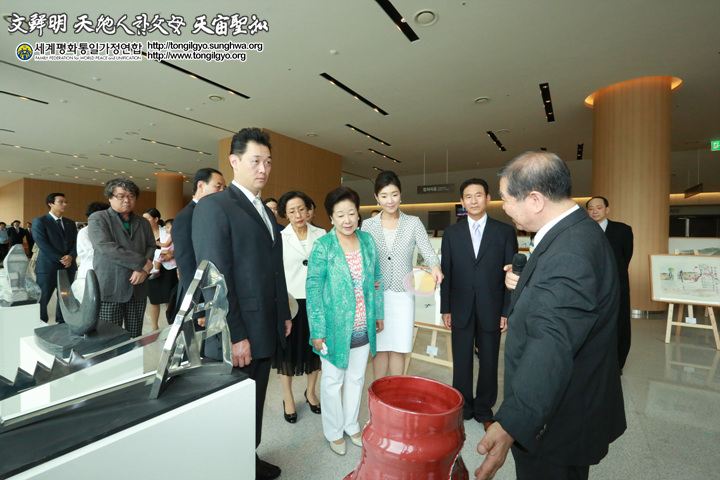 True Mother listens to description
This special memorial art exhibition will take place for 2days from 22nd of August to 23rd of August at 10 AM to 5PM
From 8.17 to 24, there will be held various memorial events including Anniversary of the universal Seonghwa of Sun Myung Moon, the true parent of heaven, earth and humankind, photo exhibition, ILS international conference, praise service, holy ground prayer, Unification of North and South Prayer,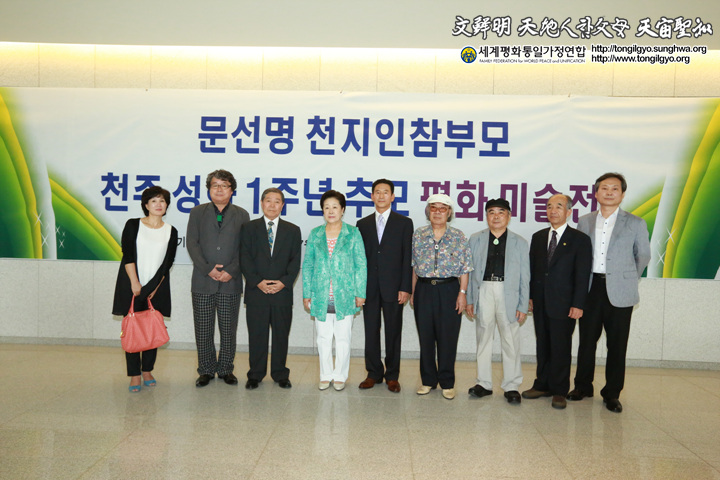 Group photo with artists from Korea Modern Culture Art Association