ADVANCED DP WEBINAR
SESSION THIRTEEN
TRUE PARENTS
A NEW PERSPECTIVE
Presented by Rev. Dr. Michael Hendrich, Sr.
Transcribed by Airenae Culvy
DANBURY, 1984
<![if !vml]>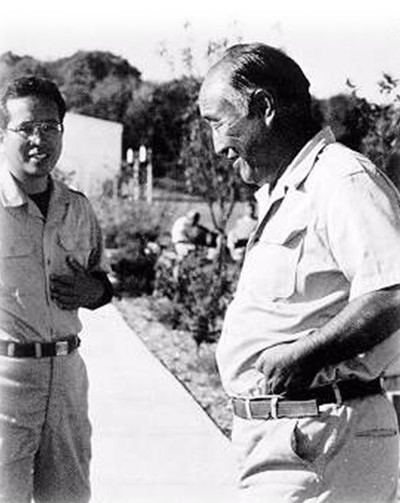 <![endif]>Father went to prison in Danbury, Connecticut. He didn't do anything wrong, but was totally railroaded by the government. It was really a political sham; but He never complained, never complained any time He was in prison. And He never called out to God to help Him. He said, "God, don't worry about Me,' even when He was almost dead. 'I can't die. I'm not going to die. Don't worry about Me.' He was a model prisoner. Mr. Kamiyama was protecting Him until He was released earlier than Father. And then one of the prisoners, one of the other prisoners who was His biggest critic in the beginning became His protector the rest of the time He was there.
He (Father) did all the dirtiest jobs He could find in that little prison. That's just the way He is. He never complained, never!
"...his name will be called 'Wonderful Counselor, Mighty Everlasting Father, Prince of Peace.' Of the increase of his government and of peace there will be no end" Isaiah
And he was the prince of peace. Everything he did was about peace. Here's the man from the dirt-poor village in North Korea. Now he's meeting with world leaders, President Ford, a Prime Minister, other people ... How can it be? Not only that 'how can it be' but he climbed up this ladder fighting tooth and nail every inch of the way. Satan didn't give him an inch.
He (Sun Myung Moon) was proclaimed the No. 1 enemy in the world of communism. And after the Washington Monument Rally, He said, 'I'm going to go to Moscow and meet with Gorbachev; but, there He is, Mother and Father sitting right there and Gorbachev sitting right there, embracing Cain and Abel. And here it is happening again, Mother by His side. Gorbachev lives in Seattle now, I think.
<![if !vml]>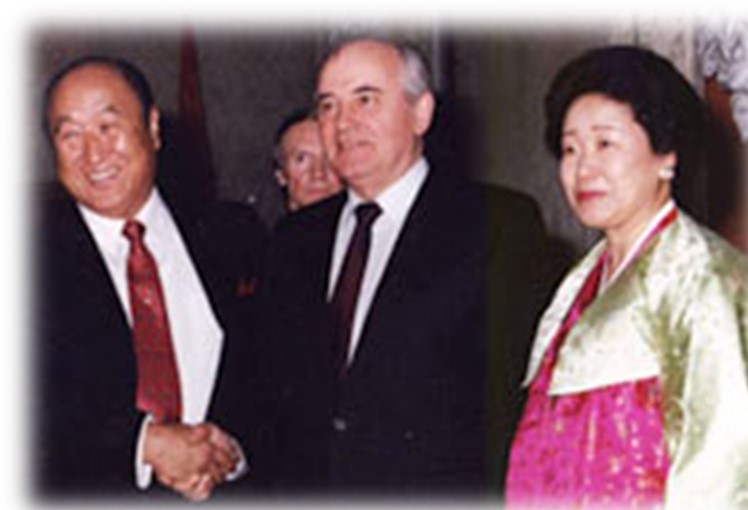 <![endif]>And then He goes on to meet with His even bigger Cain, His bigger Esau, Kim Il Sung. Kim Il Sung had sent out hit squads to kill Father.
<![if !vml]>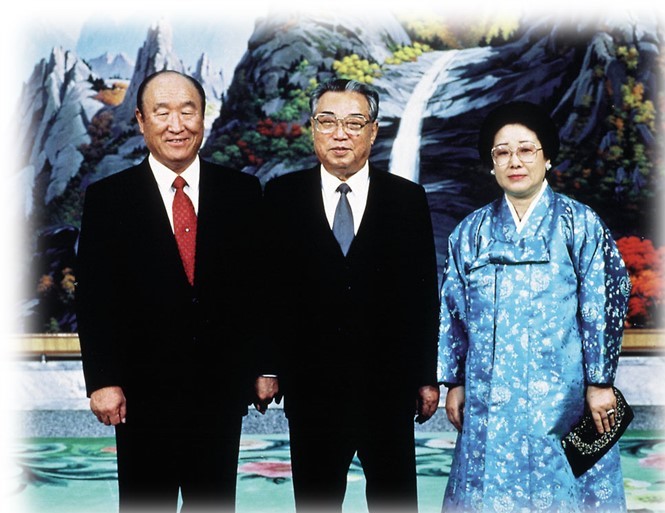 <![endif]>The FBI founder with maps and guns ; and here He is embracing His brother like a long-lost friend or something. What kind of person is this. Mother and Father embracing Their son, who tried to kill Them.
<![if !vml]>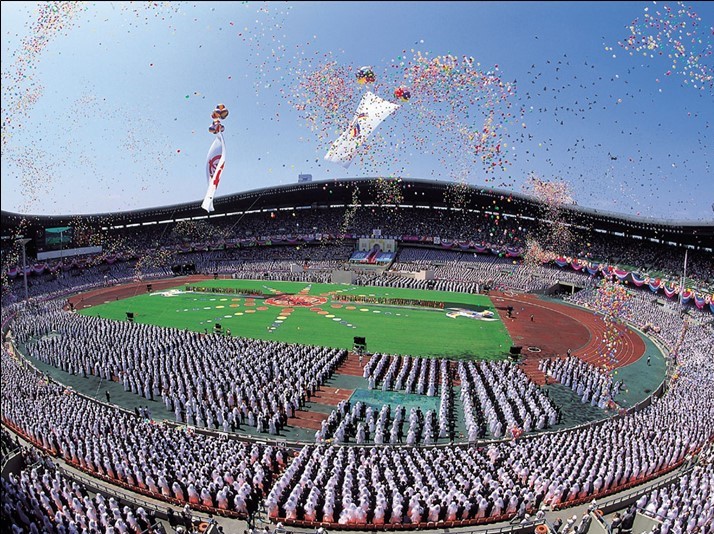 <![endif]>(caption: 30,000 Couples at the Seoul Olympic Stadium, August 1992)
Another Blessing in 1992 of 30,000 couples... Jesus wanted to do that in the coliseum in Rome. He (Sun Myung Moon) has been teaching the Divine Principle, even in Communist China, <![if !vml]>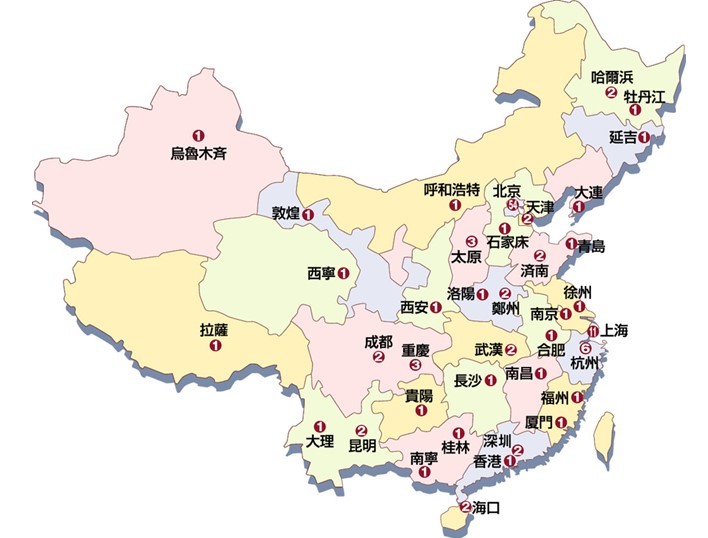 <![endif]>(caption: Seminars for Youth (IEF) in China 1994-2000 and a map showing all the teaching events strewn across the map.)
<![if !vml]>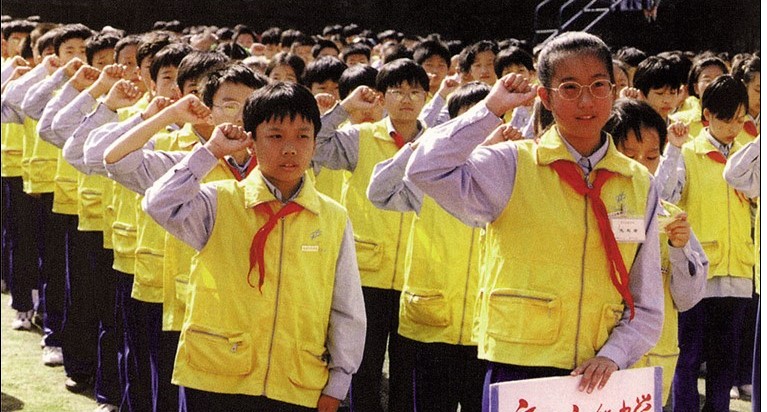 <![endif]> (caption: 1000 Middle School Children in Shanghai Make the 'Pure Love Pledge' )

Here in Shanghai, we've got a thousand middle school children pledging to keep their purity before marriage, because of our teaching. We need that here (in the U.S.) now.
(caption: International Education Foundation in Moscow)
<![if !vml]>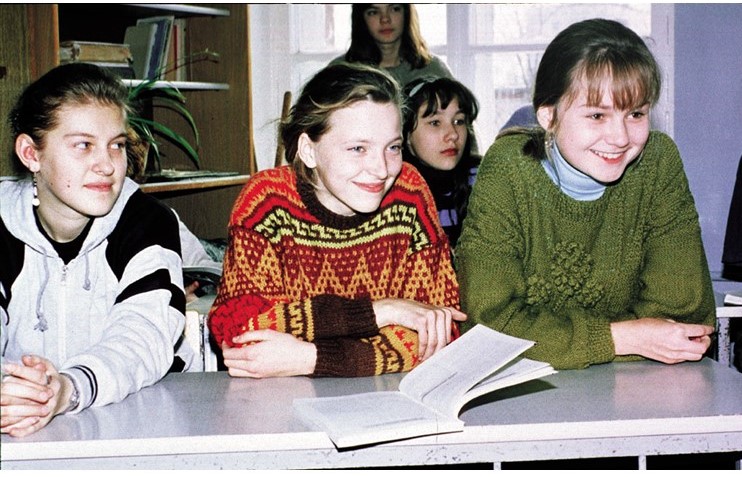 <![endif]>
And in Russia, some of us went to the Ukraine. And we had workshops there, taught some of those beautiful Russian students, or Ukranians, beautiful hearts, going right into enemy territory and loving them.
(caption: Schools using 'My World and I' Textbooks in 12 CIS Republics)
<![if !vml]>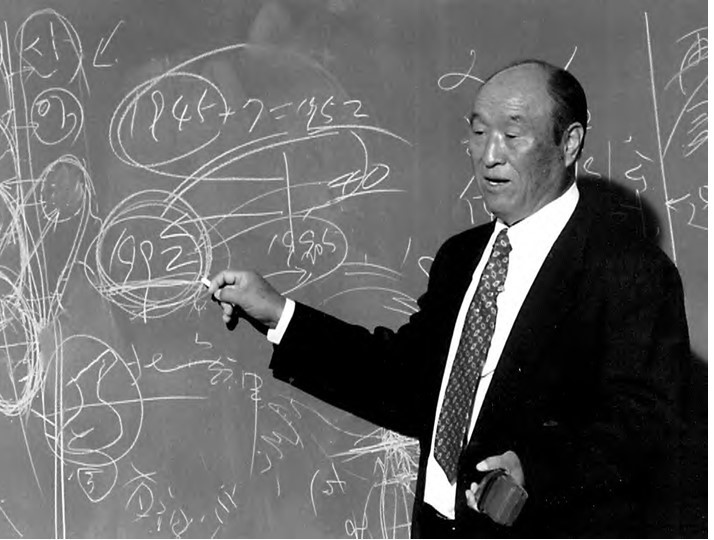 <![endif]>(caption: True Father at the blackboard lecturing about the Providential times 1995 )
Blessing ministers, 144,000 clergy ... Most of them I recognize. They're still on board. They know who True Parents are. Do we?
<![if !vml]>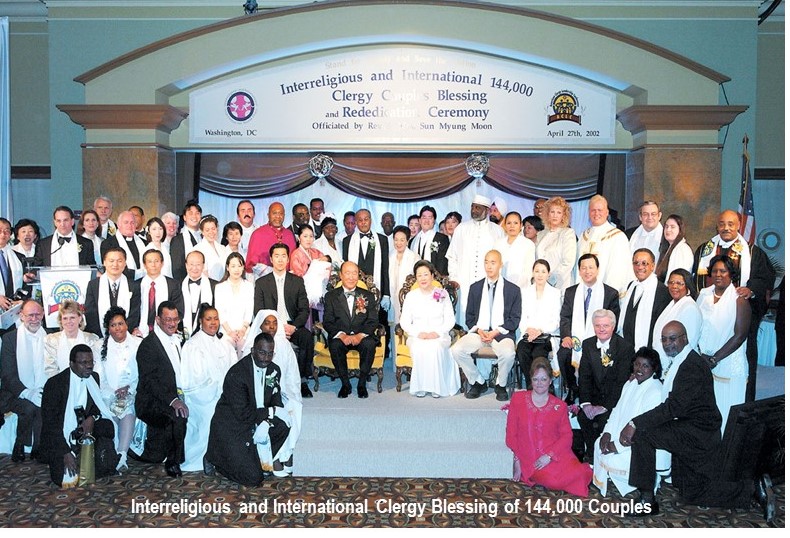 <![endif]> (caption: Interreligious and International Clergy, 144,000 Couples)
Another Blessing at Yankee Stadium. I was there. I was spaced out up in the stands; and I heard some ooohs and aaahs. And I thought, 'What's going on?' You see, it was really cloudy and kind of misty that day. Where was the sun? You couldn't see the sun. And when Father and Mother walked out on the platform to give the Blessing, this ray of sunbeam came out and followed Them out onto the stage. Heh, heh, everybody was like, 'Whooh!'
<![if !vml]>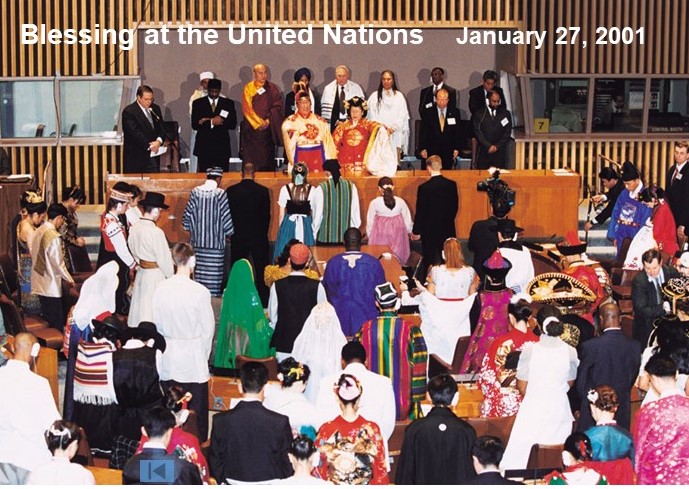 <![endif]>(caption: World Peace - Blessing at the United Nations, January 27, 2000 )
Blessing at the United Nations ... Well, they weren't too happy about that. You're not supposed to have that kind of thing there, but He had to do it. That's His job.
<![if !vml]>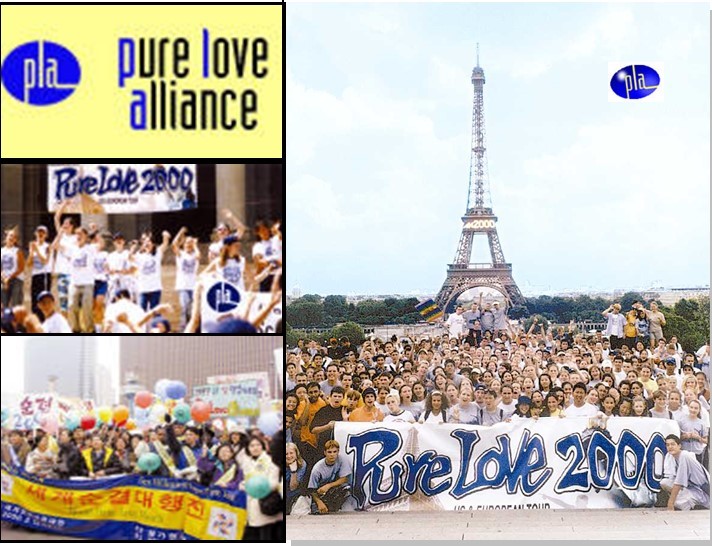 <![endif]>Pure Love Alliance in 2000 - This is where my son cut his teeth on the providence, going to different campuses and in marches in the streets, telling young people, 'You don't have to follow this lousy free sex culture. Stick up for yourself. Live a pure life. Save yourself for your spouse.' I wish somebody was on the campus saying that when I went to school. Nobody was saying it.
And I'm so angry today because I hear people saying, 'Well, that was for the first generation to do.' No. I think young people ... We ought to be out there today, young people, our kids and grandkids ought to be out there on the campuses and on the streets. Why not? Their original mind is aching for somebody to be telling them that.
<![if !vml]>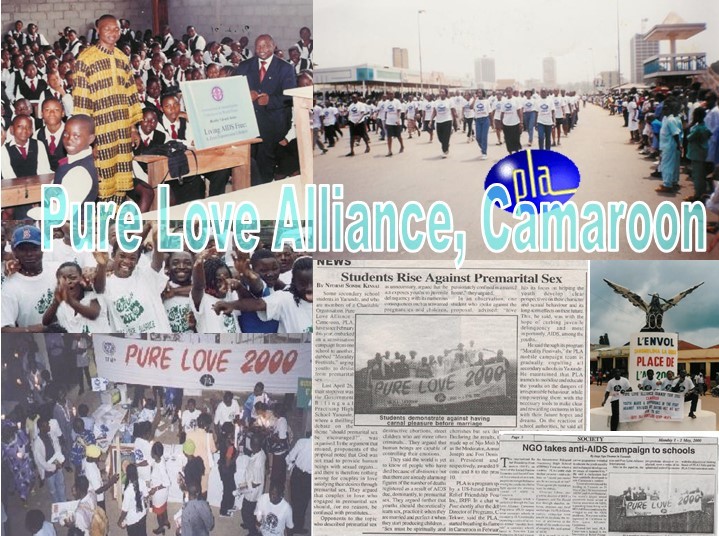 <![endif]>(caption: Pure Love Alliance, Camaroon)
Even in Camaroon, it went all over the world with their message. It was so awesome, brought me to tears.
<![if !vml]>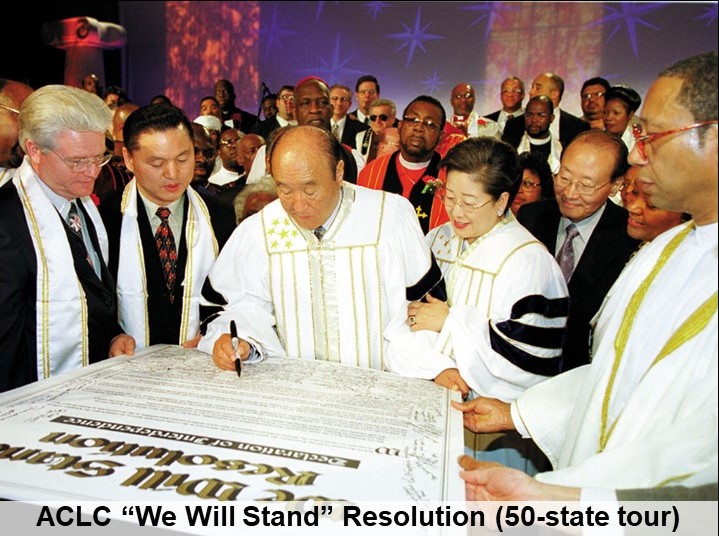 <![endif]>(caption: ACLC American Clergy League Conferences - "We Will Stand" Resolution (50-state tour)
Trying to rally all Christians to become one family.
---
Front Page First Page True Love True Parents-1
True Parents-1a True Parent-1b True Mother Part I
---